Discord app is known for its convenience to the gaming audience, where you are able not only to chat and find friends but see what games they are playing. Though the platform is quite simple to use, it can easily become confusing for novices to find out how exactly to use a particular feature. In this article, you will understand what is custom playing status is on Discord and how to edit it on PC.
What is custom playing status
Statuses on Discord show other users your current availability or what game/app you are running. There are basically two kinds of status on Discord:
Availability status
Playing status
Availability status gives you four default options such as idle, online, do-not-disturb, and invisible.
In playing status, discord recognizes the verified game/app running on your device and shows the name of it below your name as a status with the game activity feature.
How to add and change playing status on Discord
Let's say you want to show others what you are playing right now, then you can follow these steps to start changing your custom playing status:
Open the Discord app or via browser and then click on the User Settings gear located at the very bottom-left side
Then go for Activity Status in the category list
After that, turn on the slide bar to display current activity as a status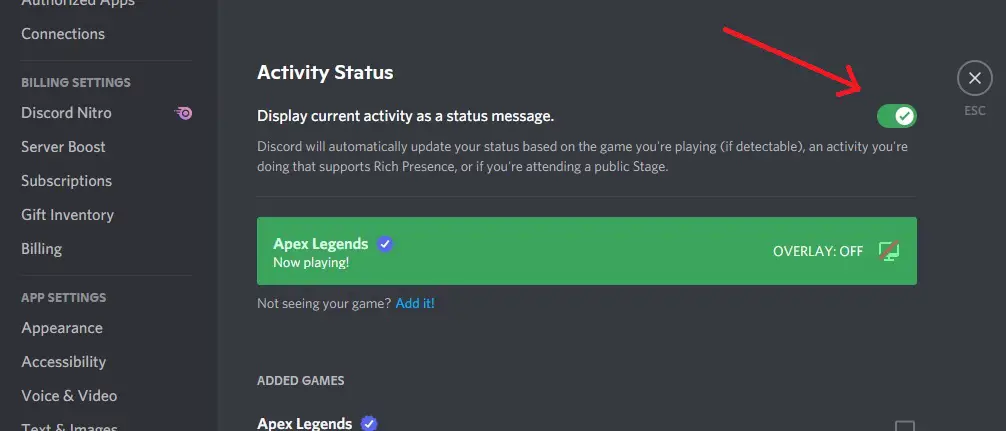 If Discord doesn't detect your game/app, you can add it manually by clicking Add it button
In drop-down menu select any app that is running on your device and click on Add
Once the app is added, click on the its name and change it to the game name that you want to show

Now that you know how to set and change gaming activity on Discord, you can also set status to any funny playing unique status which depends on your creativity. Have fun and be yourself while gaming!
How to enable or disable the Discord game overlay for specific games
Discord was created for voice chatting and is known for its quiet clean interface and user-friendly in-game overlay. You can enable and customize your personal game overlay to reduce distractions and let you stay focused on the game.
To enable or disable the Discord game overlay for certain games on PC or Mac, go for the Settings gear icon and select the Game Activity tab. Click on the monitor icon on the right to a game name and turn the overlay on or off.
You can rearrange these settings while in-game. Open the in-game overlay menu by pressing "Shift + ` " (or your custom keyboard shortcut, if you've set one), and then click the gear icon.
Now you are ready to enjoy the gaming process fully!