To make your text nicer in Apple Notes, you can change its color. This way you can highlight important elements and add variety to your note. You can also use other editing tools such as underline and bold.
You can do this directly from the editor. Most good text editors have a similar feature. All you have to do is highlight the piece of text you want and click on the tool you want. However, there are a few unpleasant limitations.
Can you change the color in Apple Notes using your iPhone?
One of the limitations I mentioned above is that you cannot change the color of the text in your notebook using your iPhone. Apple never added with the new updates the Font tool which you need to change the color.
In that case, having a Mac can help you. The thing is that in the Apple Notes app for the Mac, this feature is already available. You can just select it and change the color of the text in the desired passage.
Then you will be able to view these notes on your iPhone and the changed text will be displayed correctly. This is possible thanks to the synchronization of Apple applications between devices. Apps like Notes or Messages will automatically sync and update on all devices connected to your Apple account.
How to change text color in Apple Notes on Mac
To change the color of text on your Mac, you need to have the official Apple Notes app and open your note. Then you need to use the Font tool. You can change the color, underline, bold, enlarge or reduce the text. To do this:
Highlight the part of the text you want.
Right-click on it or long press on the touchpad.
Then hover over Font in the pop-up menu.
Find the item Show Colors.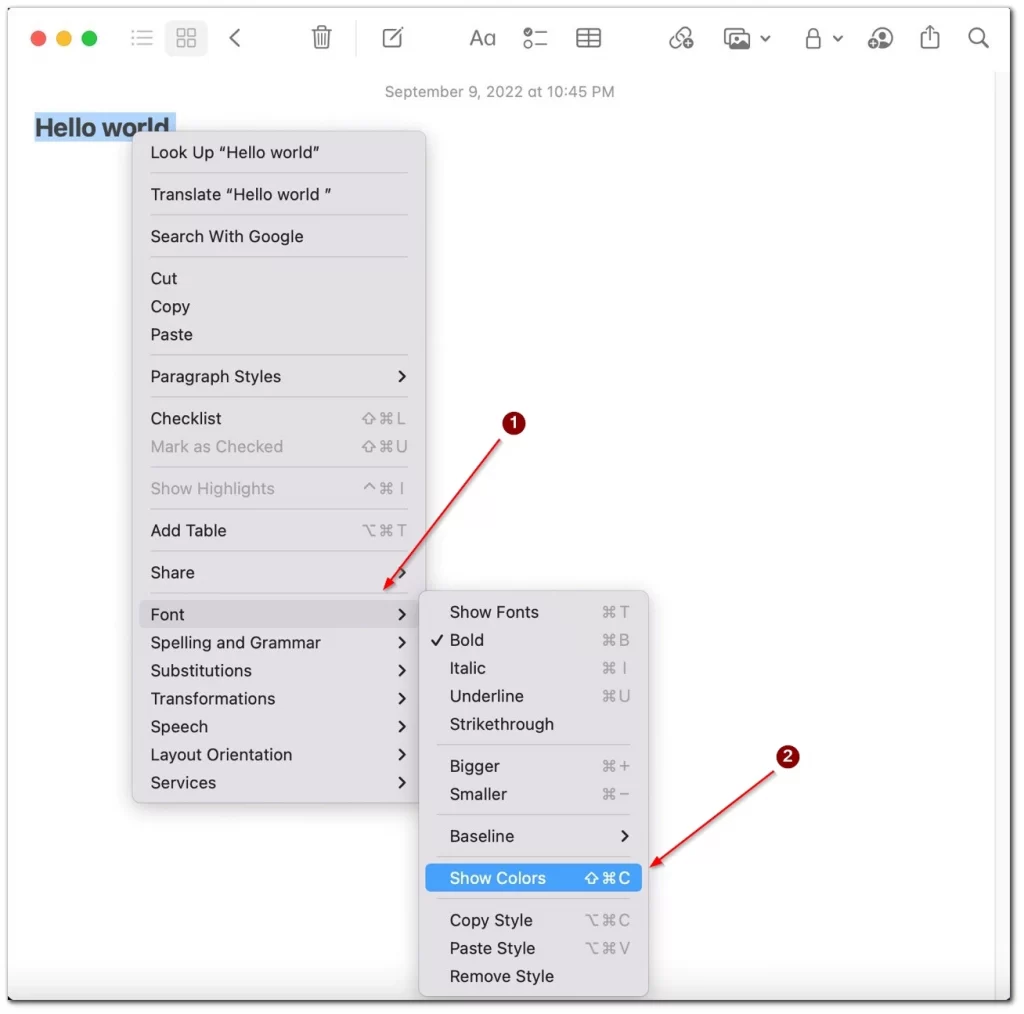 You'll see a palette where you can choose any color and tone for your text.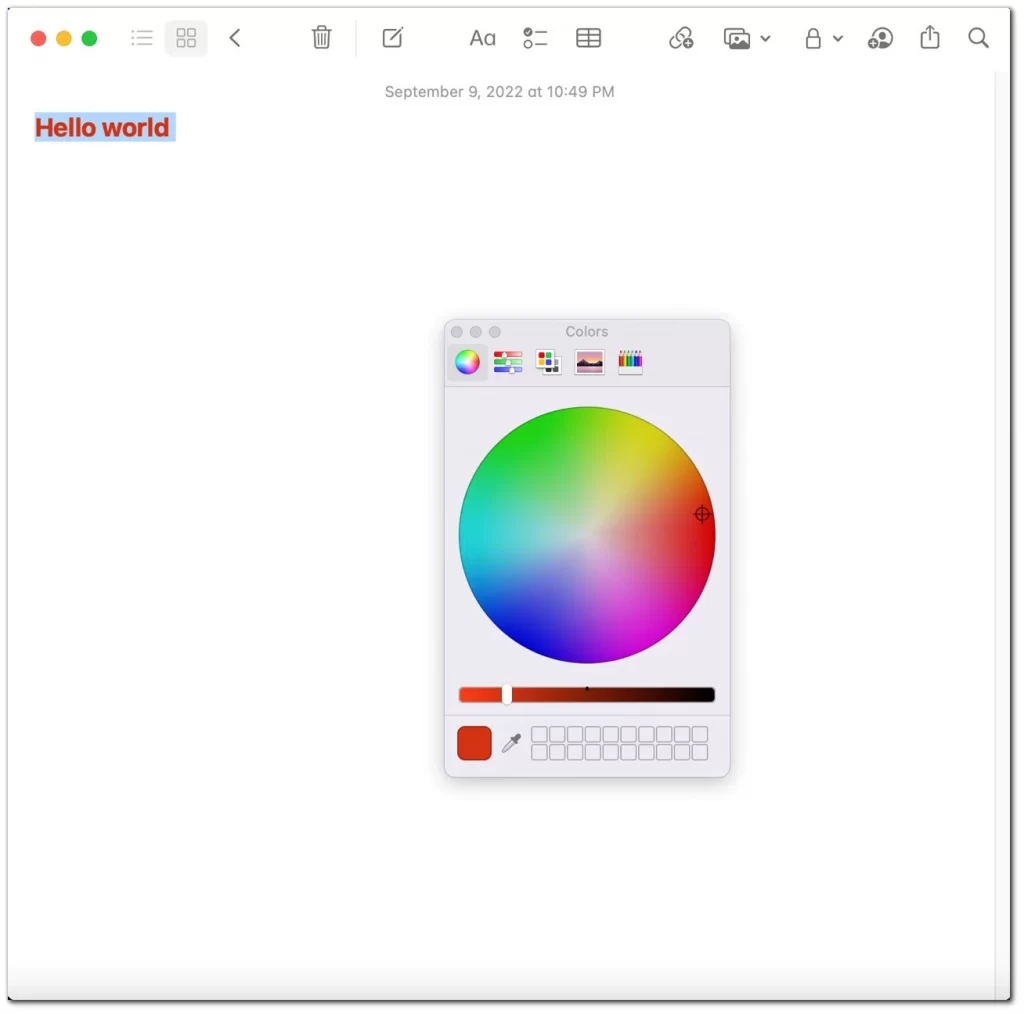 The change will automatically apply to all copies of your note that are present on different devices. Devices must be connected to the Internet for the change to apply. You will also need to link them to the same iCloud account.
How to change the background color in Apple Notes
However, on your smartphone, you can still do some customization for your notes. For example, you can change the background color. It's worth noting that you don't have many options here. You can choose between a black or a white theme. To do this you need:
In your notes, you need to click on the THREE DOTS at the top right.
In the pop-up menu, select Use Dark Background.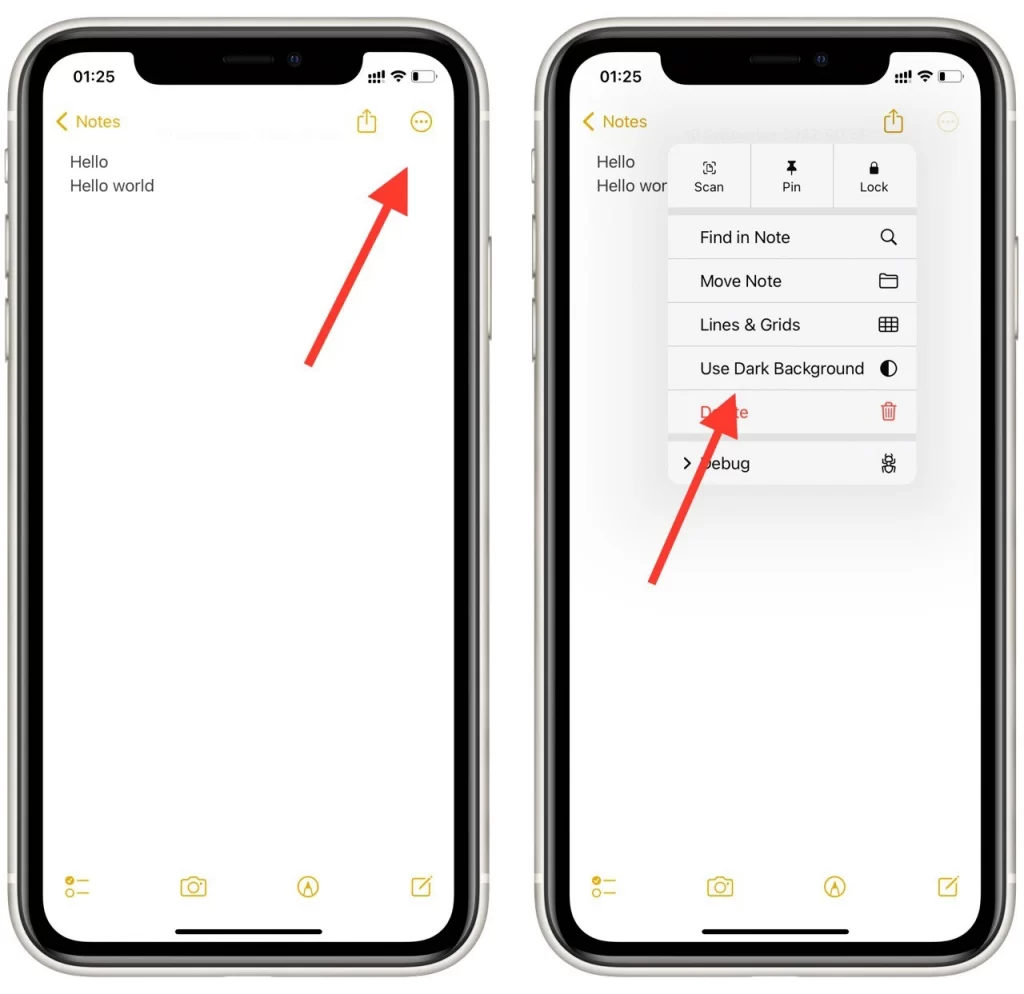 To go back to a white background you can use the same steps. At this point, there is only 2 colors dark and light mode for your iPhone or several other apps like Google Maps. You can also change the background on the Mac, just use the same instructions to do so.
Read also:
What other notes app you can use instead of Apple Notes
If the color-changing feature is especially important to you on your smartphone, you can use other note-taking apps. They also have their counterparts on a PC or Mac so that you can automatically sync your notes. I would highlight a few of them.
OneNote
This is a note-taking app from Microsoft. It has synchronization with services like OneDrive and many other Microsoft 365 services. It's available on both iPhone, Android, PC, and Mac. It's also completely free and only requires a Microsoft account.
Google Keep
A similar note-taking app from Google. It also has many shared features with other Google services. You can download the mobile app to your iPad or iPhone, as well as use it with a browser on your Mac or PC.
Bear
Bear is another very handy app for taking notes. It is available exclusively for iPhones and iPad, as well as on Mac. The main functions of the application are available without any problems. In addition, you can buy a premium subscription that allows you to block notes with Face ID or Touch ID.
All of these apps have more functionality than the standard Apple Notes app. They can also sync with other devices. In addition to these 3 apps, there are many more apps in Apple Store. Just type Notes in the search box and choose the one you like best.