Security on today's Internet is an essential aspect for any user. With the development of technology, we have all become surrounded by many different accounts and paid subscriptions. However, no one wants to be deceived and hacked. That's why users increasingly resort to tools such as two-factor authentication to protect their accounts. In the case of the Zuum service, which has gained incredible popularity thanks to the Covid-19 pandemic, you can activate two-factor authentication. However, many users have problems with this feature and don't understand how to disable it.
There is nothing complicated about disabling two-factor authentication in Zoom. The only prerequisite is to use the Zuum service in your browser's desktop version. After that, you can quickly enter the settings and remove the additional protection. This helps you have faster access to your account and not worry about having your phone on hand when accessing Zoom. Let's take a closer look at how this works and what you'll need to do.
What is two-factor authentication in Zoom?
Let's start by explaining two-factor authentication and how it works in Zoom. This will help you better understand if you should disable it. If you are just interested in detailed instructions on disabling it in Zoom, you can skip to the next section of this article. There you will find detailed, step-by-step instructions on how to turn off two-factor authentication in Zoom.
Two-factor authentication is one of the most reliable ways to protect your account. It means that in addition to entering your password, you will need to undergo additional verification and confirm that it is you. There are a lot of ways of two-factor authentication. In the case of the Zuum service, users have two options: they can use the authenticator app or authenticate with a text message to their phone number.
I would say that app authentication is more secure. In that case, you have to download a particular application on your smartphone, for example, Microsoft Authenticator. Then you connect your authenticator to the Zoom service. In the future, if you want to sign into your account, you will first need to log into the app and generate a random code that you will enter into Zoom to verify your identity. The code is randomly generated each time and will be valid for a couple of minutes.
In the case of a mobile number, it's pretty simple. When you log into your account, a 6-digit code is sent to the phone number you provided during registration. It works only for a few minutes and is randomly generated each time. To access your account, in this case, you only need a smartphone and your SIM card. Now let's see what you need to disable two-factor authentication in Zoom.
How to turn off Zoom's two-factor authentication
Now let's look at what you need to disable two-factor authentication in Zoom. The process is quite simple. You need to click several buttons in your account settings and enter your password to disable authentication. Suppose you have lost access to your smartphone. In that case, you will only be able to log in using Recovery Codes (they are given to you when you activate two-factor authentication and allow you to authenticate without confirmation, but only once for each code). To do this, you need to:
On the Zoom home page, click on My Account.
After that, select the Profile tab.
Scroll down to the Sign-In section.
This is where you need to find the Turn Off button opposite the method for dual authentication.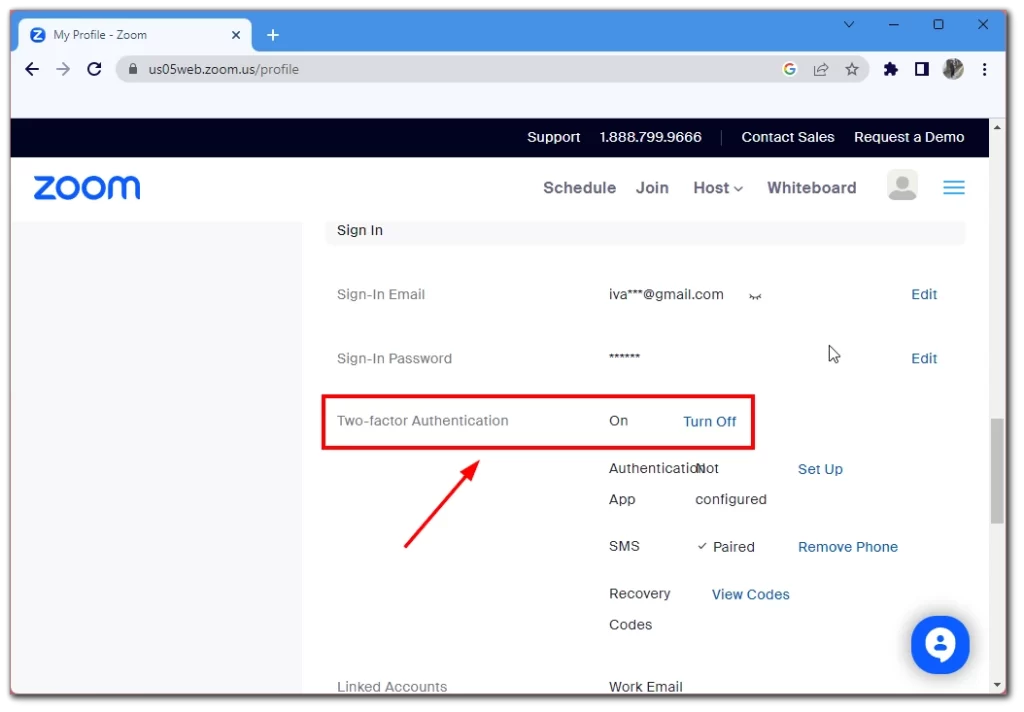 Once you click on it, enter your password in the window and confirm your action with the red Turn Off button.
The two-factor authentication will then be disabled, and you will only need your Zuum Account password to log in to your account. However, I recommend you be careful with this. The fact is that you can buy a paid subscription in Zuum, and for this, you will need to provide payment information. This means that your account needs extra attention if you don't want anyone to get access to your payment information.
In addition, unwanted people may try to impersonate you and can harm you with these actions. So I recommend that you keep your security on. Of course, it will take you a little longer to get into your account, but you won't have to worry about getting hacked because it's almost impossible to bypass two-factor authentication.