New Apple devices are expected to be released soon, and among them, the company will release a new version of its operating system iOS 16. It will bring many changes, including a feature to protect your device which is called LockDown mode.
Lockdown mode will disable many of the online features of your smartphone and is needed to protect it completely. The company says it will be used mainly to protect against really powerful hacks and government surveillance. You can try out this feature right now by downloading the iOS 16 beta version.
What to do to activate LockDown mode
The first thing you have to do before activating Lockdown mode is to install the beta version of iOS 16. The fact is that this feature is not available on iOS 15, it will be valid only for the new version of the operating system. Then it is quite easy to activate LockDown mode:
Go to settings and find Privacy & Security.
This is where you need to scroll down and select Lockdown mode.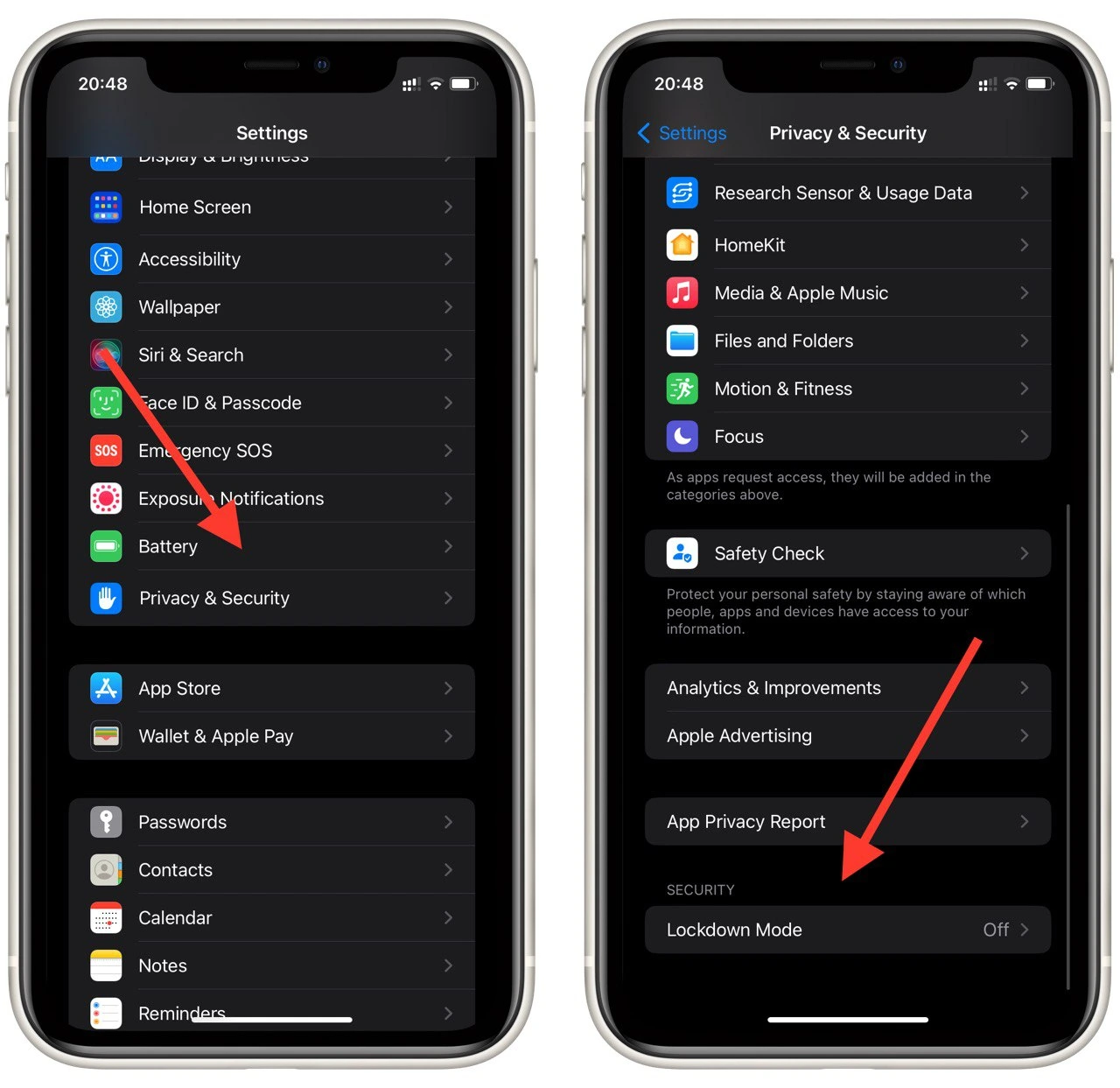 You will see a short description of the Lockdown mod's functions in front of you, to enable it to click on Turn On Lockdown Mode.
After that, a pop-up window will appear in front of you with warnings about Lockdown Mode restrictions, click on Turn On Lockdown Mode to confirm your wish.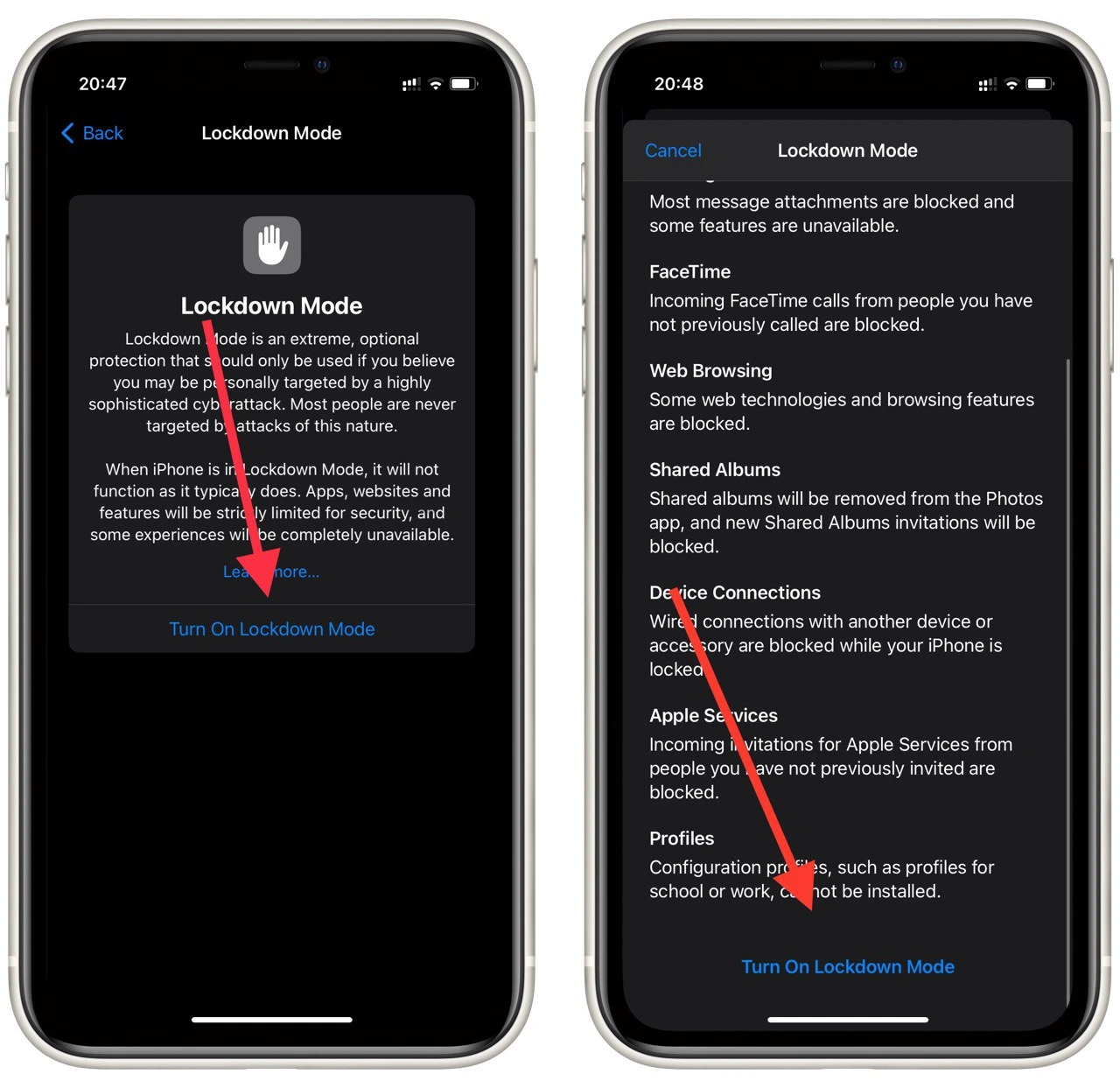 Your device will then reboot. It may take a few minutes for this to happen.
At this point, you don't have the ability to choose which functions will work and which will not. When you turn on Lockdown Mode, you accept all of the restrictions that Lockdown Mode brings. You should understand this before you turn it on. To disable it, simply repeat the steps in this list.
What features does LockDown mode have
Lockdown mode is designed to provide the highest level of protection against threats to your device. For this reason, it has quite a few limitations and blocks a whole bunch of familiar functions. Basically, they are all related to transmitting or receiving data. Among them:
FaceTime call blocking. Lockdown mode will block all facetime calls except for numbers you have called before.
Media message blocking. All attachments in messages sent to you will be blocked in iMessage. The only exceptions are pictures, links, and other general content.
Browser restrictions. Safari disables some technologies that could theoretically be used for hacking.
Shared Albums is blocked. This is a new feature that will also appear in iOS 16 and will allow you to share albums. It will also be blocked for LockDown mode users.
Connections between devices will be blocked. If your iPhone or iPad is locked, you cannot connect it to another device, such as a computer.
Invitations are blocked. If other users invite you to join an Apple service, such as Find My or a shared album, those invitations will automatically be blocked. The only exceptions will be invitations that you have sent before.
Configuration profiles are blocked. You won't be able to set yourself a profile that will allow you to download a beta version of an app or a modification to your system. Such a profile is for example used when installing the beta version of the new iOS 16.
As you can see Lockdown mode brings quite a few restrictions. You should understand that when you enable it, your phone will have a little "reduced functionality". That is, some of the features that you are already used to and that are normal for you will be blocked. So you should use it only as a last resort.
Who may need to use LockDown mode and when
The question that many users ask after reading all the restrictions is: Why do I need this level of protection, who needs it at all? In fact, most likely the average user will never need this mode.
When the company announced this feature, it said that Lockdown mode was necessary to fight really serious threats. The release talked about government hacks of journalists and other activists. That is why this mode was developed. Apple wants its device to be the most secure on the market and to be used even by people who are in a high-risk areas.
So if you're not being hunted by the government or if you're not storing sensitive information on your smartphone that intruders want to steal, then you don't need this mode. I'd say it's necessary for those who are sure that they will soon become a victim of hacking. The average user who is just afraid of having his credit card data stolen doesn't need such extreme security measures.
Read also:
What new features come with iOS 16
Like any new operating system, iOS 16 will offer users a lot of new features. Of course one of the most notable is Lockdown mode. However, there are a few other notable changes that all users are likely to like.
I would say that the lock screen has been changed the most. I have been using the beta version of iOS 16 for over a week now and the changed lock screen is a nice and convenient change. Now you can add widgets to it. You can put there the weather, the beeper, the time in different parts of the world and much more. After the release of the system, I am sure many applications will also release their widgets. It's a really good improvement.
I would also mention the handy fitness app and the shared albums. By sharing albums with my relatives I now have access to all our shared photos and many useful things without constant requests to send me photos separately. The fitness app also allows you to track your activity throughout the day. More features will be added after the release. Especially those who use Apple Watch will like this feature. Of course, this isn't all of them, but in my opinion, this is the most interesting thing about iOS 16.