In today's world, entertainment content is incredibly popular. Technology has advanced to the point where all you have to do today is turn on your phone and start your favorite streaming service to access hundreds of hours of entertaining video content. Not surprisingly, many companies have decided that they should try their hand at streaming services. One of the biggest companies to launch its streaming service is Amazon with its Amazon Prime.
There are thousands of different shows and movies available for you to watch. You will also find original movies and series produced by Amazon. In addition, Amazon Prime offers its users additional subscriptions to third-party resources. For example, for a small fee, users can get access to the Paramount+ channel.
Can I get Paramount Plus on Prime Video
If you like to watch different shows or movies in the evenings in front of your TV, then you surely have one or more subscriptions to different streaming services. Today it has become the most convenient and cheapest way to watch your favorite shows. You no longer have to go to the store for a new movie disc or buy each show separately for a rather high price. Now you can get it all for just a few dollars a month.
When you first want to choose a streaming service, you're overwhelmed by the variety and multiplicity of offerings. Some companies offer a lot of exclusive content, while others focus more on different shows that are also available on other platforms but at a lower price. Therefore, many people decide to choose several paid options for their standard subscription with other services, for example, Hulu has such an opportunity.
In this case, Amazon Prime is also no exception. In this service, you can connect a few paid channels for an additional fee. It will not be a full-fledged streaming service, but this way you can watch your favorite shows in one place. This is how you can connect Paramount Plus to your Amazon Prime subscription.
Read also:
How to add Paramount+ channel to Prime Video
The amazon prime video service is actually quite an attractive choice. Amazon is one of the largest digital companies. They have a whole big list of different services at their disposal. They also recently released their streaming service, which they called Amazon Prime Video. It already has hundreds of hours of movies, TV shows, and shows. In addition, Amazon is developing several new exclusive series that will only be available to Amazon Prime subscribers.
However, even if the entire Amazon Prime library isn't enough for you, they allow you to subscribe to some channels for a fee, such as Paramount+. This is a really attractive option because you will be able to watch Paramount content directly in your Amazon Prime app. In fact, the registration process for this is quite simple. You can do it in two ways, through the web version of the service and through a special app on your device.
Using the web version
First, you will need to go to the official site of Amazon, in the tab with the channels. After that:
Find Paramount Plus in the list.
Then you have to click on the blue button "See more".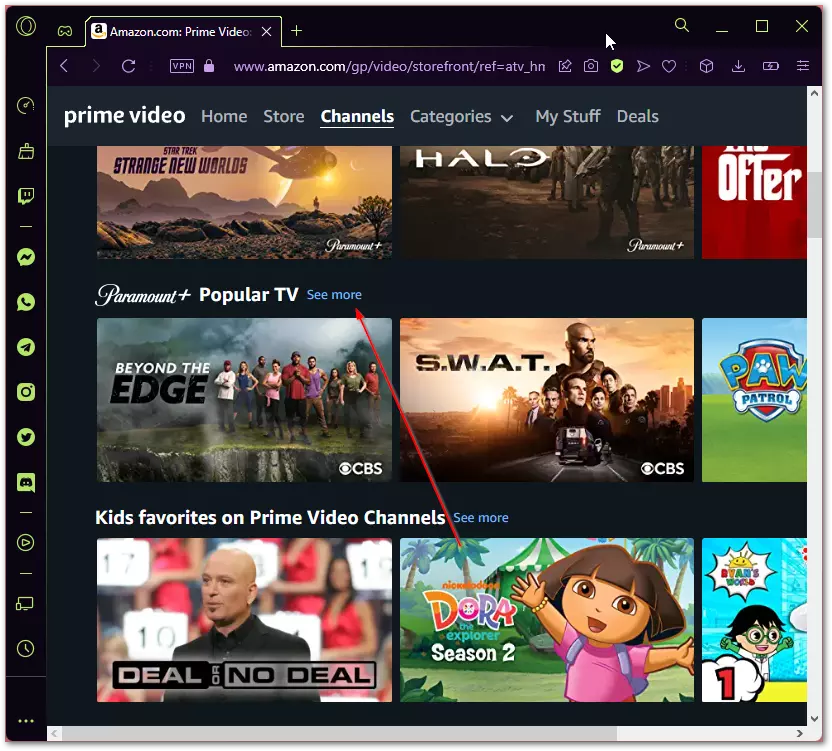 On the next page of the channel itself, click on the banner at the top of the screen that says "See more".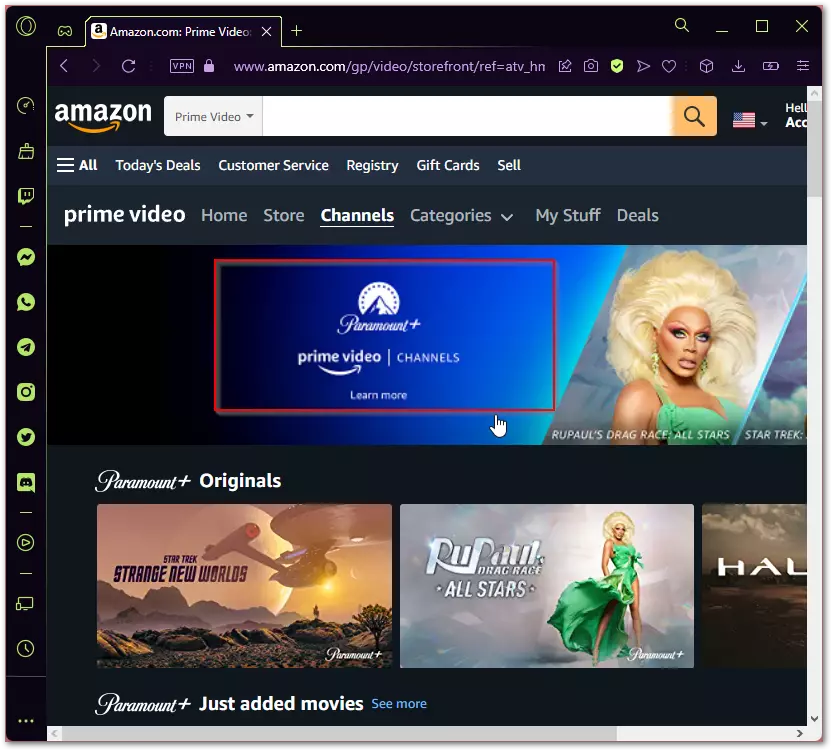 After that, a window will open in front of you with the option to sign up for a 7-day trial subscription, click on the "Start your free trials" button.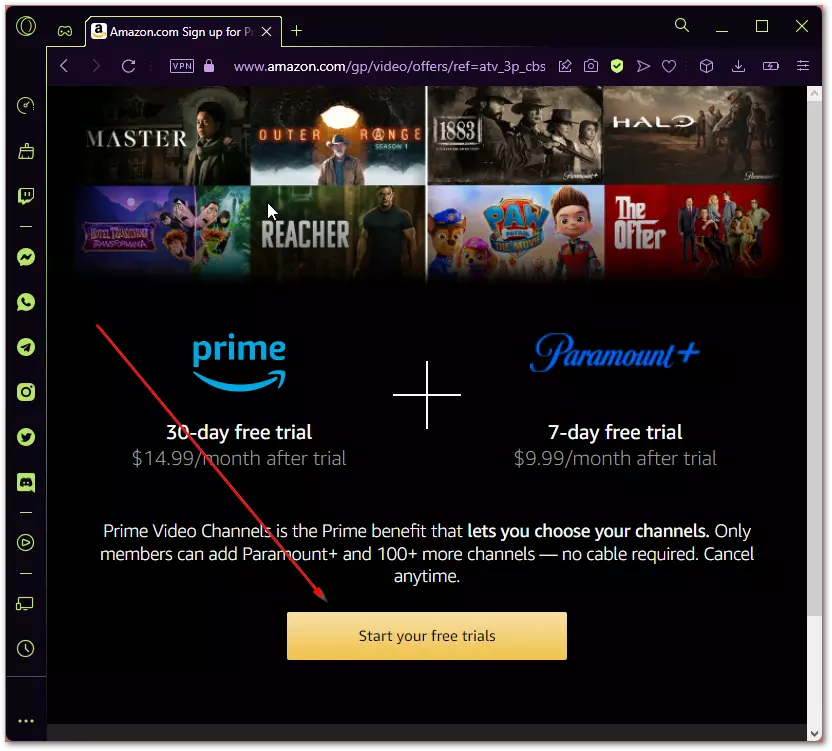 After that, you will have free access to Paramount Plus for 7 days and then you will be charged a monthly fee.
From the app on your device
It doesn't matter if you have a tablet, smartphone, or even Smart TV, the instructions for connection will be similar in all cases.
First, download and open the Prime Video app.
Login to your account.
Then type Paramount+ into the search box or find the Prime Video Channels category and look for it in the list.
Then select the banner at the top of the Paramount+ channel home page that says "Learn More".
Here you need to select the Premium plan and click on the "Start your free trial" button.
After that, like in the first case, a trial subscription will start, which you can cancel at any time. If during the trial subscription you don't cancel it, then your card will be automatically charged for its renewal for the next month.
How much does Paramount+ cost
If you really like the content that Paramount Plus offers, you might want to consider buying a full subscription to the streaming site. In some cases, it will be much more cost-effective. In addition, there is even a way to watch Paramount Plus for free.
If you're interested in the price of Paramount Plus, then it's pretty simple. There are a total of two options: Essential and Premium. Their prices are accordingly:
Essential will cost you $4.99/month or $49.99/year. For this cost, you get access to all streaming shows, but with ads, except that this subscription doesn't include your local live CBS station.
Premium will cost you $9.99/month or $99.99/year. This Premium package is essentially the same as the Premium package but with no ads and your local live CBS station is included.
Paramount Plus has an option to add a Showtime bundle for a few extra dollars. You can learn more about the plans Paramount+ offers on their official website.
What other channels are available on Amazon Prime
If you're interested in other channels on amazon prime video, this service actually has quite a few options for subscribing to third-party services. You can find a wide variety of entertainment channels, different streaming channels, documentary channels, and historical movie channels in the channel list.
To subscribe to all of these different channels, you can use the instructions above. It will cost you up to about $7-$9 for each additional channel.
In addition, you can also use Amazon Prime to buy or rent certain movies or shows. This will give you permanent or temporary access to shows even if your subscription to the service has already expired. This is quite handy if you want to be able to watch your favorite show at any time.
Read also:
Is it possible with an Amazon Prime subscription to watch Paramount Plus on the official Paramount+ app
If after trying Paramount Plus via Amazon Prime Video you decide this streaming service is what you're looking for, you can continue watching the streaming service directly from the official Paramount Plus website or using the official Paramount+ app for any of your devices by subscribing to the channel via amazon.
To do this you need to go to your Paramount Plus page and simply verify your account with your Amazon Prime video account. You can do this by following this link. You will then have access to your paramount+ subscription directly from their website or app.
However, it's also worth noting that if you want to do the opposite, that is, to buy a subscription to Paramount+ and then add it to Amazon Prime, it isn't possible at the moment. If you want to watch Paramount+ through Amazon Prime, then you need to buy a subscription within the Amazon service.