The presence of subtitles and closed captioning on modern TVs have long since come as no surprise to anyone. These features are present in all modern TVs, including Sceptre TV. Since subtitles and closed captioning are a necessity for many people. At the same time, not everyone knows what the difference between closed captioning and closed captioning is, because seeing them on the screen of their Sceptre TV notice that they perform a similar function.
Nevertheless, there is a difference, most of us don't spend time thinking about the difference between closed captioning and subtitles. However, for some people, the difference will be huge when watching video content on TV, so there is a difference and you should figure it out.
What are subtitles
Modern Sceptre TV has many features that can help you and make watching movies, TV series and TV shows the most comfortable. You can stream your video content in completely different ways, and get Sceptre TV out of Demo Mode or Store Mode.
That's why Sceptre TV lets you get a lot of what you need. When considering the benefit of subtitles on your Sceptre TV, the most important thing you get is a duplication of the audio track as text on your screen. Subtitles appear on the screen in text form.
Most often subtitles are used by people who are learning a foreign language. This way, you will see the text at the bottom of the video with each line of the actor or presenter. So subtitles aren't the right way to help people with hearing impairments and subtitles don't provide them with the best viewing experience as closed captioning does.
Read also:
What is closed captioning
Some people may think that closed captioning and subtitles are exactly the same thing, but that is far from it. Nowadays a lot of streaming services support closed captioning and subtitles, so if you need to enable subtitles on Amazon Prime, you can do it quite easily.
In fact, closed captioning isn't mainly to help people learn a foreign language. The main purpose of closed captioning is to help people with hearing difficulties. So you can see the text that is displayed when the audio track is broadcast, but you can also see other details on your screen. Such as gusts of wind, a cough, or a knock on the door.
Today a lot of services have implemented in their system the possibility of closed captioning, which allows people who have problems with hearing, to participate fully in the process. Zoom is one of those services, adding automatic closed captioning for all free accounts.
What is the difference between closed captioning and subtitles
Closed captioning and subtitles are two terms that are used in connection with transmitting sound and speech from an audio presentation in text format. The most important fact to remember about these closed captions and subtitles is that they are formed to help people understand what is going on in a particular movie.
The difference between closed captioning and subtitles can be noticed immediately because these two features give people different options. Having closed captioning ensures that people with hearing problems can fully understand what was happening on-screen during a TV show. Because you will see a description of all the details, in order to make a better connection with the video content, in addition to the lines of the actors and presenters.
At this point, subtitles only allow you to see the actors' lines on the screen in text form. That is, other sounds won't be displayed on the screen if the characters are silent. So if we consider these two functions as a help for people with hearing problems, respectively the best ones would be closed captioning.
How do to get rid of closed captioning on your Sceptre TV
If you already see closed captioning on your Sceptre TV, it may be preventing you from enjoying the content you want to watch on your TV. You can therefore disable closed captioning on your Sceptre TV. This way you won't see any text, closed captioning, or subtitles on the screen when watching content. So if you want to get rid of closed captioning on your Sceptre TV, follow these steps:
The first step to turning off closed captioning is to take the remote control.
After that, turn on your Sceptre TV.
Then click on the 'CC' button, which is an abbreviation of closed captioning.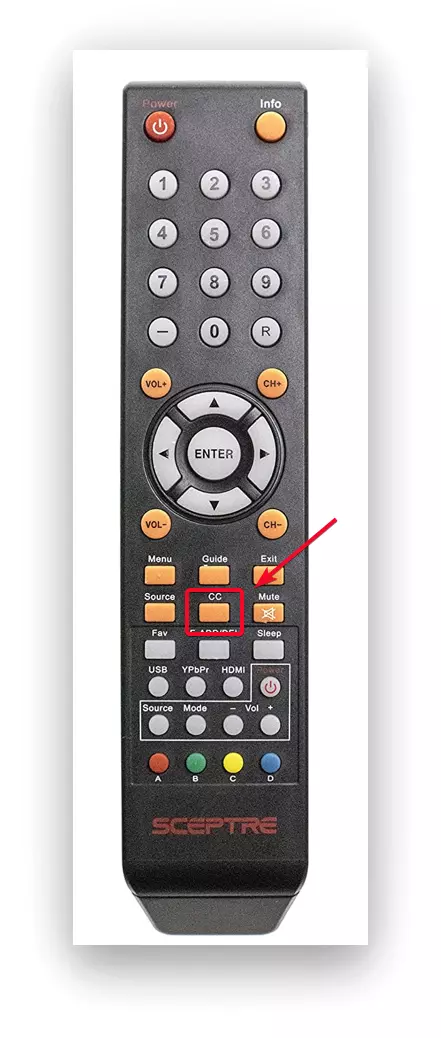 Next, you will see a new window with the closed captioning settings, you need to select 'Off' with the remote control.
After you follow these steps, you won't see any closed captioning on your TV screen. If you need to turn them on, repeat the same steps but click on 'On'. If you need to, you can get it back quickly enough.
At the same time, if you're watching video content on streaming services, you need to select 'CC' on the bottom bar of the screen, not in the TV settings.
Read also:
Are subtitles and closed captions necessary in every video
In fact, the answer is obvious subtitles and closed captions are a necessity that should be in every video that is broadcast. Fortunately, more and more services are now providing this capability to ensure that people with hearing loss have the best possible experience with any video content.
However, keep in mind that there may be other situations where you will need to use subtitles and closed captions. Such situations may arise when you're in noisy company or teaching a child to read.
Actually, modern TVs do have many features that help some people. One such feature is considered a voice guide on your Sceptre TV. Using a voice assistant or announcer on your TVs will give you an audio description of all menu items and options.