If your budget is tight enough, but you still want a good TV in terms of price-quality ratio, then one brand that you might be advised on is Insignia.
Let's start with the origin of this brand. We had a separate article about who owns the Insignia brand, so you can read that too if you want.
In short, the Insignia brand is owned by Best Buy, and most of the TVs are made by the Chinese corporation Hisense. There's a wide variety of models – starting from the low-end ones and to the Insignia Fire TV Edition, that's a Smart TV. The TVs' sizes vary also in a wide range – from 15 inches models to 70 inches TVs. There are even 4K HDR models, they look even higher than mid-range solutions.
What's Insignia TVs position on the martket?
Let's take a brief look at the niche that Insignia TVs occupy in the market. It's more of a mid-range niche, Insignia TVs are cheaper than Samsung, LG, or Sony, however, they're more expensive than TVs offered by Chinese brands. So their position is in the mid of these two categories.
These TVs are usually chosen by those who don't have a lot of money to spend on a TV, but still want to buy a good quality TV. In general, TVs do offer a lot of interesting features including Amazon Fire TV OS and you will save some money compared to TVs from brands like Samsung, LG, or Sony.
In case you consider Insignia TVs from this perspective, they're at least worthy of your closer look.
Are Insignia TVs any good?
As I said, that's a mid-range solution that provides you with quite a fair price/quality ratio. However, don't expect a lot, as the list of features would be tighter compared to TVs offered by top-tier brands.
There wouldn't be an excellent picture quality (as companies like LG or Samsung that supply screens to Hisense aren't supplying their freshest solutions). But if you'll be okay without an excellent picture quality and would be okay with a little compromise, that's maybe the best choice.
My opinion is the following. I recommend buying Insignia TVs in case:
You use your TV for background entertainment when you are doing something else.
You want to buy a TV that you don't use often
You rarely use the TV
You don't care about picture quality
You simply don't have enough money to buy a TV from high-tier brand
From this perspective, you would be satisfied with what you get. However, if you're a more sophisticated customer, Insignia TV may be not enough to satisfy all your needs.
I don't recommend you buy an Insignia TV in case:

If you often watch TV at night
If you like to watch theatrical movies or play AAA games
If all other devices and appliances in your home provide staggering picture quality
In that case, it's better to add some money and buy a solution from high-end brands to get exactly what you want, not a compromise. If that's your first-ever TV, consider all the points above twice, as there's a high chance that you may get unsatisfied with Insignia TV.
However, if the TV isn't the device for long-lasting watching, this may be a good solution that will save some of your money.
What Insignia TV worth buying?
After you've considered the points above and decided that Insignia TV is right for you, here are some models you can pay a closer look for. I recommend choosing only Insignia Fire TV Edition, they're quite cheap and offer a lot of great features.
Insignia Fire TV Edition
This is the series of TVs that deserves the most attention. The Insignia Fire TV Edition is running Amazon Fire TV OS and there's an Alexa voice remote control. So you don't even have to press any buttons, you can just talk into your remote and turn on a show, for example.
Given that it's a Smart TV, you can use various streaming services and broadcasting networks, including HBO Max, Netflix, and Starz.
So it's a pretty smart choice, especially if you plan on using your TV to watch a lot of content through streaming services.
Here are some models you can take a closer look at.
Insignia NS-32DF310NA19 32-inch Smart HD TV – Fire TV, Released 2018
This TV is going with 35% off (as of August 9, 2021) and the price is $200 without a discount and $130 with a discount. 32 inches is a good size for a small room, but wouldn't suit a big lounge. So if your room is of a big size, better consider bigger TV.
Also, keep in mind it's only 720p and was released in 2018. However, for $130 it looks like a very tasty deal, especially if you use TV to watch the content of mid-quality.
Insignia NS-43DF710NA21 43-inch Smart 4K UHD – Fire TV, Released 2020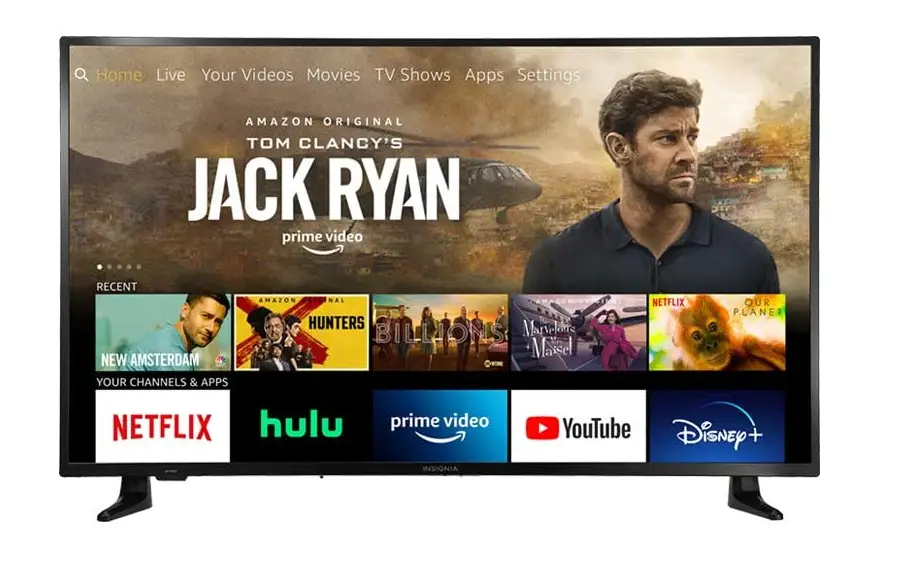 The current price is $320 as of August 9, 2021. A frankly fair price for all features you will get. Unlike the 32-inch model, it's 4K and was released in 2020. 43-inch is still so-so for a big lounge, but it will perfectly suit a mid-size room.
INSIGNIA NS-50DF710NA21 50-inch Smart 4K UHD – Fire TV, Released 2020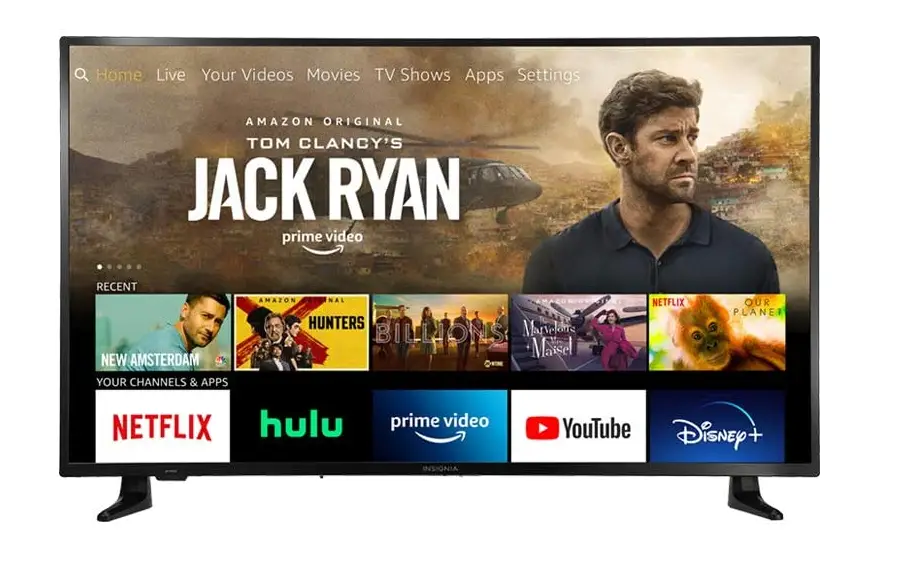 A great choice for movies and gaming. That's a good choice for large rooms (if you want to buy an even bigger TV – take a look at NS-55F301NA22, it costs $550 and was released in 2021). The display was made using LCD technology and offers 4K resolution.
The price for this TV is $450, as of August 9, 2021.
This article was written by Hai-Marie Newman and was reviewed by Vladislav Sheridan, a Managing Editor at Splaitor, according to Splaitor's Quality and Fact-Checking Policy.
Featured image credit: TV Repair