One way or another, people travel, change their place of residence, moving from country to country in search of a promising job or simply a better life. And in most cases in the new place, they find that they need to use the App Store and the iTunes Store of the country where they are now. In these cases, they have to change the country (region) in their Apple ID (iCloud) account. But over the years of living in the previous country, you may have bought a sufficient number of apps, games, movies, music, ringtones, and it is only natural that you want to continue using them. Apple is rather evasive on the official site warns that before changing the region in the account, it's necessary to download to the device all previously made purchases. In 2021, I decided to check it out for myself and share my own experience with you.
Reasons to change Apple ID region
The main reason is related to the fact that in the new place the user has to use applications that aren't available in the App Store of the country of origin. For example, in the Spanish App Store, you simply won't find HBO Max or Hulu. These services don't officially work in Spain, so they won't be in the regional store. But U.S. residents have been using them on a regular basis for several years. In addition, specific applications from banking institutions, transportation companies, and retail chains may be available only in the regional App Store.
Another reason lies in the means of payment used for purchases in the content store. Back in 2012. Apple allows you to link to the user's account only the card of the banking institution of the country that is specified in the account settings. This is quite understandable because as soon as you move to the U.S., you shouldn't make payments in the U.S. store in the currency of your previous country. In addition, Apple considers using an account in another country without proper changes in region settings to be a violation of the App Store and iTunes Store licensing agreement and terms of use.
Another thing is that unlike Google with its Play Store Apple doesn't specifically check where the user is really located and allows to register an account with the desired country no matter where are you psychically, as long as there is a valid bank card for that country.
I used the Spanish store for almost 9 years, using a Spanish bank card as a payment way, but for downloading specific applications was forced to leave the main account and go to a specially created other one. I have to say right away that this had no effect on the interface language of the device (it is always in English) and on Apple Pay. Regardless of the region, specified in the Apple ID settings, in the desired country you can link a bank card to Wallet, which works with Apple Pay, and easily pay for purchases in stores using iPhone and Apple Watch.
What to do before changing your Apple ID region
To begin with, you need to spend the entire balance of your Apple ID account.
In general, for most users, this is probably not very relevant information, since many of us haven't deposited money into our iTunes Store account in advance, but have paid for purchases and subscriptions from a linked bank card.
However, some may have received gifts in the form of Apple gift cards but not used those funds, and some may have topped up their iTunes account with virtual payment systems back in the day when there were no fees on such transactions.
How to check Apple ID balance on iPhone or iPad
To check your Apple ID account balance, open the App Store on your iPhone or iPad and tap your photo or avatar in the upper right corner.
On the screen that opens, the balance will be displayed under the user's name. If there is no balance, then accordingly nothing will be displayed.
How to check Apple ID balance on Mac or PC
On a Mac, you can also find similar information in the App Store app on the bottom left under your user name. On Windows computers, you will have to go to iTunes and select Store at the top of the App Store window. If there is a balance in the account under your name, you will see the amount.
How to spend your money from Apple ID
To spend all the money in the account you need to buy an application, a movie, or music. If the balance is less than the cost of one such digital product, then you need to contact Apple Technical Support, whose staff will help with the solution, but it may take more than one day.
Then you need to cancel all subscriptions and wait for them to expire, as well as the end of pre-orders and movie rentals. Apple simply will not allow you to change your country as long as you have at least one subscription active. I was forced to cancel my existing Apple Music subscriptions and go back to the free 5 Gb iCloud storage plan, and then also wait for the cherished date until which the last subscription was valid. And from my personal observation, ending subscriptions happen around 10 AM EST.
You also need to close family access. The point is that your family members can share paid Apple services with you, which you pay for with your card, as well as install the applications you've bought in the App Store, using your shopping list on your iPhone, iPad, or Mac. But all family members must have accounts that are tied to the same country (region). Once all family members' accounts, including yours, are moved to the new country, you can set up family access again.
Apple also recommends that you download previously purchased apps, music, and movies to all of your devices, as the App Store / iTunes Store in the new country may not have this content. And, of course, you must have a valid bank card for the country to which you are linking your account.
How to change region (country) for your Apple ID account on iPhone or iPad
Here's what you should do:
On your iPhone or iPad, go to Settings and tap your photo (avatar) or your name. On the screen that pops up, select "Media and Shopping" and choose "View" from the pop-up menu;
After authenticating with Face ID or Touch ID, select "Country or Region";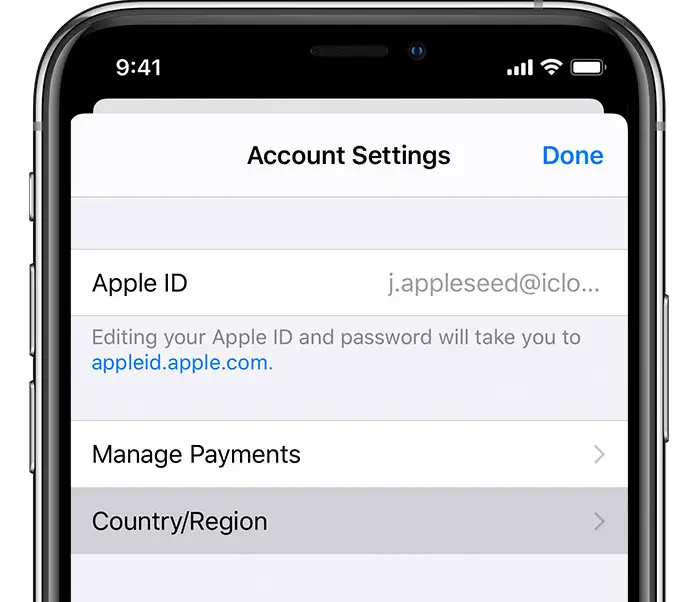 In the drop-down list select the desired country. After that, on the next screen we carefully read the license agreement, usually in the language of the selected country, and accept it, and then on the last screen we specify the payment information: card number, expiration date and CVV code, and the legal payment address, including the zip code Apple officially sends the receipts.
After checking and linking the card, the country (region) in your Apple ID account will be changed successfully.
How to change region (country) for your Apple ID account on Mac or PC
The same procedure can be performed on a computer. It doesn't matter whether it's a Mac or a Windows PC. On a Mac, open the Music app, and on a PC, open iTunes. In the "Account" menu, select "View…".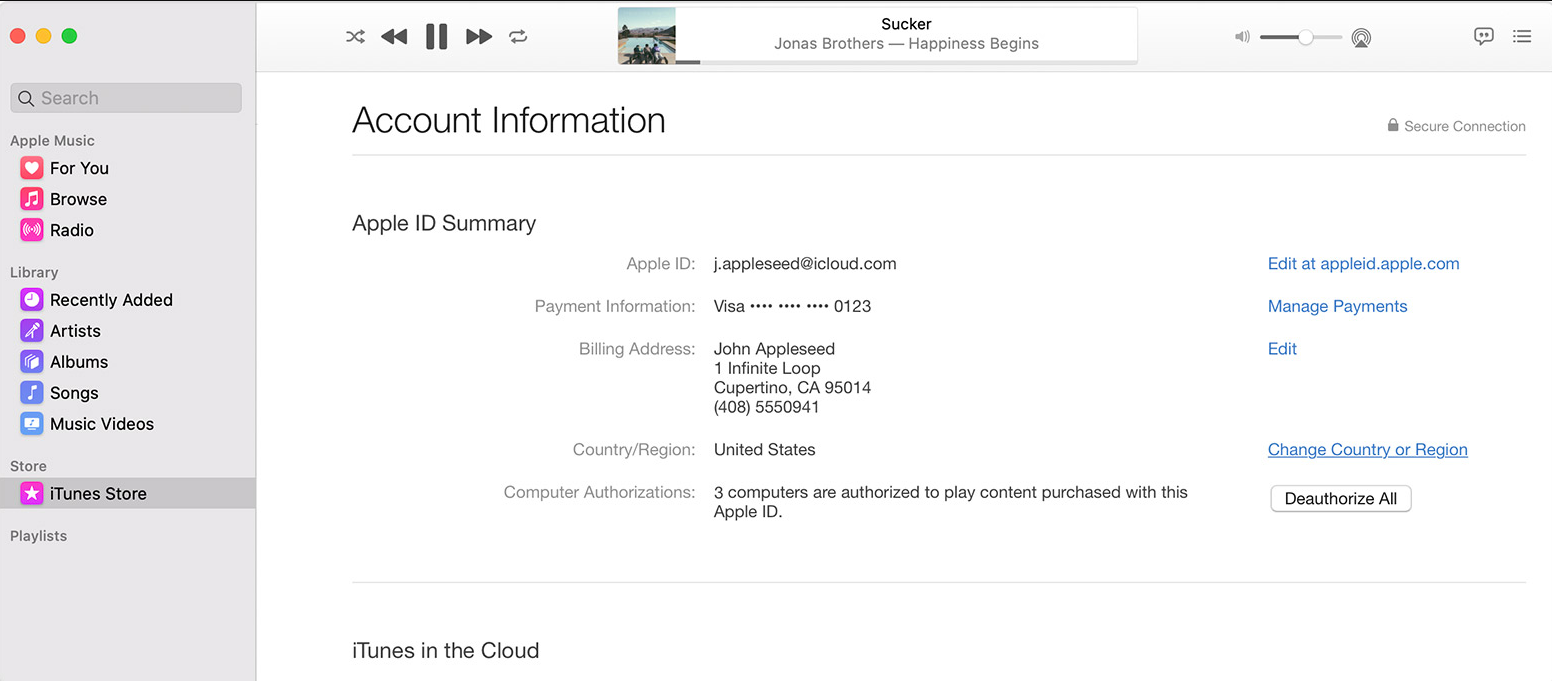 On the drop-down list select the country, read and accept the terms and conditions, enter the bank card details and billing address. After clicking the "Continue" button, the bank card and other specified details are checked and the country (region) is changed.
How to change region (country) for your Apple ID account via website
This procedure can also be done on a special website. After entering the Apple ID and password, it is necessary to pass the two-factor authorization by entering the six digits that come to a trusted device, such as an iPhone or in an SMS message to the linked phone number.
On the page that opens, in the first subsection "Account", click "Change" on the right.
Scroll to "Country/Region" and select the desired country from the drop-down list.
Further all according to the same scheme: acceptance of terms and conditions, entry of payment information and billing address. After successful binding of the card, the country (region) will change. It remains to click on the blue button "Done" at the top right of the page.
What happens to purchases on the App Store and iTunes Store after you change the country (region) in your Apple ID account
Not very much, actually. If they are available in your new region, they will all be available as well.
Also, if you have downloaded content to your iPhone/iPad but it is not available in your new region, you will still be able to use it.
However, if you purchased some content and did not download it to your device and it is not available in your new region, you will have to change the region again to see that content.