In recent years, streaming services have begun to take over the entertainment movie market more and more aggressively. Today, almost everyone who likes to watch movies or TV series has a subscription to one or more streaming services. One of the most popular services is Hulu.
Hulu is quite a popular streaming service. It has a Windows app where you can either stream your favorite shows which are available on Hulu or watch the original content directly on your PC. However, from time to time users still have problems with Hulu on their PC. Usually, it's either a system failure in the app itself or an Internet problem. Either way, it can get very annoying if you get a critical error while watching your favorite movie, but there are several universal ways you can do to fix it.
What is Hulu
At the moment Hulu is only available on U.S. territory and U.S. military bases in Europe. Hulu has a rather large library. It's a big streaming service that not only broadcasts the shows that Hulu has acquired the rights to, but also does its own shows. In this service, everyone can find something to their liking. In addition, Hulu has its own apps on most current devices.
The PC is no exception. Instead of watching Hulu in your browser, you can always download its official app directly from the Microsoft Store. After that, all you have to do is log in to your account and you will have access to all the content that is included in your subscription.
However, from time to time users notice that there are various problems with the Hulu app. At times it may crash, fail to connect to servers, or show videos with slumps and delays. All of these problems are actually quite easy to solve. To start a fix, you first need to determine exactly what the problem is. I would divide the problems into 2 types: Problems with the program and problems with the Internet.
Read also:
Why Hulu might not work on your PC
As I described above, the problems with your Hulu app can be divided into two categories. You may have problems on the side of your app, for example, you may have a conflict between different apps. Also, streaming services work only with a stable connection to the Internet. So if you have problems with your connection, this can also be a problem.
Software problems include different crashes, brakes, or artifacts in the video. If you have, for example, the audio track lags behind the text, this is most likely also a software error. This usually happens if you haven't updated the app for a long time or if you have many parallel processes running.
Internet problems can be distinguished by too long downloads or even endless downloads. Internet problems can also cause you to get kicked out of your account and the video quality is very poor.
How to fix software issues
If you think you encountered a bug in the Hulu app, you should try the following fixes one by one. Most likely one of them will be able to help you. Usually, this problem is solved in just a few minutes. In order to solve it you need:
Try running Windows Store apps troubleshooter
This is a standard utility and will work for your case if you download the app from the official Microsoft store to run it's actually quite easy. You only need the start menu to do it. To do this:
Enter Windows Store apps in the Start menu search bar and select Find and Fix Windows Store apps.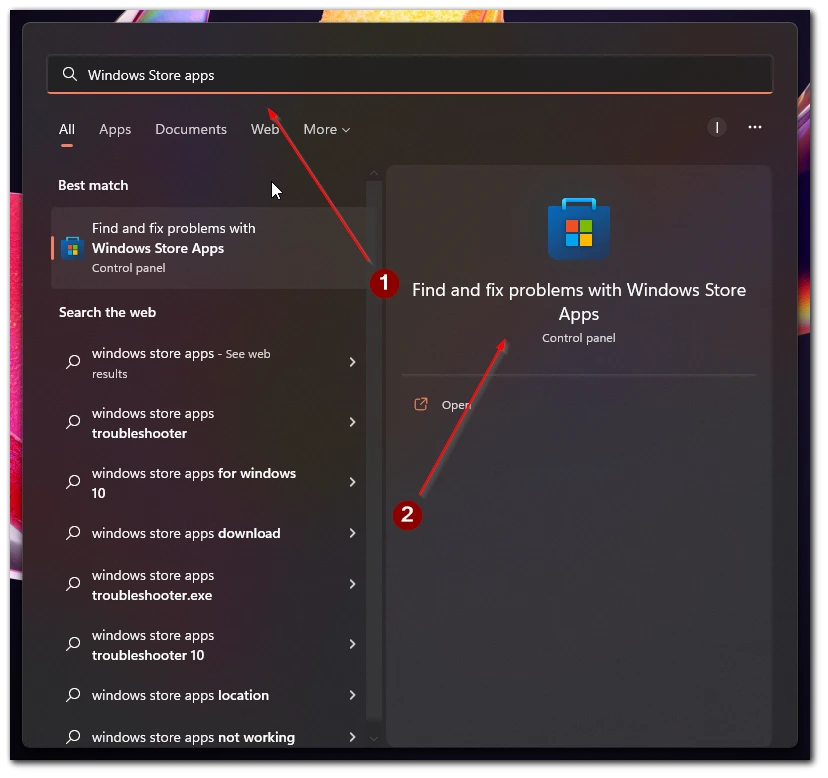 You will be presented with the Microsoft Store apps fixer in front of you. In the window that appears, click Next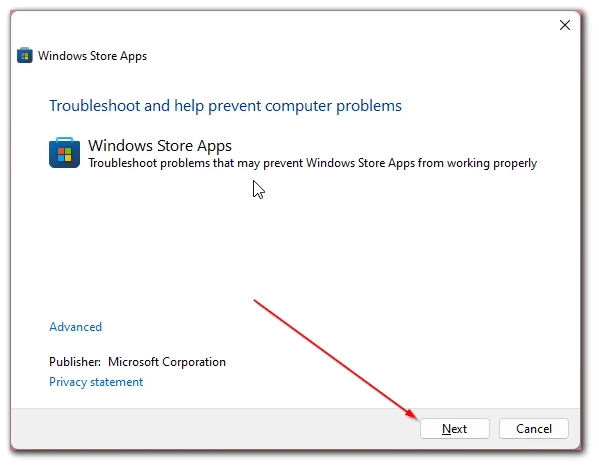 The troubleshooter will then analyze the apps on your computer and offer you its solution. This may take a few minutes of recalculating time. You should just wait. Usually, troubleshooter solutions consist of resetting the app or reinstalling it.
Reinstall the app and restart your computer
The problem may be in the settings of the app. In this case, simple reinstallation of the app may help. After that be sure to restart your PC to disable all unnecessary processes and try to turn on the Hulu app first.
Update the Hulu app
the error may also be due to a critical bug. Usually, developers are quick to fix such problems so you should go to Microsoft Store and check the latest update. You should also try to update your Windows. You can also try to update your Windows to avoid many bugs.
Temporarily disable antivirus
Some antiviruses might mistakenly think that the Hulu traffic is malicious. So you should try to disable your antivirus for a while and then reconnect it. Maybe this is your problem.
These simple tips should help you solve most problems you might have with the software part of the app. If none of this helps you, you should move on to Internet connection-related fixes.
How to fix network issues
If you encounter connection problems, there are also a few solutions I can suggest you try. The first is to check your connection to the Internet. To do this you will need to:
Check the connection to the Internet from any other device
If you have wi-fi then you should try connecting a smartphone or laptop to your wi-fi and see if the Internet connection works on it. You can do this by simply opening up any website and checking there.
Connect your PC with an Ethernet cable
This can help if there is a problem with your router. If you have a weak connection or breaks in your connection you can use a cable to avoid this and get a stable connection to the internet. Provided you choose the right cable.
Restart your router
The problem can also be caused by a hardware error in the router in which case a simple restart may be enough to fix it. Simply unplug the router and leave it unplugged for 10-20 minutes. After that, you can plug it back in and continue to use the Internet.
Check if the Hulu servers are working
Another problem could be a massive breakdown on the part of Hulu servers. This website can help you with that. Here you can check if the different services are working. Just type in the Hulu address and it will give you all the information.
Read also:
What alternatives instead of Hulu you can use
If nothing from the previous guides helped, maybe you should consider just changing your streaming service. In fact, there are quite a few streaming services today that are just as good as Hulu. Some even have a lot more content in their library. I would point out 2 streaming services that I think are the most interesting.
Disney Plus is a streaming service from Disney. I think it's no secret that Disney is the king of entertainment in today's market. They make very popular movies, TV series, make good shows. All of this will be available to you with a subscription to Disney Plus.
Netflix is a real breakthrough in streaming services. It was one of the first truly popular streaming services worldwide. Today Netflix is available in almost every country and as the streaming service is constantly releasing new shows of its own production you'll never be bored after purchasing a subscription to it.