If you like to leave comments under bloggers' videos, you can collect some likes or dislikes for the comments. But you won't be able to see the list of users who liked or disliked the comments. That is, it works the way that there is no list of emails or names of channels that interacted with your comment.
This isn't allowed on YouTube for security reasons. So the company thinks it can keep users safe. So the only thing to do is to see how famous your comment is through the number of likes and dislikes.
What do YouTube users think about this?
Many people on the forums are complaining that YouTube doesn't allow you to see who liked or disliked a comment. Sometimes users want to see who approved or opposed a comment.
At that time, YouTube didn't comment on this and doesn't explain why it couldn't give users. However, several reasons are easily understood by most people who know the policy of the YouTube platform.
YouTube shut down the ability to see the number of dislikes on videos long ago, and it works the same way with comments. The platform does everything to preserve anonymity in order to protect and maintain the safety and privacy of its users. Otherwise, there is a risk that other people could get your data and leave you vulnerable to phishing, blackmail, or aggressive marketing campaigns to sell products you don't want.
How does the comment function work on YouTube?
To leave a comment on the video, you need to log in. After that, when you write a comment, it's saved in the YouTube database along with your username. At the same time, the video ID, timestamp, and parent comment ID are stored in the database if you reply to someone else's comment. All of this information is saved to the system as numbers.
Then after you have written a comment, someone has liked or disliked it, this number will be displayed immediately. As well as other users can reply to you and engage in small talk with you.
Also, don't forget that leaving comments under videos increases your chances of developing your channel. Because when another YouTube user clicks on your profile icon, a window with a 'Subscribe' button will appear. All your videos will be displayed if a YouTube user clicks the icon to go to your channel.
All this will help you develop your channel and get more viewers. As a result, your video can go to the Trends section or the Home page. Then your videos can be displayed to users who watch similar videos.
What to do to comment on a YouTube video?
You can leave a comment below the video, whether or not you are subscribed to the creator. To comment on a video, you need to follow these steps:
The first step is to open the required video on YouTube.
After that, click on the Comments section.
Then you need to click on Add Comment.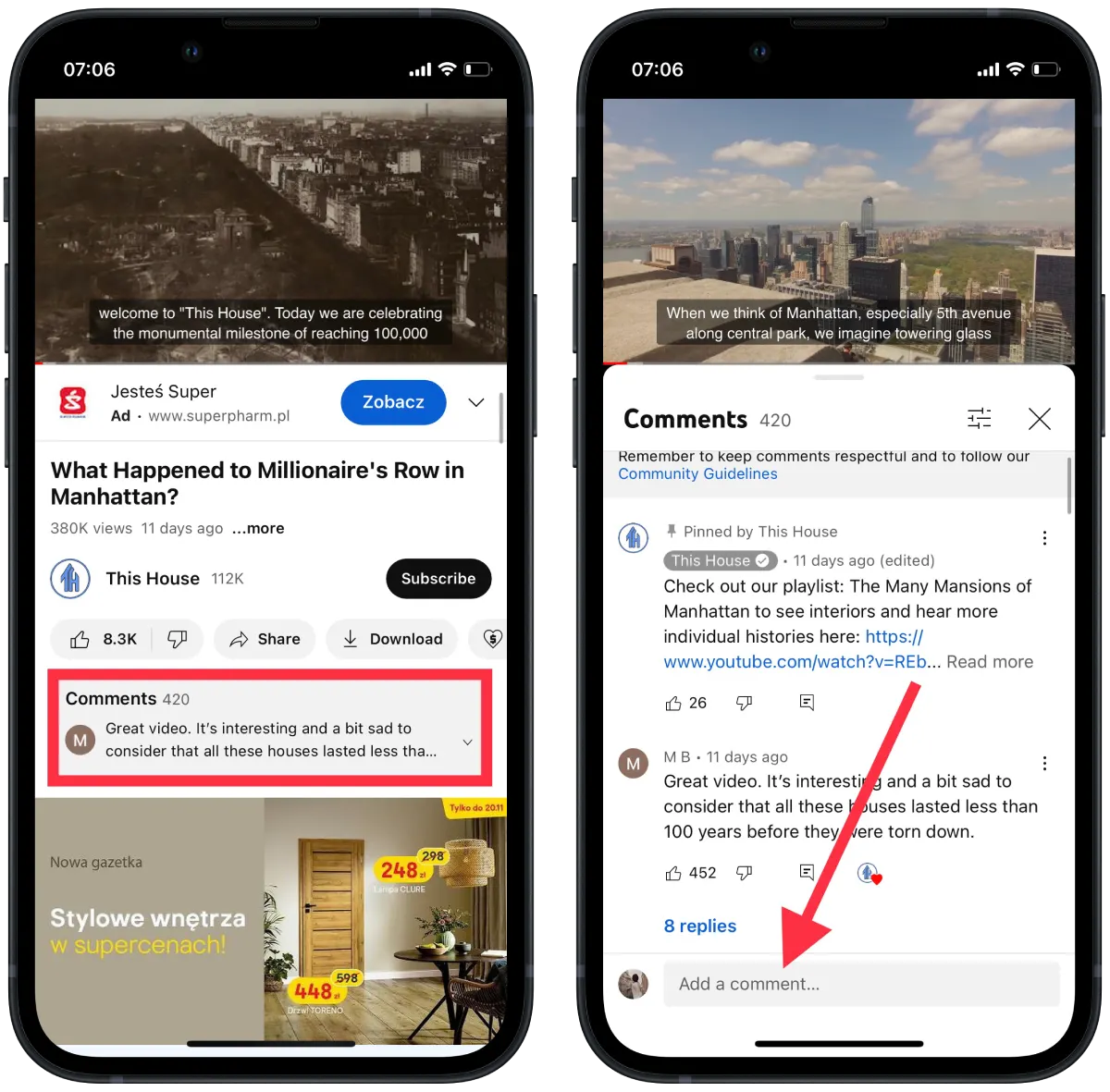 After that, write the text and click on the Send icon.
After these steps, the comment will appear in the list, and other users will be able to respond to it and leave a like or dislike it.
What to do to delete a comment on a YouTube video?
YouTube users can manage the comments that users have left under their videos or those that they have written on their own. To delete a comment, you need to follow these steps:
The first step is to open the required video on YouTube.
Then, click on the Comments section.
After that, find your comment and click on the three dots in the corner.
Then after that, select Delete.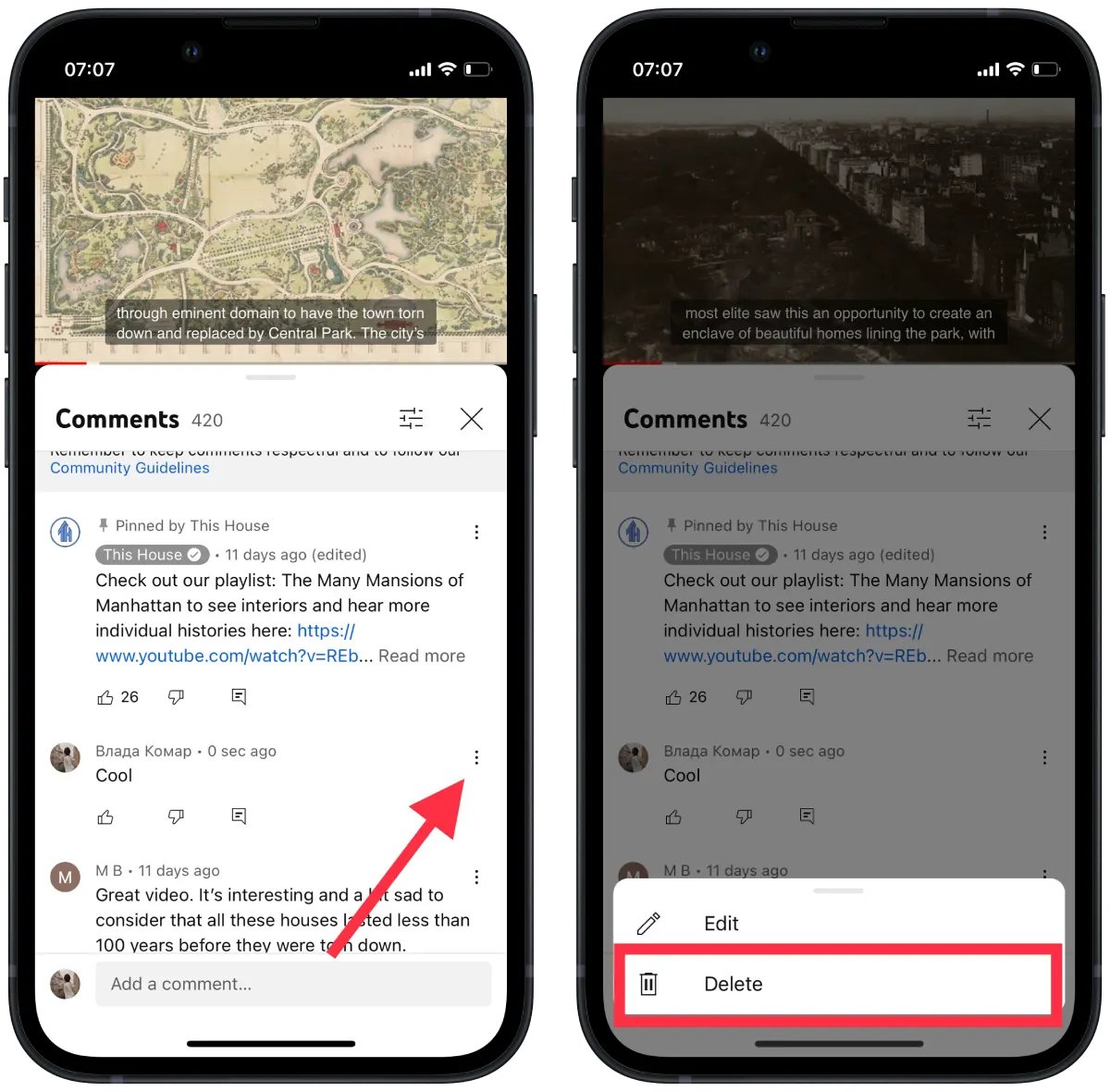 After these steps, the comment will be deleted, and there will be no marking. If for some reason, your comment gets a lot of dislikes and you decide to delete it, it's easy to do.
At the same time, if you need to change your comment, you should follow the same steps. Instead of Delete, select Edit.