iPhones are some of the most popular smartphones on the market. They offer their users quite a few different functions. In addition, a big plus is that all devices from Apple can unite into a single ecosystem where all devices will be connected and can interact with the help of internal functions. Also as I said iPhones fascinate with their unique features such as Face ID.
Facial recognition technology to unlock your device isn't generally unique to iPhones but their Face ID technology is considered to be the safest and gives its users a number of interesting additional features. However, many users are wondering what iPhone they can buy so that there was a Face ID?
What is the iPhones Face ID
As I said above, iPhones are a brand of quality in today's technology world. The fact is that Apple has managed to make their devices so iconic that even considering not the most advanced technologies that they implement in their devices and quite a high price, their devices are still the most demanded in the world. Also, many of the solutions that Apple adds to their iPhones then become the new fashion and other companies start to adopt their standards.
That's what happened with Face ID. Before its introduction, most smartphones had buttons with fingerprint scanners. However, since the release of the iPhone X, things have changed a bit. Today it's the most common feature that all modern smartphones have, especially in the premium smartphone segment.
However, since a lot of iPhones are similar to each other, some people don't even really understand the difference between, for example, iPhone mini 12 and iPhone mini 13. In this situation, the question arises. And on what kind of devices today is available technology Face ID.
Read also:
What iPhones have Face ID
If you're wondering which smartphones have Face ID technology. The answer is really quite simple. This feature has all iPhones that have been released after the iPhone X. Although there are a few exceptions, such as iPhone SE 2. He, like the older models, has on his body a virtual button with Touch ID. The complete list of iPhones with Face ID looks like this:
iPhone X
iPhone XR
iPhone XS
iPhone XS Max
iPhone 11
iPhone 11 Pro
iPhone 11 Pro Max
iPhone 12
iPhone 12 mini
iPhone 12 Pro
iPhone 12 Pro Max
iPhone 13
iPhone 13 mini
iPhone 13 Pro
iPhone 13 Pro Max
There's also a popular question about what the Face ID looks like on the device itself. In fact, you've probably seen memes with "bangs" in the new iPhones. This is the block where the Face ID camera is placed.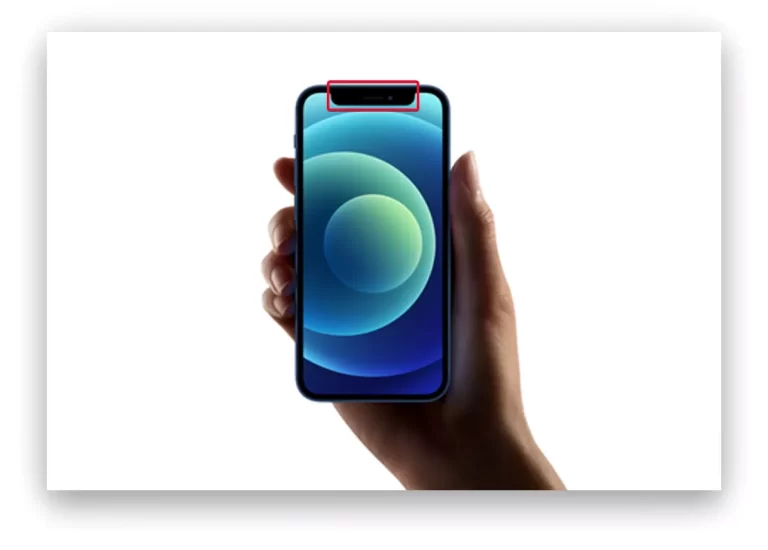 You can set it up quite easily. In addition, it offers its users a few other functions, for example with its help you can make your own Animoji. It also helps to make the front camera as clear as possible.
Is Face ID really safe
Most users, when they switch from fingerprint recognition to Face ID, are very concerned about their security. It's understandable because, in theory, the Face ID can be less secure than the fingerprint scanner. However, is this true?
In fact, many cybersecurity experts say that fingerprint scanners are generally just as secure as the face or voice scanners. Such security technologies are difficult to hack by brute force and are more secure than a simple password.
However, you still need to be careful. There is such a thing as computer sabotage, and it can be applied to your mobile devices as well since your smartphone is essentially a small computer. So never give your smartphone to a third party, if they want to, they can hack it even with Face ID protection
How to set up Face ID
In order to install a Face ID, you first need to get a password for your iPhone. This will be used if your Face ID fails several times. If you already have a strong password, the next step is to use it:
Go to Settings on your iPhone.
Here, go to Face ID & Passcode
Then you need to check the box next to Unlock iPhone in the Face ID menu.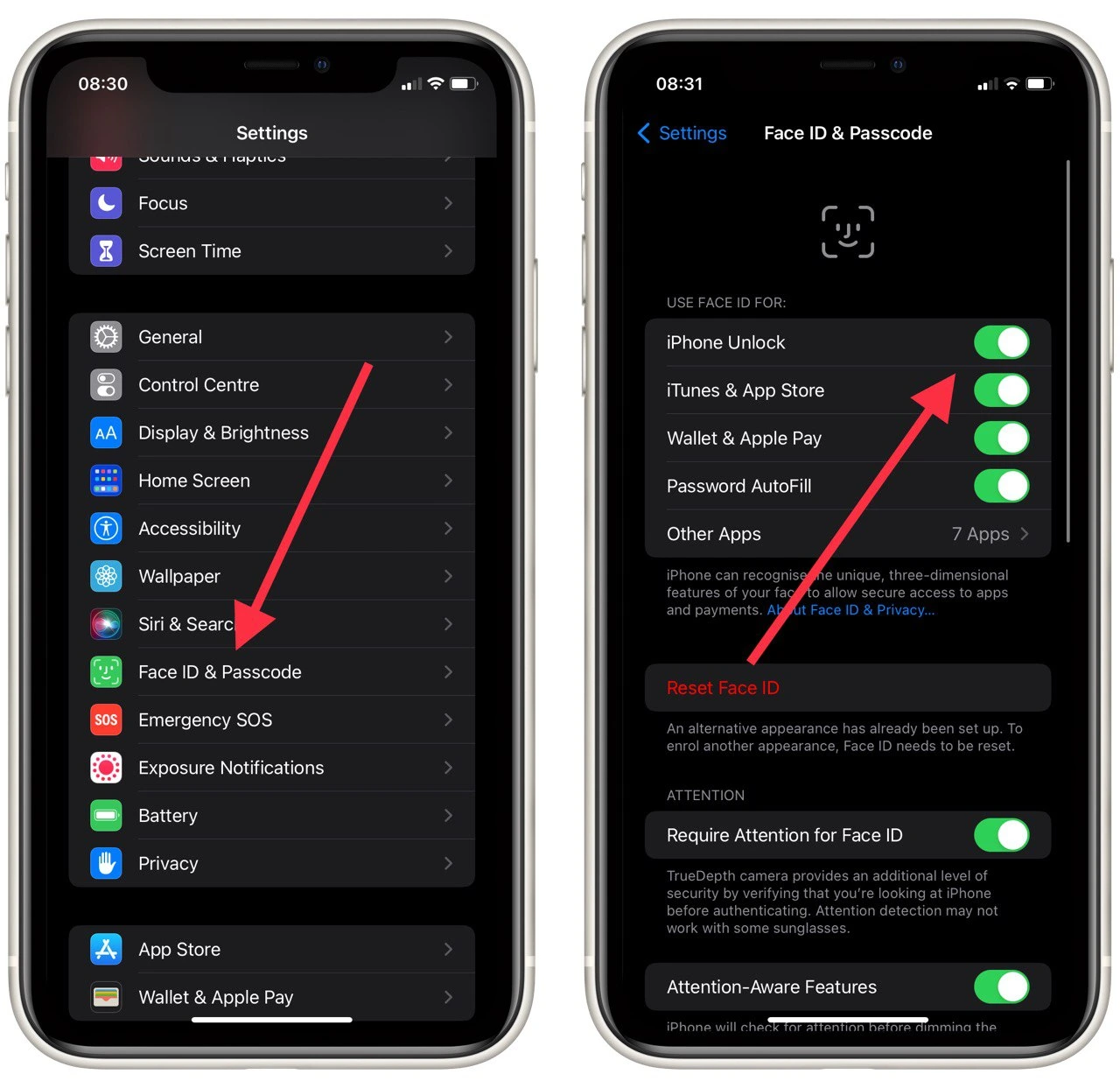 Then you just need to enter your invented password and follow the simple instructions to set up your Face ID.
You may need to turn your head to do this. You can also add an additional profile of your face there such as wearing glasses so your iPhone can better recognize your face. Although the iPhone can learn and over time it will start to recognize you better without additional actions.
Read also:
What iPhones have touch ID
If you still don't like smartphones with facial recognition technology, you can find yourself a smartphone with fingerprint recognition technology. In fact, there are quite a few such smartphones on the market today. The fact is that in terms of security, not many can compete with Face ID and it turned out that it isn't so easy to develop your own module which will be as good at scanning your face. In addition, manufacturers are trying to prevent the situation with the "bangs" iPhone and make the cameras as small and neat as possible.
Also, the Covid 19 pandemic has made its adjustments. As it turned out, face scanners cannot work when a person wears a mask. Agree enough uncomfortable and not even safe to remove the mask in public transport for example, or in the mall in order to just unlock your smartphone. In this case, Apple's previous security technology will help you.
Touch ID first appeared in the iPhone 5S and since then it has become the security standard for iPhones and many other mobile devices. Since then, quite a few different iPhones with a fingerprint scanner have been released. In fact, all iPhones from the 5S to the iPhone 8 were released with the Touch ID feature. There have been a few exceptions with newer models. At the moment, the complete list of iPhones with Touch ID looks like this:
iPhone SE (2022)
iPhone SE (2020)
iPhone SE (2016)
iPhone 8 Plus
iPhone 8
iPhone 7 Plus
iPhone 7
iPhone 6s Plus
iPhone 6s
iPhone 6 Plus
iPhone 6
iPhone 5s
Maybe in the future, it will be replicated, because Apple still uses the Touch ID in some of its devices, such as iPads and MacBooks. It's quite an elegant, though slightly outdated way to protect your device. The most important thing is that it's no worse than Face ID and in some things, even better.