Hive Social has become prominent in social media and has gained considerable popularity as an alternative to Twitter. It attracted the attention of many users looking for a new social media after Twitter was bought by Elon Musk and quickly gathered a significant number of registrations.
Hive Social's algorithms are entirely different from other social media. At the same time, the story of Hive's creation is unusual and hides many secrets. Since this social media has become popular, I decided to test it and learn more about it. In my opinion, Hive Social is a good option for becoming an influencer.
How did Hive Social become popular?
Hive had several spikes after which the number of users grew. After looking at what events this happened with, it's worth saying immediately that Twitter helped with this.
First, the first version of Hive launched in October 2019. But the first active user stream didn't come until 2021. The new users were K-pop fans and it pushed the boundaries of the servers.
The next significant growth spurt was in November 2022. On November 17, Hive went viral on Twitter. Users from the Philippines and Thailand began to use Hive actively. Then K-pop fans embraced Hive Social as a new way to express themselves.
One fan of the K-pop group Seventeen created a tweet about Hive Social. That tweet got 129,000 likes. Star Wars fandom and gamers followed. This influenced more than 80,000 people to create an account on the app in 24 hours.
Then three days went by, and on November 21, the app tweeted that it had reached 1 million users. The numbers continued to grow and on Tuesday, Hive's Twitter account noted that 250,000 users had joined overnight.
Who owns Hive Social?
For me, this has become a popular theme because there is much useful information behind creature history. But with Hive Social, it's not as accessible.
Hive is now headed a 24-year-old CEO, Raluca Pop, who also uses Cassandra when people have trouble pronouncing her Romanian name.
In 2021, Kassandra Pop claimed in an interview that she was the app's founder. The website identifies the platform's creator as "Raluca" and says she works with an unnamed developer to ensure the app runs smoothly.
After this interview, people began to believe that Kassandra Pop might be Raluca. Nevertheless, the ownership and leadership structure of Hive Social remains unclear.
How does Hive Social work?
Hive Social takes a unique approach, avoiding algorithms like other social media. Hive's algorithms display posts chronologically. This means that users are presented with content in the same order it was posted, without manipulation or prioritization based on personal interests or viewing habits.
It is entirely different from how other social media, Twitter or Instagram, work. On those social media, the algorithm builds posts based on your interests. So if you comment or like a blogger's posts or tweets, you'll see them above everyone else in the feed.
But Hive Social works in a completely different way. If you remember how most social media worked a few years ago, you'll love Hive. All of the posts are displayed in real-time. That is, users' feeds are generated from new to old. This algorithm makes it much easier to promote your personal brand. That is, if you are active, you can get noticed.
That's why I think this social media is perfect for people just starting their journey as a blogger.
Another notable feature of Hive Social is the ability to uniquely and creatively customize your profile. In addition to the standard profile image and cover art options, users can choose a color theme that applies to all their profile buttons, giving their page a cohesive and personalized look. Users can also embed a song that plays when others visit their profile, adding a fun and musical element to the social media experience.
My experience using the Hive Social
Before I start describing my experience, I should say that I am not a fan of Hive Social. In fact, it's hard for me to imagine that this social media will be at the level of Instagram and Twitter for many years.
I was curious about the beginning of the Hive, but the whole story reminded me of Clubhouse, which became abruptly popular and was soon forgotten.
It is worth pointing out immediately that the use principle is very similar to Twitter. For me, this is more of a minus. Because in that case why switch to another social media? But all the same, an interest took over, and I decided to look into it.
I want to start with the function to add music. Connect your Spotify or Apple Music account to Hive Social to add music to your profile. This is what makes Hive stand out from other social media. Users can choose whether the song plays automatically by opening the settings page and clicking on the "Music" option. The first song slot is free, and additional slots can be purchased for those who want to add more music to their profiles.
You can also choose your own color for your profile. This will help you stand out. All of this can be set up in the settings.
Hive also opens up more options for people to post nude images that are inherently artistic or creative. When posting NSFW adult content, set the NSFW button to "On" in the posting settings. This keeps your content from being seen by minors and prevents the account or publication from being deleted.
If you want your post to be seen more widely, including appropriate hashtags in your content is important. Pretty much the same as other social media platforms. This way, your post is more likely to appear in the Discover tab, where users can find new content and interact with other users with similar interests.
Hive allows users to upload more than four images to a gallery post. For many users, this didn't have a wow effect. Since on Instagram, they can add 10 photos.
The rest of the features are almost the same as Twitter. If you've used it before, you can easily start using Hive Social.
What to do to join Hive Social?
To sign up for Hive Social, you need to follow these steps:
Download Hive Social from the Apple App Store or the Google Play Store.
Then open the app and click "Create an account."
Then choose which method is suitable for you to sign up. You can use your Apple ID, Google account, or email.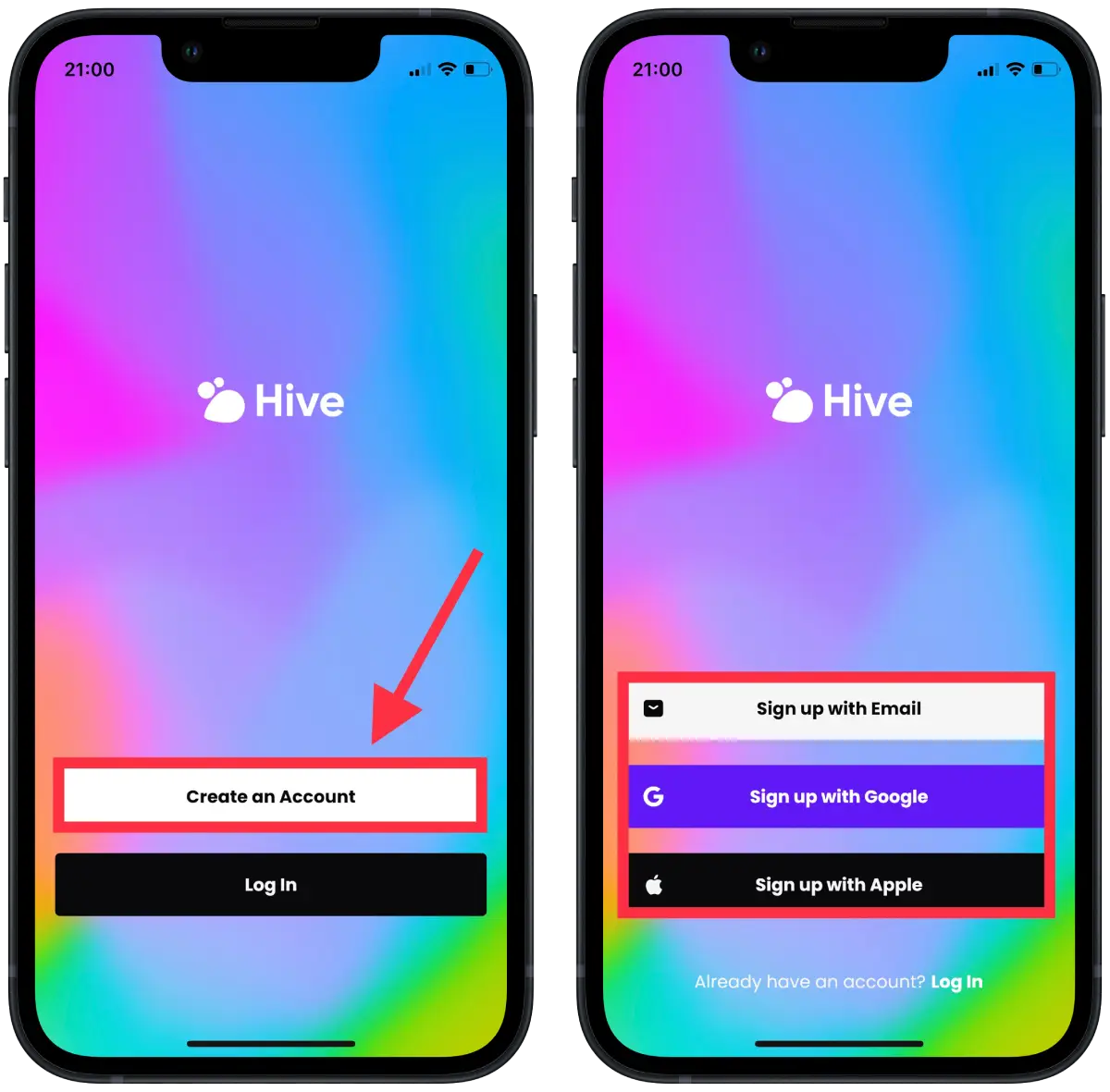 Then enter your age and click on "Next."
Сhoose a display name and username. 
Next, choose your interests.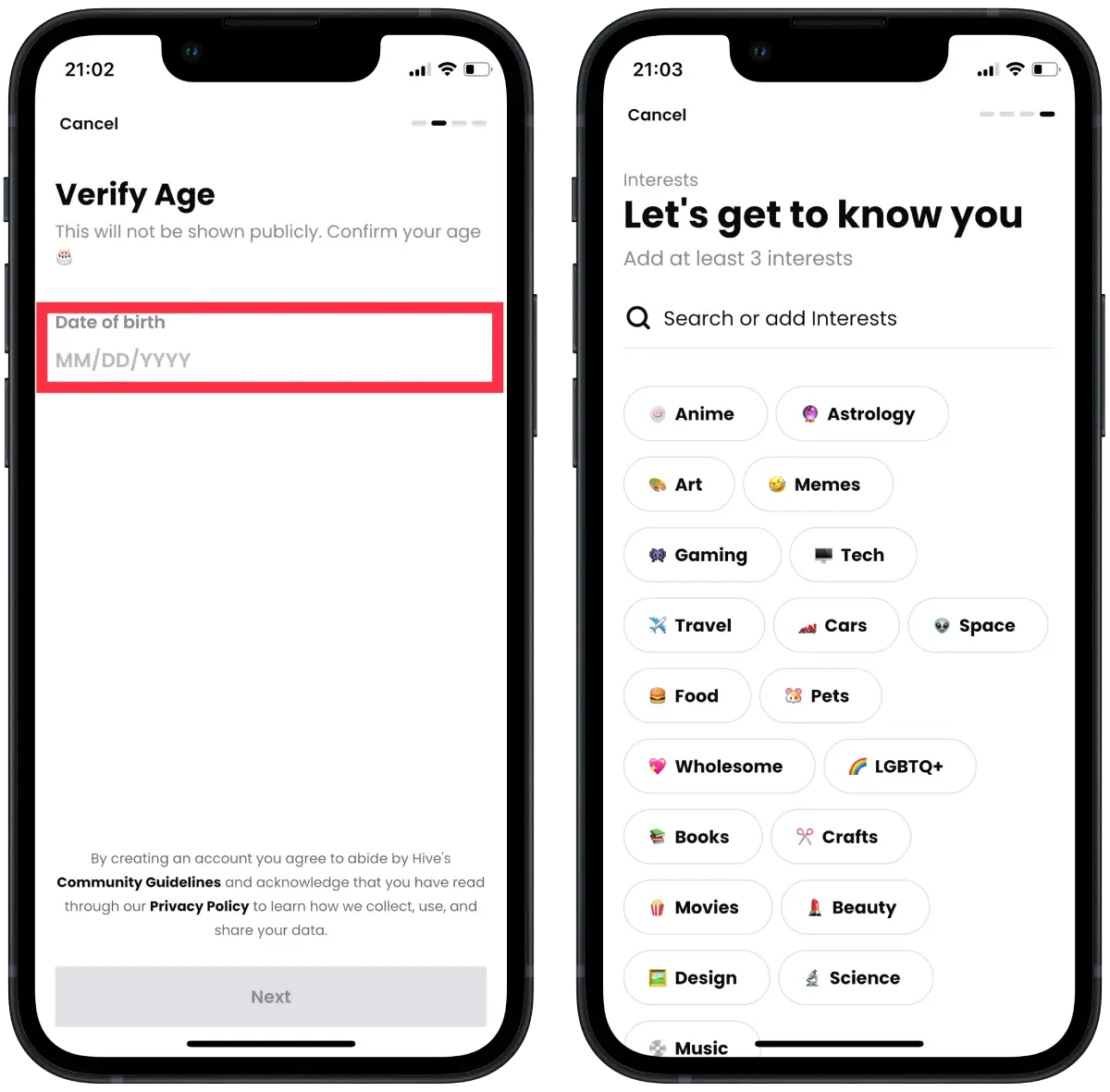 After these steps, you can start using Hive Social. Based on the interests you select, your feed will be formed in the future.