It's very difficult to imagine modern life without the Internet. It's so tightly integrated into our lives that we can no longer live a day without access to a global network. However, I think everyone knows that you can access it only with special programs called browsers. There are a lot of debates about which browser you should choose, and in these debates, the name Opera always comes up.
Opera is quite a convenient and functional browser. Including it has several convenient and unique features which you will not find by default in other browsers. For example, the Speed Dial feature allows you to get quick access to frequently visited sites. This is very useful if you surf the same sites on the Internet.
What is Opera Speed Dial
Opera is one of the most popular and most used browsers in the world. It has a fairly simple interface and is known for its unique features. For example, Opera has a built-in VPN function, different built tabs with social networks, and many other interesting features that may interest you.
As an example, we can mention the Speed Dial feature. This is essentially Opera's signature home page. When you try to create a new tab, a Speed Dial appears in front of you where different sites you visit are available. You can also see recommendations based on sites you've visited before, a search box, and a weather report along with your location. All of this is available by default but you can expand the list of features. To do that, you have to install the latest version of Opera.
It's pretty handy because instead of having to search for the site you want again, you just have to click on the site's icon. You can add sites here manually or they will be added by the system automatically. You can also disable this feature or customize it to your needs.
Read also:
How to add or remove websites to the Opera Speed Dial
The most basic reason you need Opera Speed Set is to add websites there for quick access. It's actually quite easy to do. By default, it will add websites that are popular in your area or that you visit frequently. To add a site manually you need to:
Go to Opera Speed Dial with the "+" icon on the top.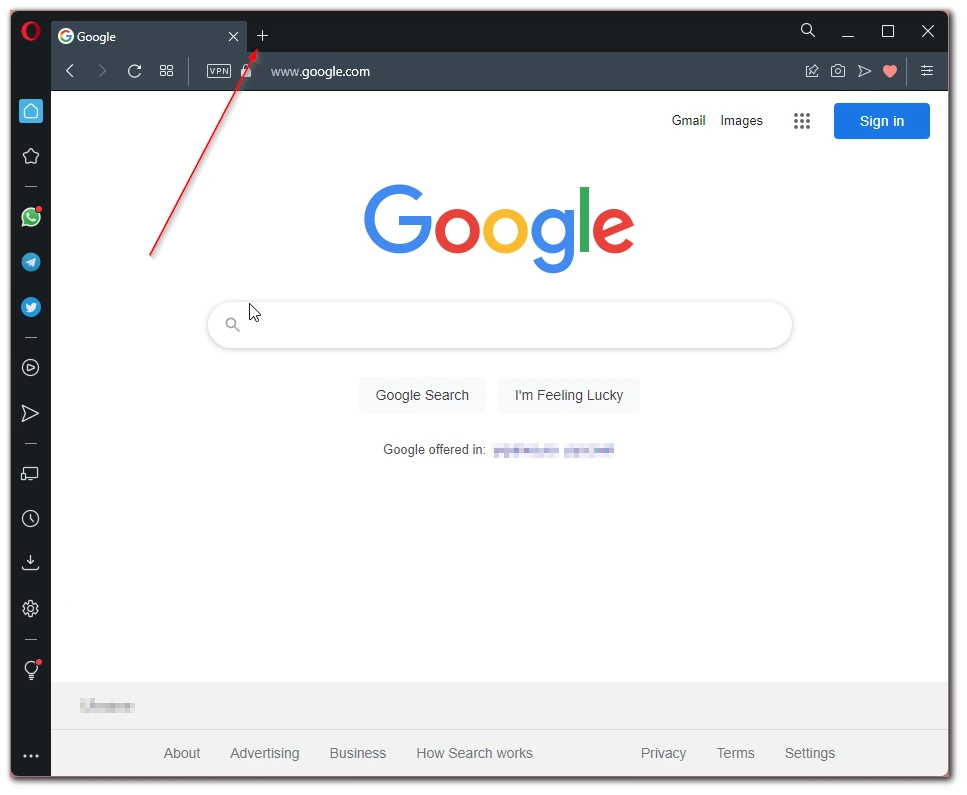 Here you see the "+ Add a site" button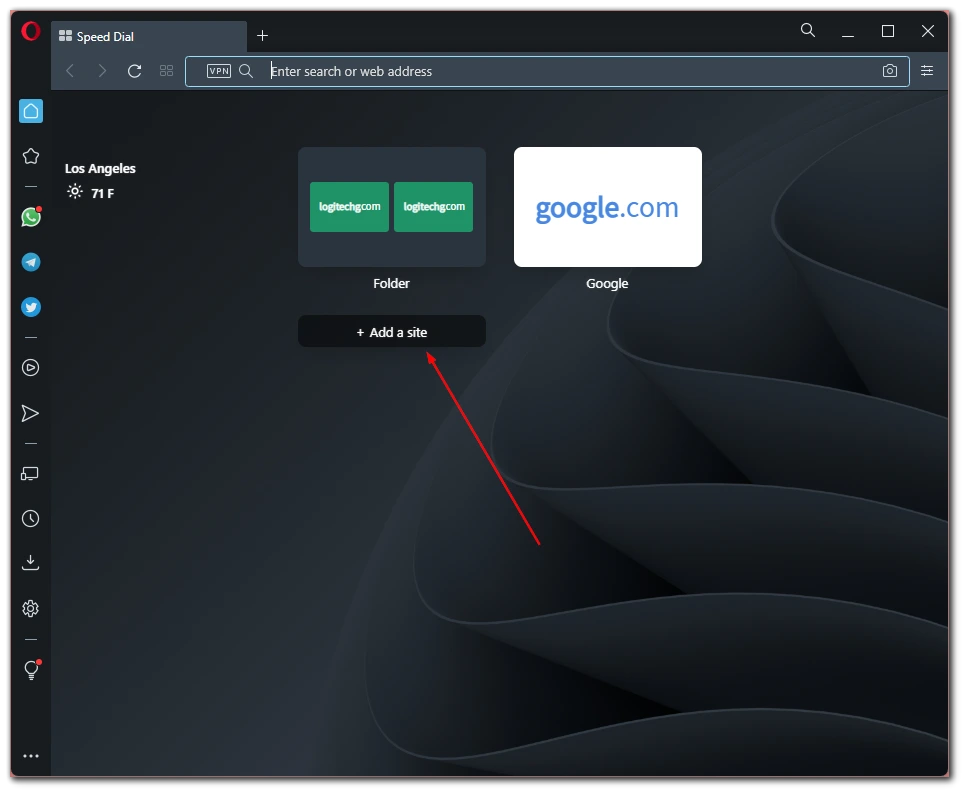 Then in the popup menu, you must enter the address of the site you want to add. At the end click the Add to Opera button.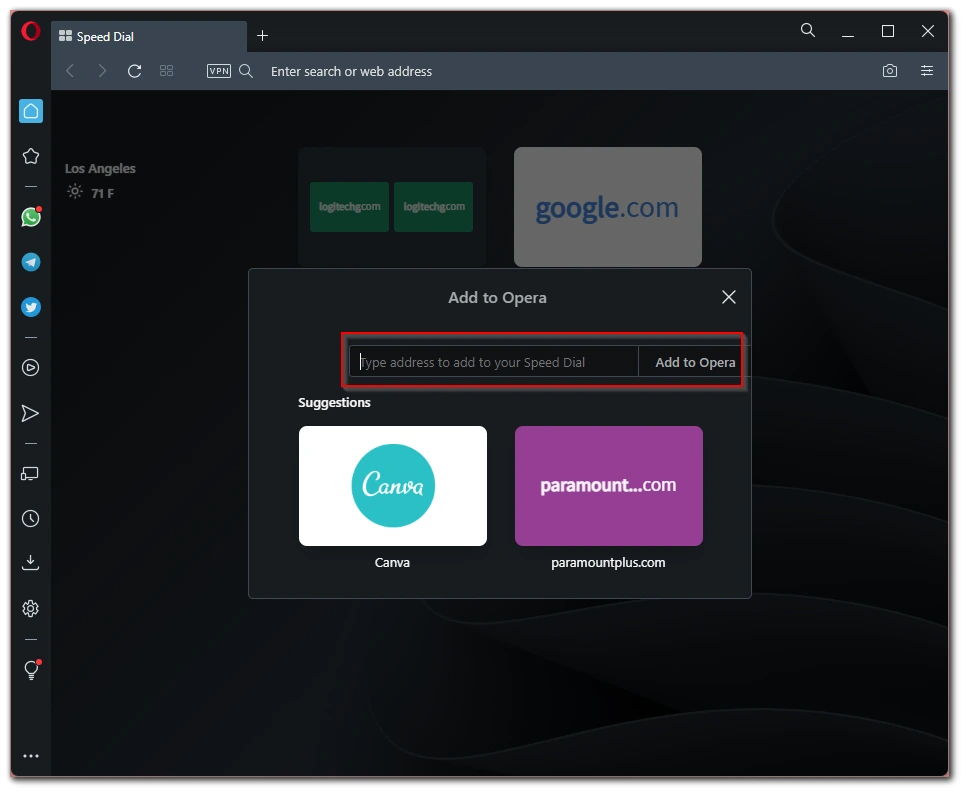 Done, you have added a new site to your Speed Dial panel. You can modify it. To do this, you just need to right-click on the tile with the website and select Edit. To delete you just right-click on the website and select Move to Trash.
How to create folders on Opera Speed Dial
In addition, if you have many similar tabs on the same resource, or if you just use specific links only for work or study, you have the option to combine them into one folder. This way you save yourself space on Opera Speed Dial and can put all the links you need in one place. To do this, you need to:
Hover your cursor over one of the tabs and drag it to the next tab.
You will have a folder created. To edit the name of this folder you need to click on the three dots in the upper right corner of this folder and select Edit.
As you can see, it's pretty easy to do. There is no limit to the number of folders or tabs you can add there. You can create several folders for yourself, for example for work, study, entertainment, or streaming services. It's all up to your imagination.
How to add other items to your Opera Speed Dial
You can also add or remove various other items to your Speed Dials, such as the latest news, a continue shopping section, or a weather widget. You can do this quite easily with your browser's Preferences. To do this you need to:
Click on the Settings icon at the top right of your window.
Here, select Go to full browser settings.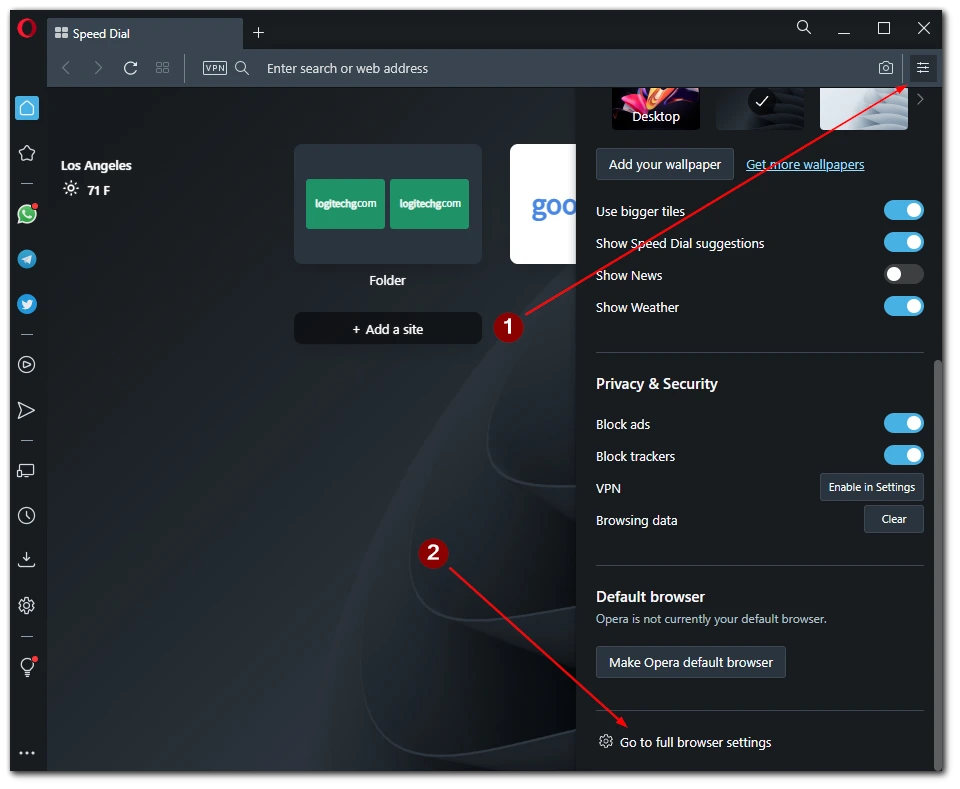 Then on the side menu, click on Advanced and then click on Features.
After that, you need to scroll down to the Start page tab. This is where you'll find all the possible features to add additional panels to your Speed Dial.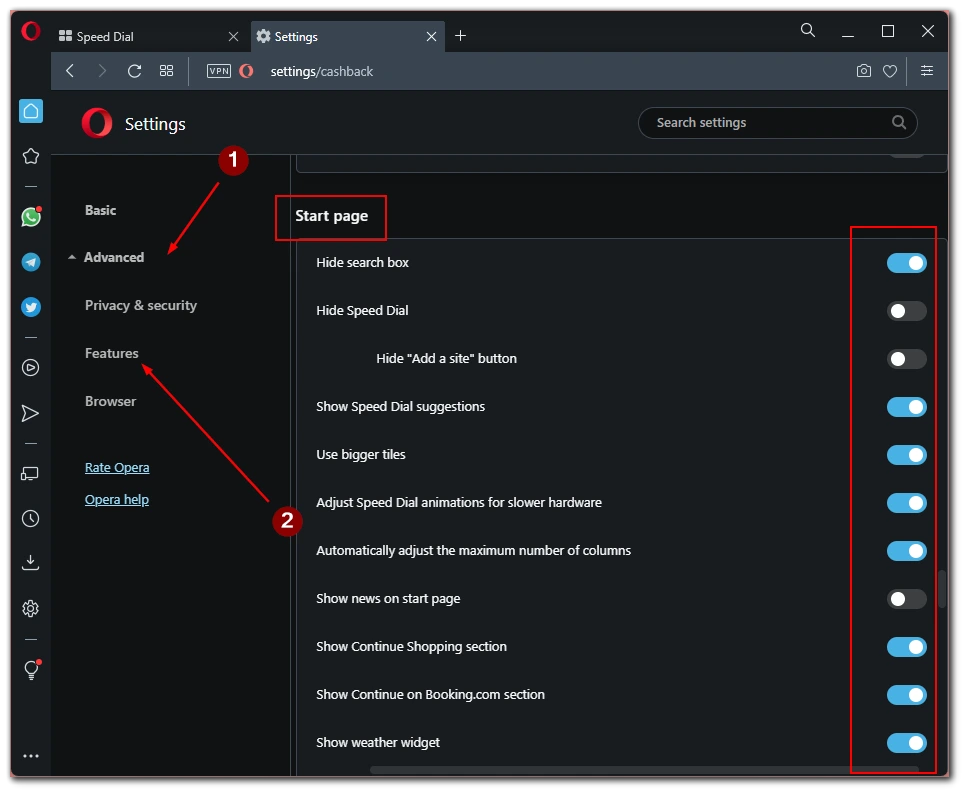 As you can see, it's pretty easy to do. Here you can choose which elements to add or you can hide all Speed Dial panel functions. Also in this tab, you can select different functions for your Opera Browser, like setting up VPN or extra Workspaces.
Read also:
How can you personalize Opera Speed Dial
If you're interested in fine-tuning your Opera Browser, then you should take a look at its different variants of it. For example, not everyone knows that there is an Opera GX browser that is designed with additional features for gamers. You can also install Opera Crypto, which is more suitable for those who are interested in cryptocurrencies.
In the case of Speed Dial, then here you can change the wallpaper and put there your own custom wallpaper on your home page or choose one of the standard options that you will be offered by Opera. To do this you need to:
Open your Opera Speed Dial.
Here, in any free space, right-click on the wallpaper, and in the pop-up menu, select Change the wallpaper.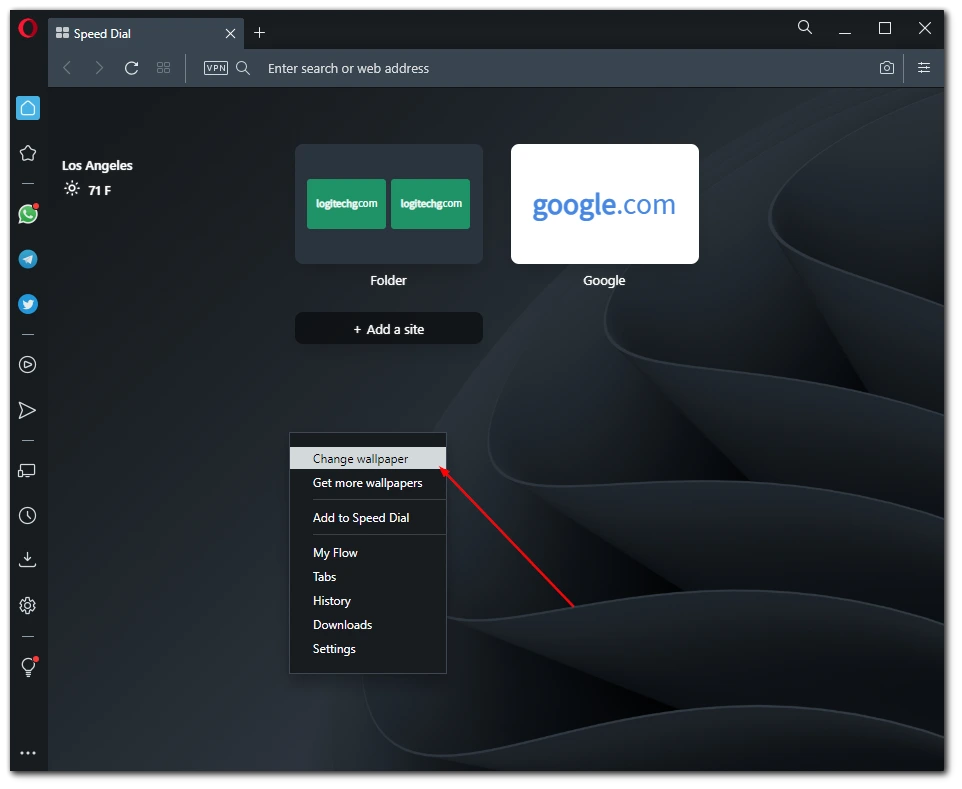 An easy-access menu will appear in front of you. Here you can choose among the standard wallpaper options and change the theme.
To add your own wallpaper here you need to click on the Add your wallpaper button.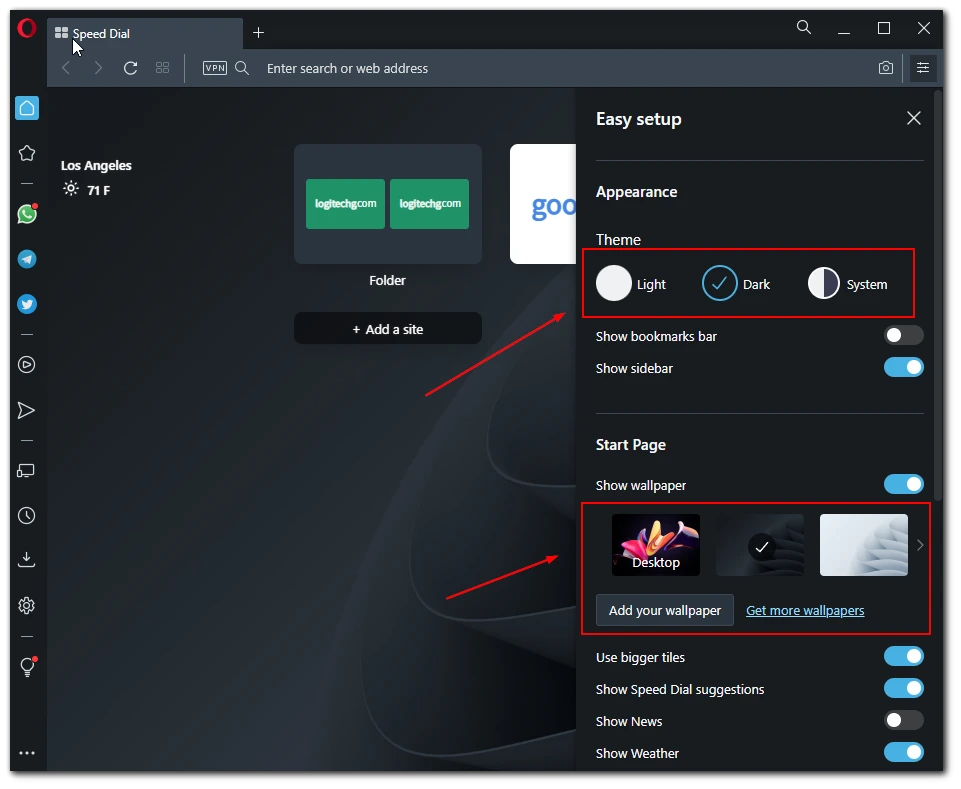 As you can see there is nothing complicated here. You can change to any wallpaper you want, however, I would advise you to choose a wallpaper that will not distract you from the tiles with your links, as this can cause you problems as too bright wallpaper will distract you from the right elements on your Speed Dial.