The iOS system has a strong data protection system. It works well when someone takes possession of your iPhone, and if you try to enter the wrong password, the device will be blocked. That way, the person who is trying to unlock the iPhone cannot get any further than the lock screen. This is reassuring that if someone loses their iPhone, they will not be able to try to find the code to unlock it endlessly since it is not immediately possible for the user through Find My to mark the device as lost.
Every iPhone user has been in a situation when they accidentally locked their iPhone and activated Security Lockout. Sometimes, Face ID may not work because of the appearance, so you have to enter the password. So if you happen to lock your iPhone by mistake and now your device is in the Security Lockout state, you can fix it.
What does Security Lockout mean?
To start with, to figure out how to get your iPhone back to being able to use it again. You need to know what Security Lockout is, how it works, and for how long it locks your iPhone.
Security Lockout is the mode displayed on the screen after you incorrectly try to enter a password on your iPhone. This feature was introduced back in iOS 15.2. Apple calls this feature an extreme extra protection for users.
It works in such a way that after an incorrect password entry, a time limit will appear on the screen and you will know how long you have to wait to try to unlock the iPhone again.
The iPhone will be inaccessible for 1 minute after six consecutive incorrect password entries. Then if the user continues to enter the wrong password, the iPhone will be locked for 5 minutes after the seventh attempt. Further, if during the eighth time, the user could not unlock the iPhone, will have to wait another 15 minutes. Then after the ninth attempt, if you still have not entered the correct password, the iPhone will display the message "Security Lockout, Try again in 15 minutes.
How to get the iPhone out of Security Lockout?
Even though it is not difficult to unlock an iPhone which Security Lockout, you can do it in several ways. But this has its own set of consequences. The way out of this situation is to erase the iPhone from your Apple ID. After that, you'll need to log in again.
Unlock iPhone through the Security Lockout screen
This method is the fastest and does not require other devices. All you need is your locked iPhone. If your iPhone already has Security Lockout written on it, you will either have to wait a long time or erase it. If you need your iPhone as soon as possible and can't wait, the only way out in this situation is to erase it. You can do this using a locked screen or another device that has the same Apple ID because you will need to use Find My.
To unlock the iPhone through the Security Lockout screen, you need to follow these steps:
The first step is to make sure that your iPhone is connected to a cellular network or Wi-Fi.
Then after that, you need to click on the Erase iPhone button in the lower right corner.
Next, press the Erase iPhone button again to confirm this action.
Then you will need to enter your Apple ID password to exit the Apple ID.
Next, click Erase iPhone to delete all the content and settings from your device.
After these steps, you need to restore your data via backups in iCloud or iTunes. But note that this will also take time, so this method is not ideal.
Unlock your iPhone using Find My
You can also unlock your iPhone using the same method, but now using the Find My app. Following this method, you will also need to configure your iPhone as you did when you bought it. In order to unlock your iPhone using Find My, you need to follow these steps:
The first step is to open Find My on an iPad or Mac, or another device that is connected to the same Apple ID.
Then click on Devices.
After you see your devices on the map, click on the info icon.
Then at the end of the list, select Erase this device.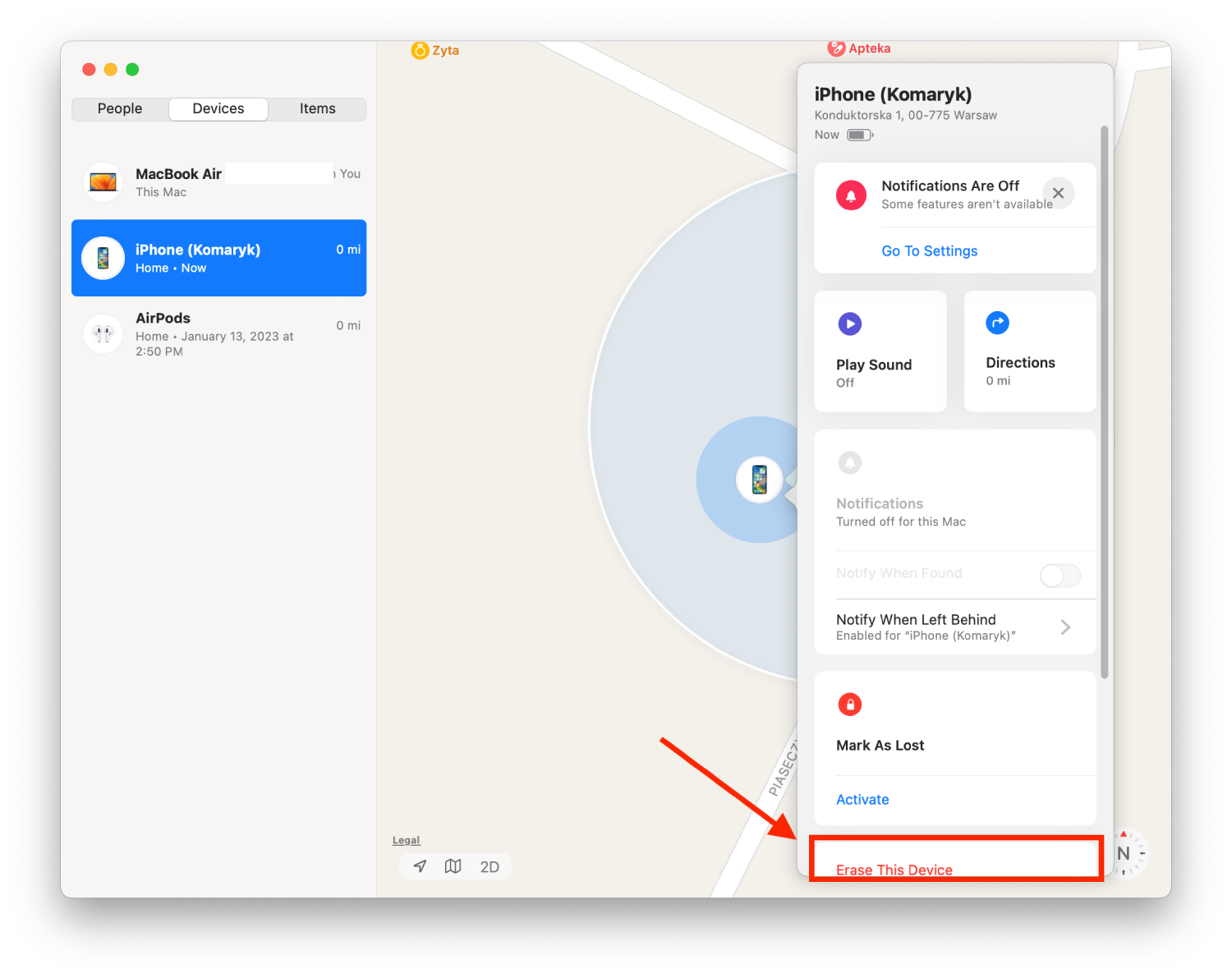 After these steps, you will need to set up your iPhone again. But if you've backed up and logged into your Apple ID, this will happen quickly, and you'll be able to access your device easily.
Users in this situation usually follow this method or unlock their iPhones through iTunes using a cable. All you need to do is connect your iPhone to your PC and then open the iTunes website. Your steps will be the same.