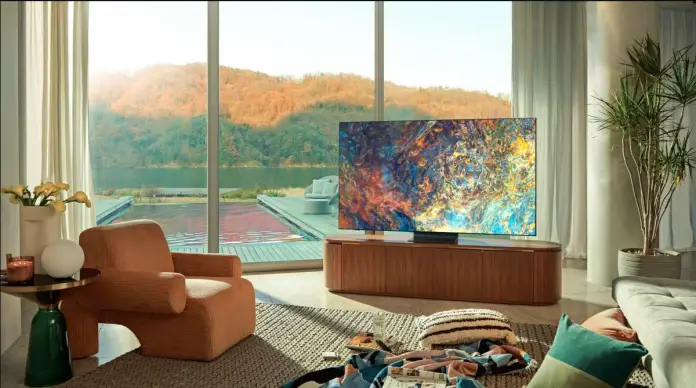 Let's start with what Google Duo is and why we need it. That's a free videotelephony service similar to FaceTime or Skype. The app allows you to make both voice and video calls through an Internet connection. Previously, it was available only on smartphones and computers, but Samsung is going to ad Google Duo to some TVs in 2021. QLED and mini-QLED models will support the service, but the company promises to announce more details about TVs that will get the support for Google Duo later.
What is Google Duo on Samsung TV?
As we said above, that's just a video- and voice over IP app that copies FaceTime and other similar apps. One of its advantages over competitors is the integration with Google Assistant, so you can do some actions directly during the call (like send YouTube-video using the voice assistant). Previously, Google Duo was positioned as a messenger exclusively for mobile devices, but now it will also get an adaptation to work with the Tizen OS, which is installed on Samsung TVs. As far as is clear from the company's release, the app will be installed on Samsung TVs "out of the box".
How does Google Duo work?
To use Google Duo, you need a Google account or your cell phone number. You should sign up and then you would get access to making calls to phone numbers or Google Mail contacts. The service supports conference calls with up to 32 people in one conference. As with other similar calling apps, you can identify who is calling before you answer the call (you will see the Google profile photo).
How do I use Google Duo on my Samsung Smart TV?
Starting in 2021, new Samsung TVs will have Google Duo support. On the one hand, I think that the major part of people would prefer using the phone for calls, not a TV. But on the other, I often call via Telegram directly from my computer because it's trivially more convenient than distract for using the phone. Also, you can connect the camera to your TV and make video calls, not just the voice ones. Samsung also mentions that you can connect an interactive camera, so it can track your movements around the room and suppress extraneous sounds.
I can't say that it would be especially useful for home use, but I think it may find its place in business conferences.
Google Duo on Samsung TV Advantages
Overall, Google Duo can't be called a success, especially when compared to other video conferencing services. However, introducing Google Duo on TVs could improve the situation significantly, providing a convenient way to gather conferences on the large screens. It's not entirely clear why there's a limit of 32 participants, but in any case, Google Duo could be a handy alternative for small conferences and meetings if a company doesn't want to use a specialized app.
Also, you shouldn't forget about home use as well. The noise cancellation function can become really handy, allowing you to talk while doing your home chores. It seems that the company is aiming at this "background" communication segment, trying to offer a service that helps people talk without distracting from their routine or leisure activities.