Usually, people choose credit cards to pay for on-demand food delivery like DoorDash. But sometimes you want to pay with cash, and that may put you into trouble, as it's not so obvious as it should be.
How to use cash on DoorDash
DoorDash offers a "Cash on Delivery" option to meet the demands of those willing to pay with cash. Thanks to that feature, the drivers (called in the app "Dashers") can accept orders that would be paid with cash once delivered.
It works, from the backend, as each driver can choose whether they want to accept DoorDash cash payments or not. Yeah, that's optional, so that's up to the driver. After the driver agreed to take orders with cash, they would receive orders with cash payments. Once the order is delivered and you've paid with cash, the driver would leave this cash in their pocket, and DoorDash would deduct the cash payment from the driver's next DoorDash earnings payment.
Can you pay cash with DoorDash?
Yes, as I said above, DoorDash accepts cash payments. But you need to understand that it's up to the driver to decide whether accept an order with cash payment. Also, as I understand, Cash on Delivery isn't DoorDash default option for all restaurants, but some of them are eligible to offer such a payment (I've heard about Pizza Hut and Papa John's).
If the restaurant offers such payments, you can change your payment type to "Cash on Delivery" on the checkout tab.
You need to tap on Payment and choose Cash on Delivery.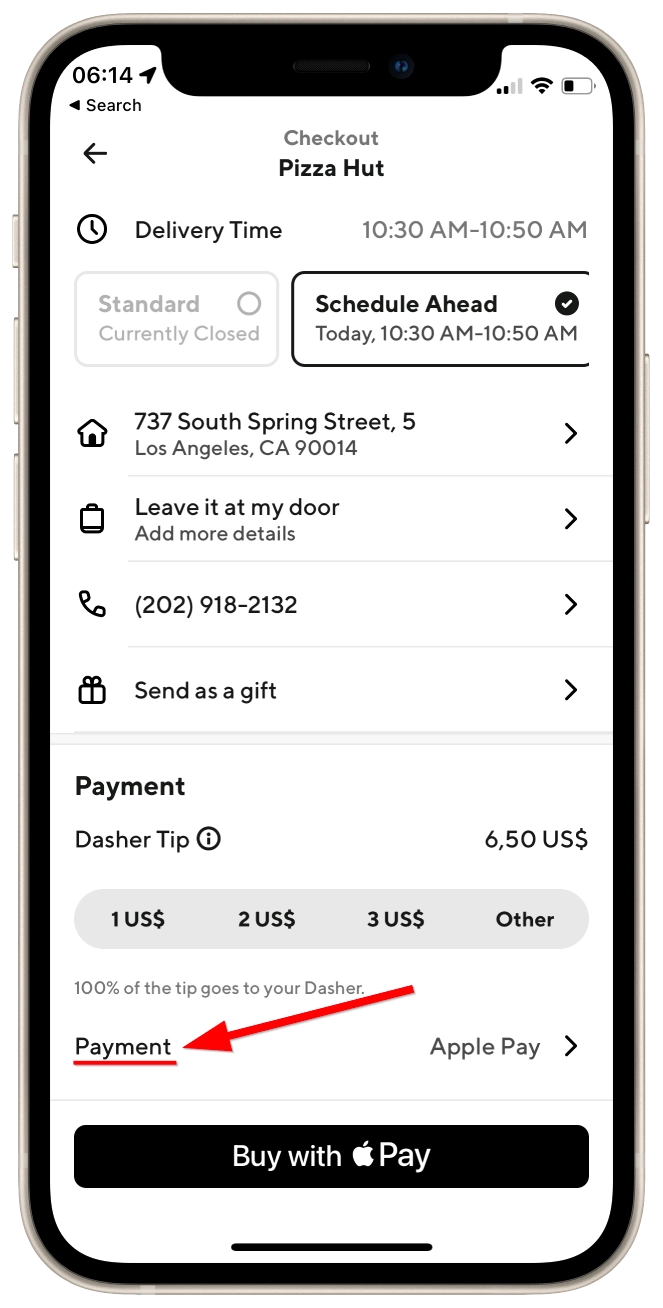 As I said, that's not mandatory for drivers to accept cash deliveries, so if the driver refuses, that won't affect their acceptance rate.
According to one Dasher I've talked with, DoorDash still pays restaurants on the back end or via red card, and drivers keep the cash in their pockets. DoorDash simply deducts the cash amount from their earnings on the DoorDash account.
But remember that cash delivery is usually a headache for a driver, so many never take such orders. If you're lucky – here are some tips to improve the process.
Some tips on how to pay with cash on DoorDash
There's nothing you don't know, but think about a couple of things:
Have an amount without an exchange. Not all drivers have an exchange, so it's better to make sure after you see your total that you have the exact amount of cash.
You can tip a driver in cash. And, in my opinion, such drivers deserve to be tipped well, as cash is always an additional problem and risk for drivers.
Don't try to pay for orders in cash if it isn't acceptable. Yes, I know about at least such situations. All of them are simple: after a customer hasn't found the Cash on Delivery option, they decide to do the trick. They order food, cancel the order once it arrives, and try to pay in cash. That's not working. Completely. After you've canceled your order, the driver doesn't even have a way to give your order to you. And that's simply stunningly uncultured.
What to do if the driver doesn't have change?
All drivers that accept cash orders should ensure they have enough change to close the delivery. But, as I may assume, sometimes there are problems with it.
In this case, the driver must inform you, contact DoorDash support and return the delivery to the restaurant. That means you would be left without delivery, but DoorDash support would create another delivery.
Of course, you can handle the situation with the driver personally, for example, find cash without exchange or go to the nearest store to change a couple of bills.
Can you tip the driver with cash on DoorDash?
You can choose the amount of a tip in the DoorDash app and pay it via your credit card, with gift points, or via your PayPal account. In this case, the tip would be paid to the Dasher and their earnings.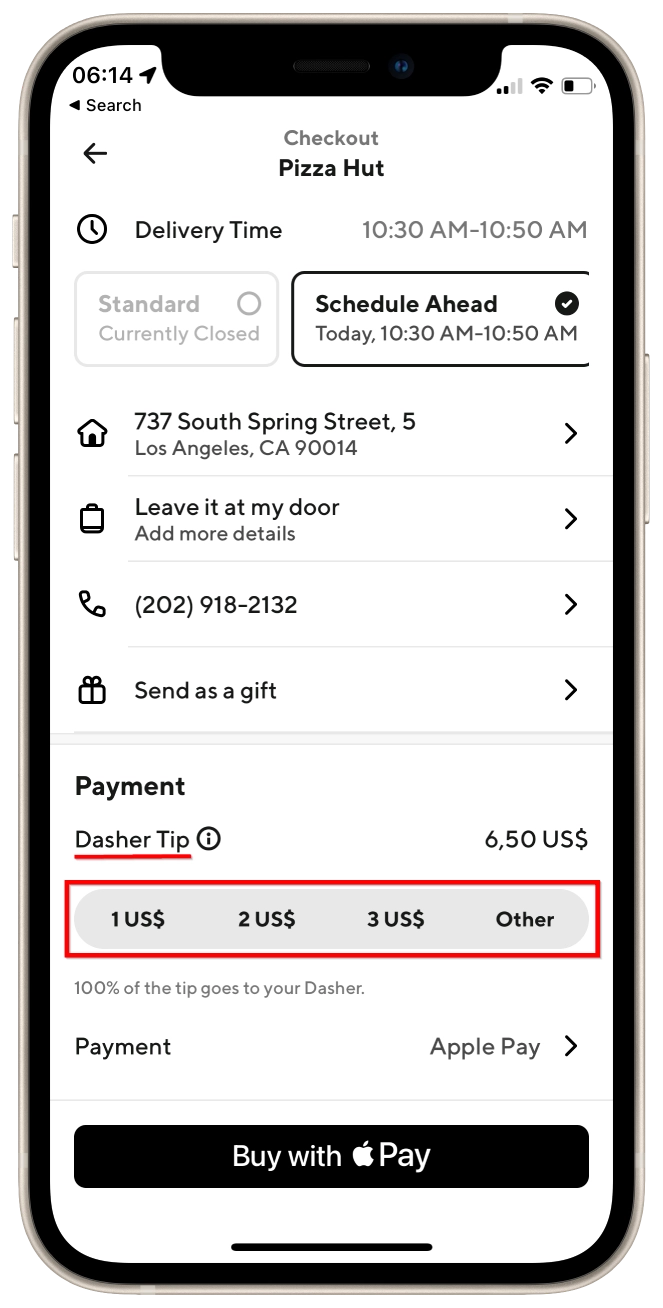 But if you prefer to tip the driver with some cash, you're always welcome to do so. Moreover, many drivers prefer hard tips, as that's money they can use immediately instead of waiting for DoorDash earnings' payment.
Read also:
Can you switch the payment method on DoorDash after placing your order?
No, that's not acceptable. Instead, you can cancel your order and start a new one (and choose another payment method). Remember that you will receive 100% funds back only in case the restaurant doesn't accept your order yet. You also have a chance to get 100% back in case the driver wasn't assigned to your order before you canceled it.
In other cases, the funds you will return depending on the stage of your order. You may receive 70%, 50%, or even 20% (and even 0 in some cases). So it's better to think in advance about the payment method you choose.
How to cancel an order on DoorDash
If you want to cancel your DoorDash order, here's what you need to do:
First, tap on the Orders tab at the bottom.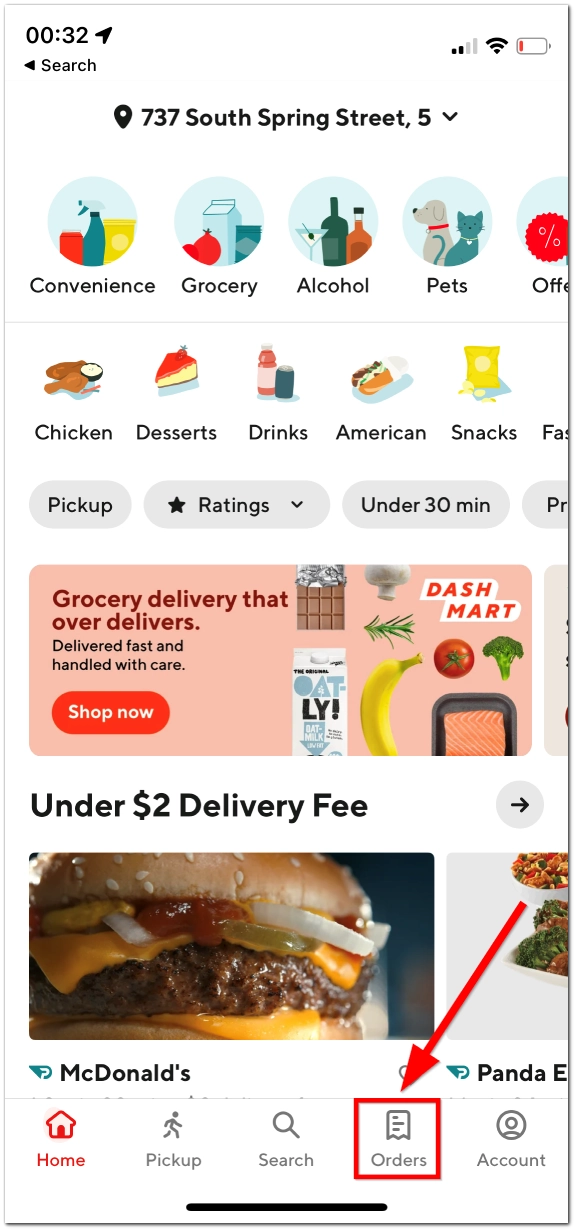 Then, tap on Help in the top-right corner.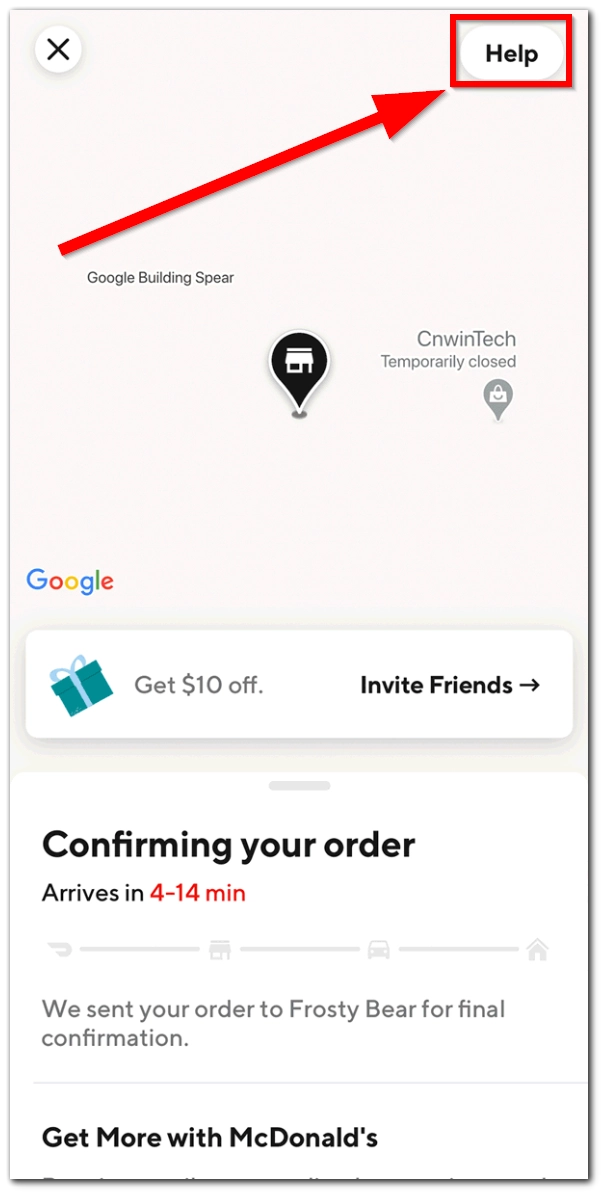 In the Help Menu, choose Cancel Order. You can also tap Cancel Order under the Order Details section.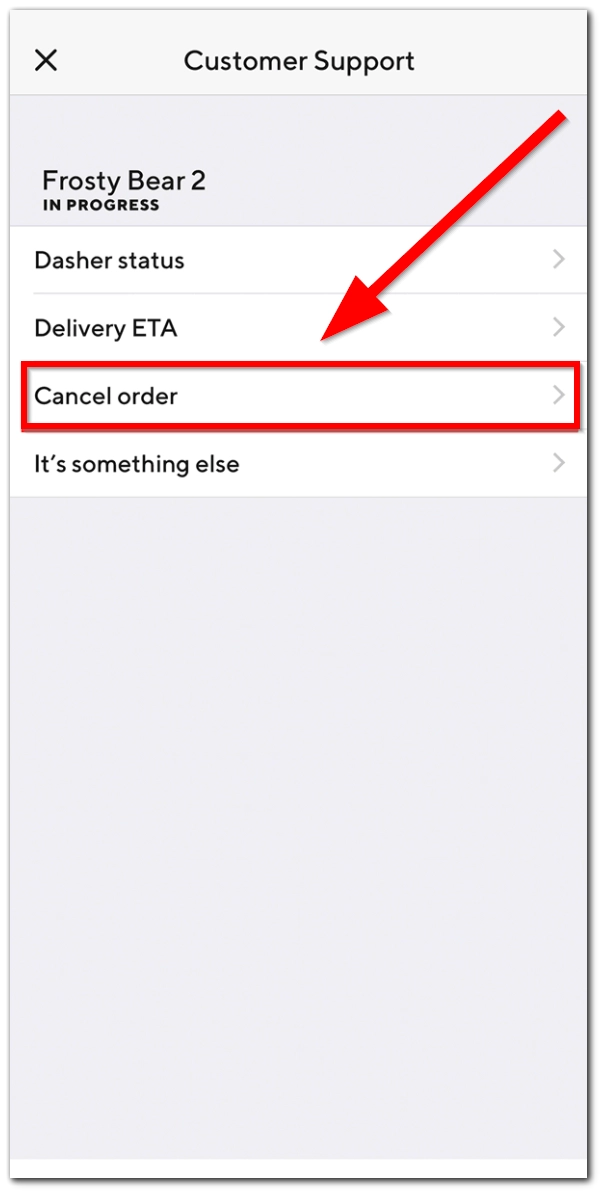 Finally, follow the prompts on the screen.
And remember the refund limitations, so you won't lose your money and left hungry.
Read also:
What other payment methods are available on DoorDash?
The range of payment methods on DoorDash is common for any other similar service: credit card, Apple Pay, and Google Pay (depending on the device you're using). But there is also PayPal available, and DoorDash offers gift cards.
I prefer to use Apple Pay, that's the same as with a card, but you don't need to enter your card information. Frankly speaking, I never used gift cards, but they're available almost everywhere. You can buy them online on Amazon or Best Buy, and you can buy them in stores like Kroger, Walmart, and Target.
By the way, a gift card is a good option for those who don't want to pay with a credit card. You can buy them for cash in Walmart or another store and then use them for all orders. Instead of cash payments, there are no limitations on gift cards' use.
To add a gift card to your balance, do the following:
Tap on Account in the right-bottom corner.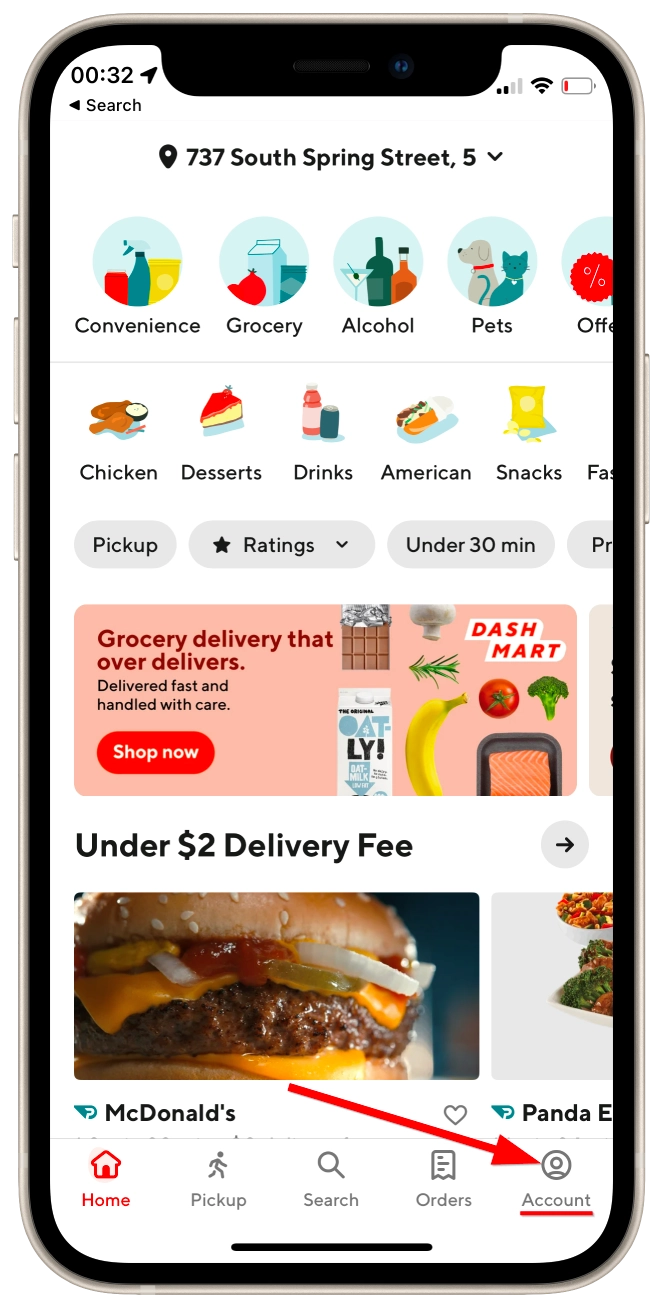 Enter the PIN of your gift card and tap on Redeem Gift Card.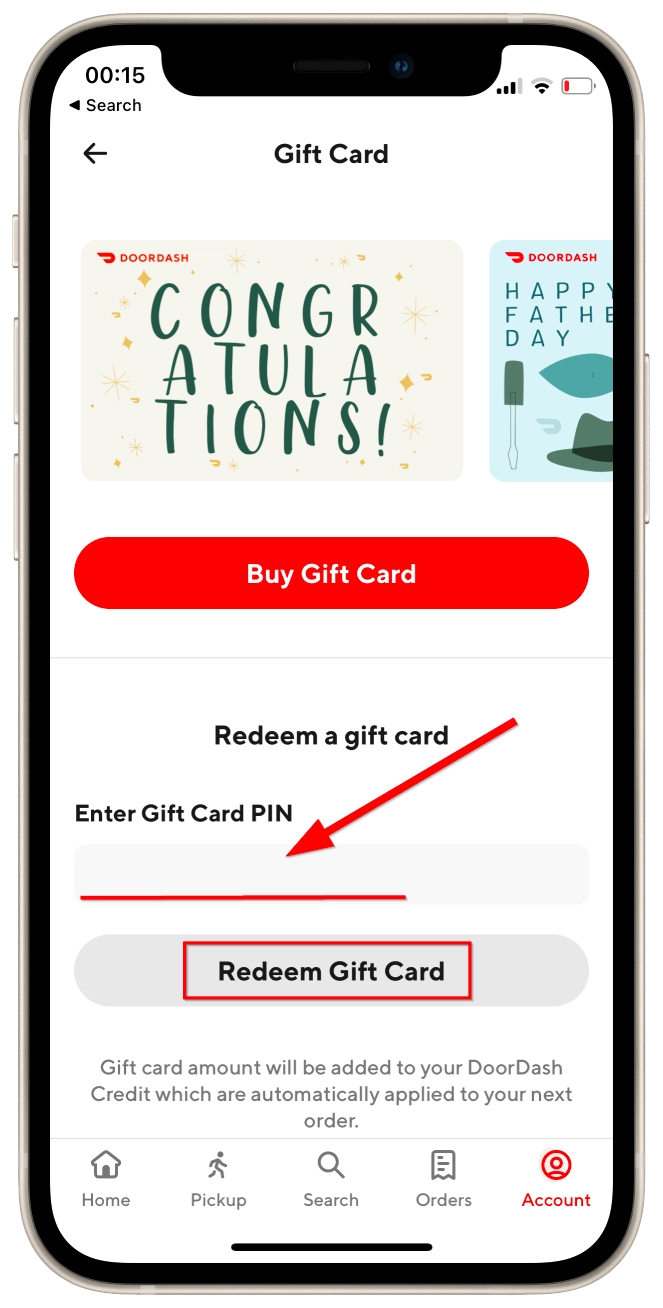 After that, your account will be topped-up with the gift points, and you can immediately use them to order your delivery.
How to change payment method on DoorDash
You can add another payment method to your DoorDash account, or you can delete your credit card from the app and, for example, use Apple Pay or PayPal.
In case you want to change the payment method that's used by default, you will need to do this steps:
Tap on the Account in the bottom-right corner.
Tap on Payment under the Account Settings section.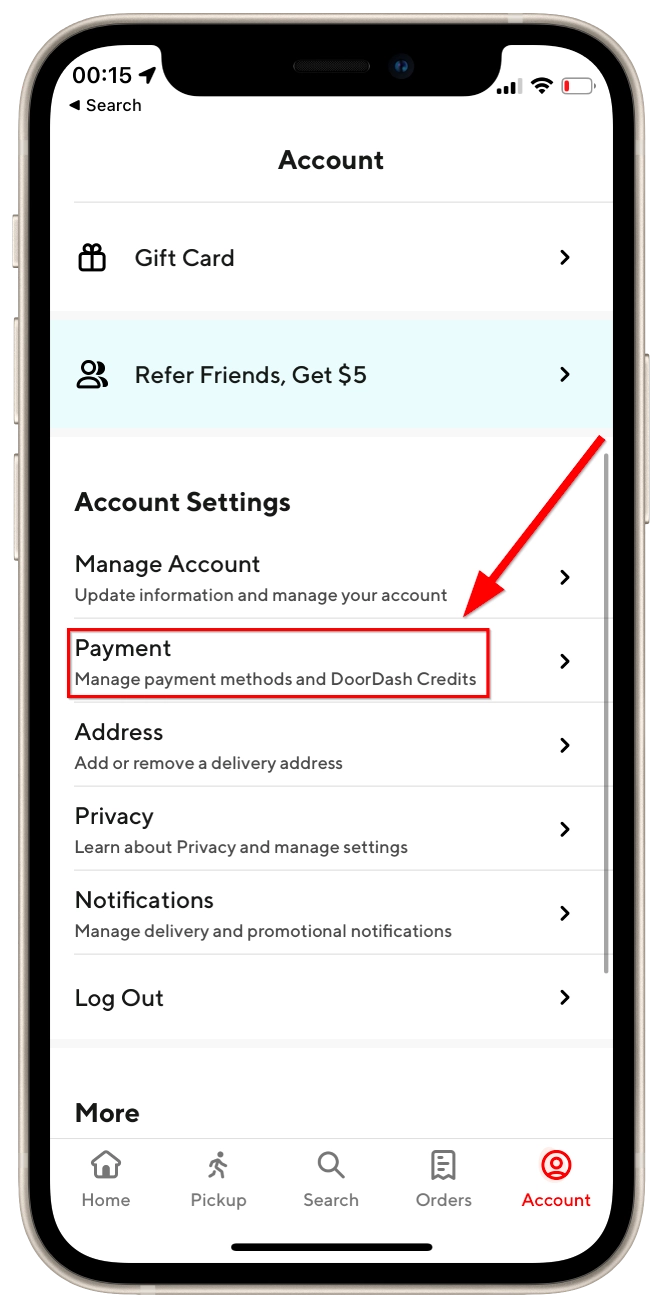 Here you will see your saved payment method. To change it, tap on the payment method you want to use by default under the Add Payment Method title.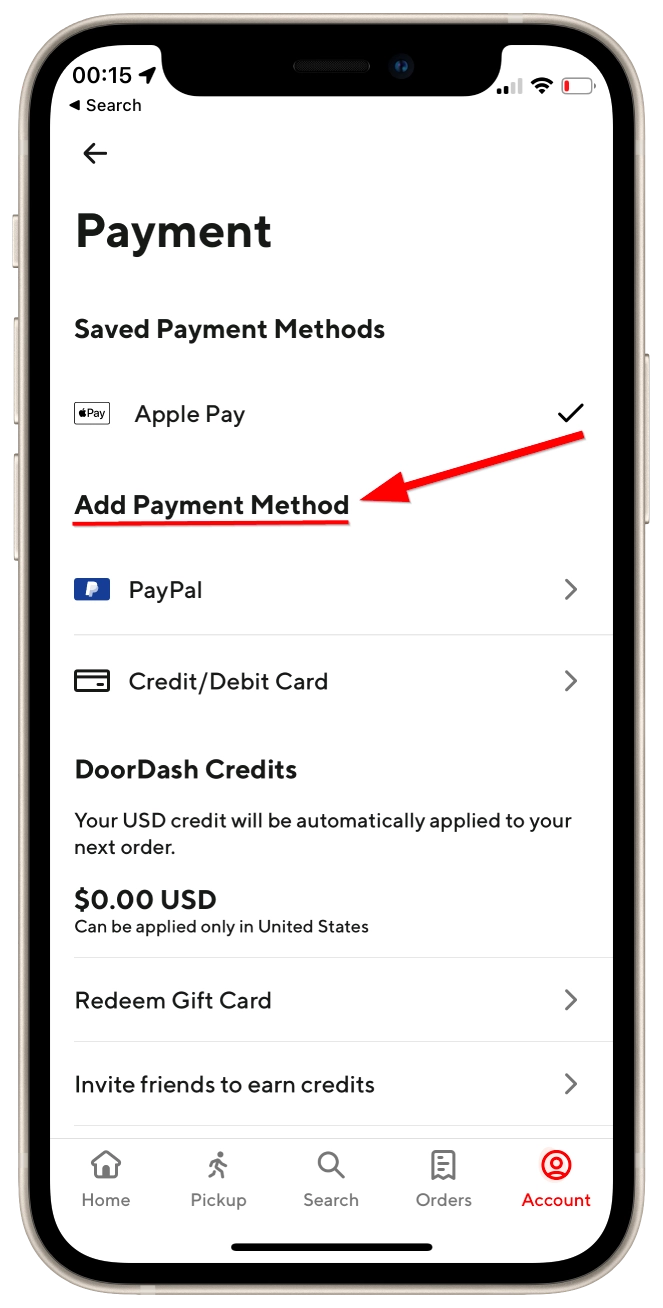 Enter your payment method details and save changes.
You can also delete the assigned payment method; we have an instruction on how you can do it.
*This article was originally written by Valeriy Odintsov on December 10, 2021, and was fully rewritten by Vladislav Lanski on September 19, 2022, to provide more detailed information, including screenshots.