One of Apple's most popular and used services is iMessage. It is a messenger built into the Messages app on your iPhone, iPad or Mac by default. This is because it is a very convenient service with several different functions and tools. And if everyone knows about some features and they are actively advertised, some remain behind the scenes. For example, not everyone knows you can play archers directly in the chat iMessage.
To do this, you need to install a particular addon that you can download from the App Store. In addition to Archery, you can access other popular minigames in iMessage. Then you'll be able to challenge your friend and find out who shoots better with a virtual bow. Let's take a closer look at how it works.
How to add Archery game to iMessage
As mentioned above, you must install a particular addon to play games in iMessage. Usually, addons are Emoji sets or different avatars for Animoji. However, not so long ago, there was an app called GamePigeon. It allows you to compete with your friends in simple minigames in the iMessage chat. And it's pretty easy to install and start playing. For this, you will need the following:
Login to any chat room and click on the gray AppStore icon near the text box.
This will open the toolbar. In it, select AppStore.
You will see a list of all available addons, scroll below and find GamePigeon there. Tap the Get button next to it.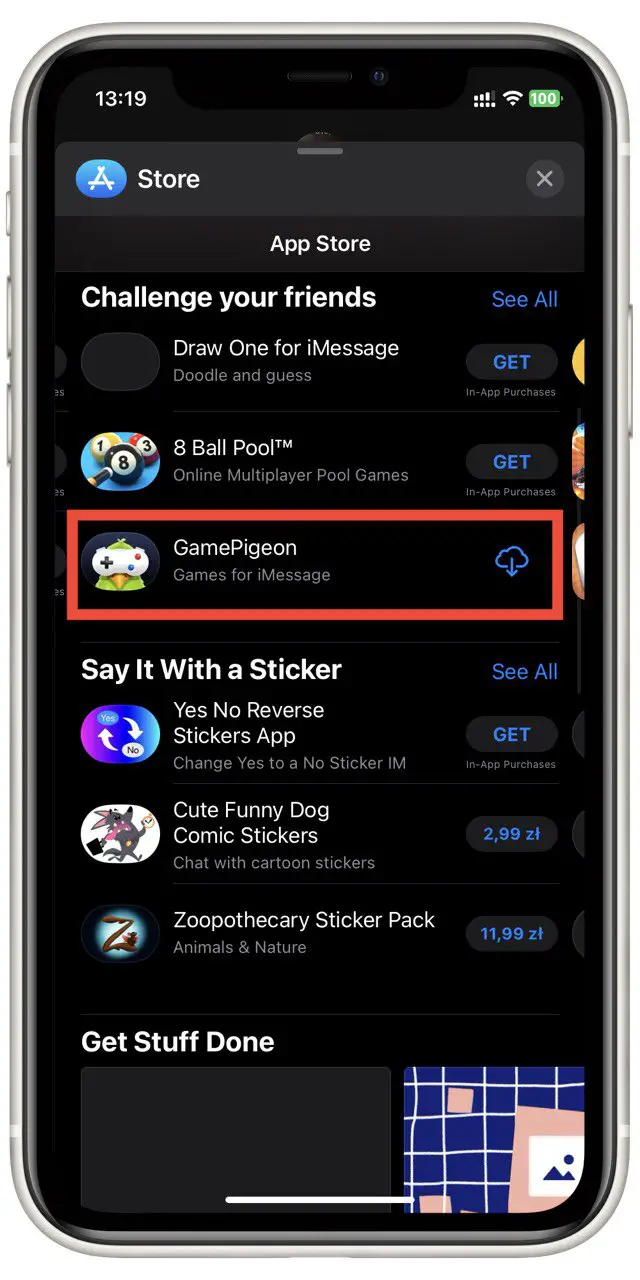 Once the installation is complete, go back to chat and open the toolbar. Select GamePigeon there.
In the minigames menu that opens, tap on Archery.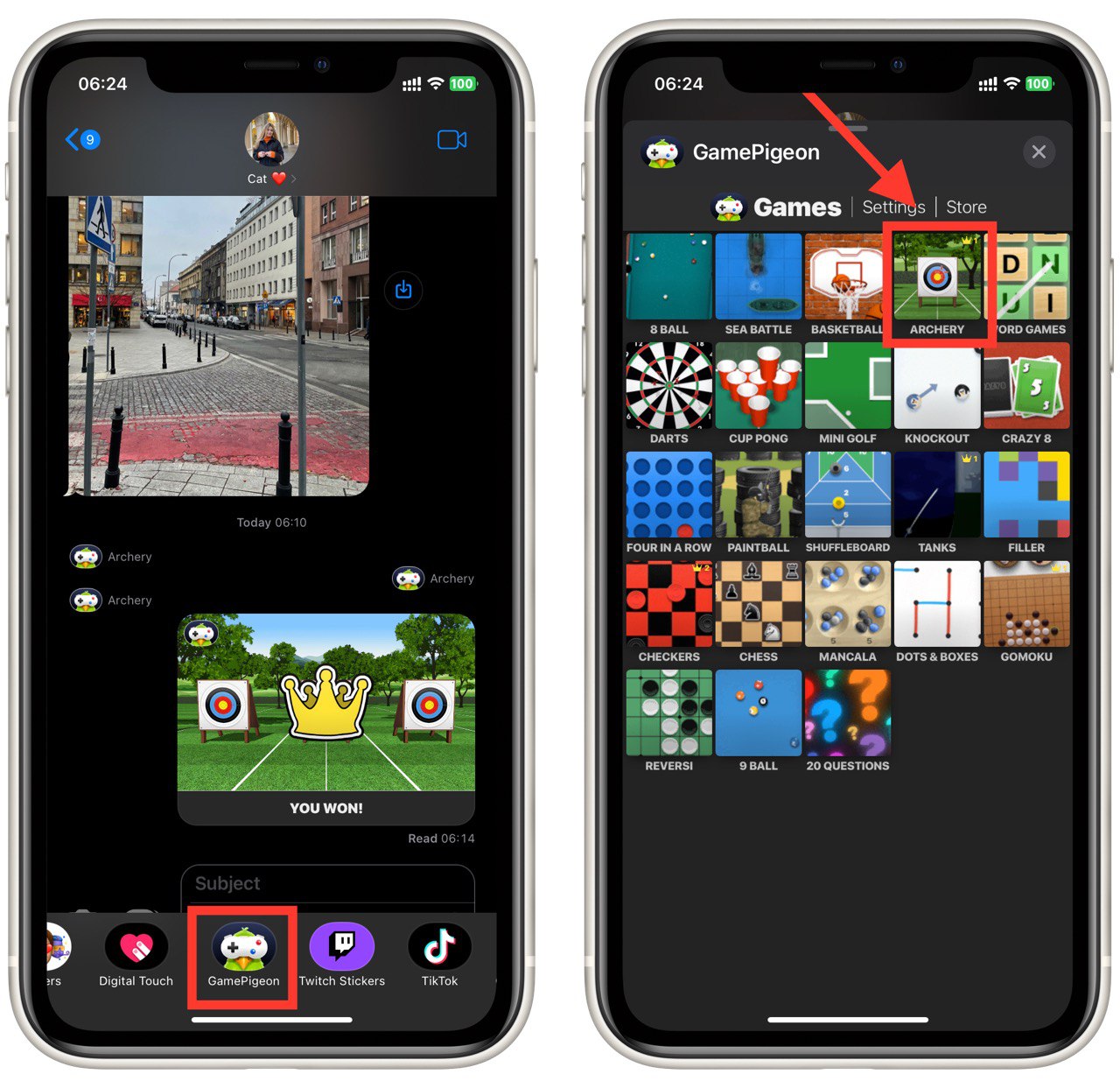 This will send a challenge to your friend to participate in the game. Note that your friend will also need to download GamePigeon, and they must have an active account in iMessage. You will not be able to challenge users who don't have an iMessage. Also, Archery is a two-person game, so you can't use it in group chat.
How to play Archery
Let's take a brief look at how Archery in iMessage works. There is nothing complicated here. You first need to understand that it is a one-on-one duel against your friend. You have to shoot your bow at targets, and whoever gets the most points wins.
The game is divided into several sets. You need to win at least 2 out of 3 sets to win. You can shoot three arrows in each set at a circular target with many fields. The target has a total of 10 fields. The center and most minor fields will give you 10 points if you hit them. The following field surrounding the first field will give you 9 points, and so on to the outermost field, which only gives you 1 point. You can earn 30 points per set and a minimum of 0 points (if you miss all three arrows).
The first move will be for the player being challenged. After that, you will be able to see the other player's score and make your three shots. You have no time limit. You can respond right away, or you can respond in a week or even a month. After someone wins, he gets a crown, and his GamePigeon score goes up by one win. Note that the rating is calculated for each chat room individually.
What games are available in GamePigeon
As I mentioned above, there are several games in the GamePigeon addon that you can play. There are successful and exciting minigames, but also not very convenient and strange games that are not worth your time. Let me list all these games and then describe which are the best. Games included in GamePigeon:
Sea Battle
Basketball
Archery
Word Games
Darts
Cup Pong
Mini Golf
Knockout
Crazy 8
Four in Row
Paintball
Shuffleboard
Tanks
Filler
Checkers
Chess
Mancala
Dots & Boxes
Reversi
9 Ball
20 Questions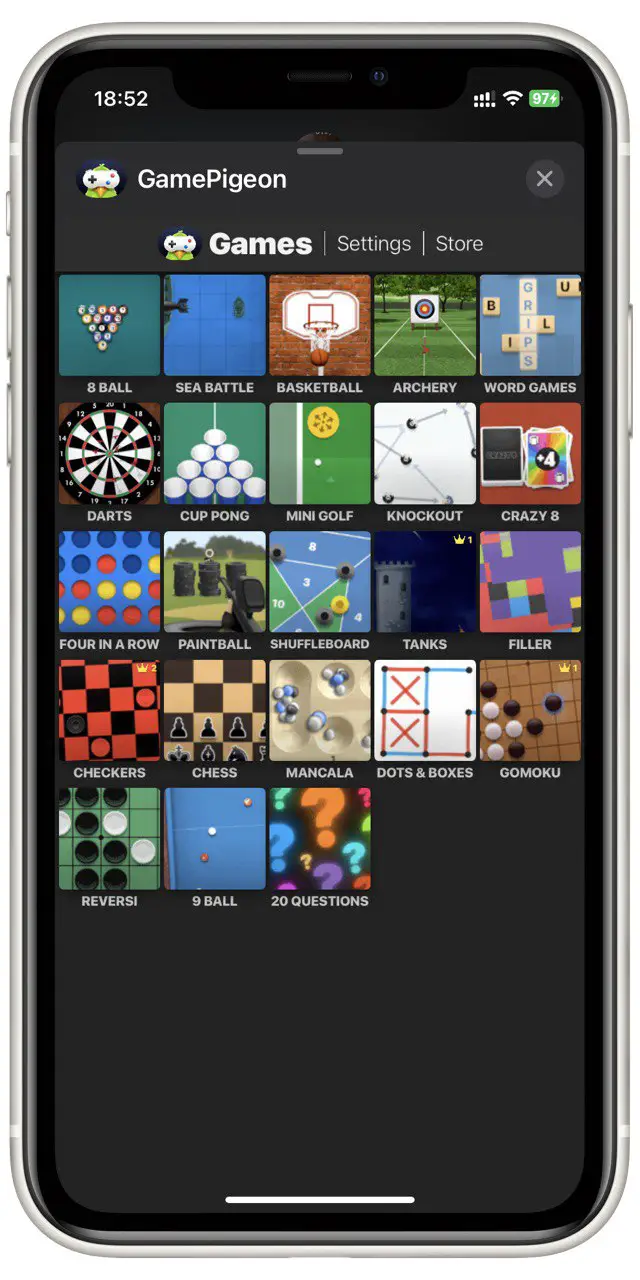 Among the exciting games are 9 Balls and 8 Balls. Other than that, I liked the Sea Battle game. Of the games, I would not recommend to you are Cup Pong and Tanks. These are games with annoying controls and which are more annoying than exciting. Other than that, you can also try mini-games that are not included in GamePigeon. For example, in the add-ons list, I saw a game called Hangman.