If you've been looking forward to the moment when you can make stickers out of your photos with just one swipe of your finger, it's finally here. iOS 16 new feature allows you to cut out objects from your photos and paste them into messengers or Instagram Stories.
Some people call it "neuromagic". And I agree with that. The neural network magically detects the area of the image that needs to be selected and cut out. Everything works so simply and smoothly that it's hard to believe it.
So let's hurry up and see how to use this feature on your iPhone and iPad.
How to cut out objects from photos on an iPhone
As mentioned, the neural network isolates the selected object from the background, creating a sticker. But first, it needs your photo.
So, open any picture in the Photo app. You can have a photo or download an image from the Internet. There is no difference.
After that, press your finger on the object.
It will be selected (with a slight delay) and highlighted from the background of the picture to the accompaniment of the new animation – "waves."
Then you have two options:

You can tap Copy and Paste the object.
Or you can move the sticker using your finger.

Both ways are convenient, but I prefer the second one. It looks cooler (imagine yourself as Tony Stark moving objects from a transparent smartphone to the same transparent monitor). But that's not the point now.
If you want to move an object with your finger without releasing it from the screen, use your other hand to open the iOS multitasking screen.
There select the app where you want to move the object. For example, you can add it to Notes, iMessage, Telegram, or Instagram Stories.
Finally, release your finger.
This TikTok video helps you to be guided faster.
However, remember that you can cut out no more than one object (or combination of objects) in each image. You cannot edit the borders of a cropped image. As a rule, you don't need to.
Can you copy objects from photos in Safari?
Yes, you can do that, and here's how.
You need to find a photo (for example, through Google) and open it.
After that, press and hold it until the list of options appears.
Now, select Copy Subject.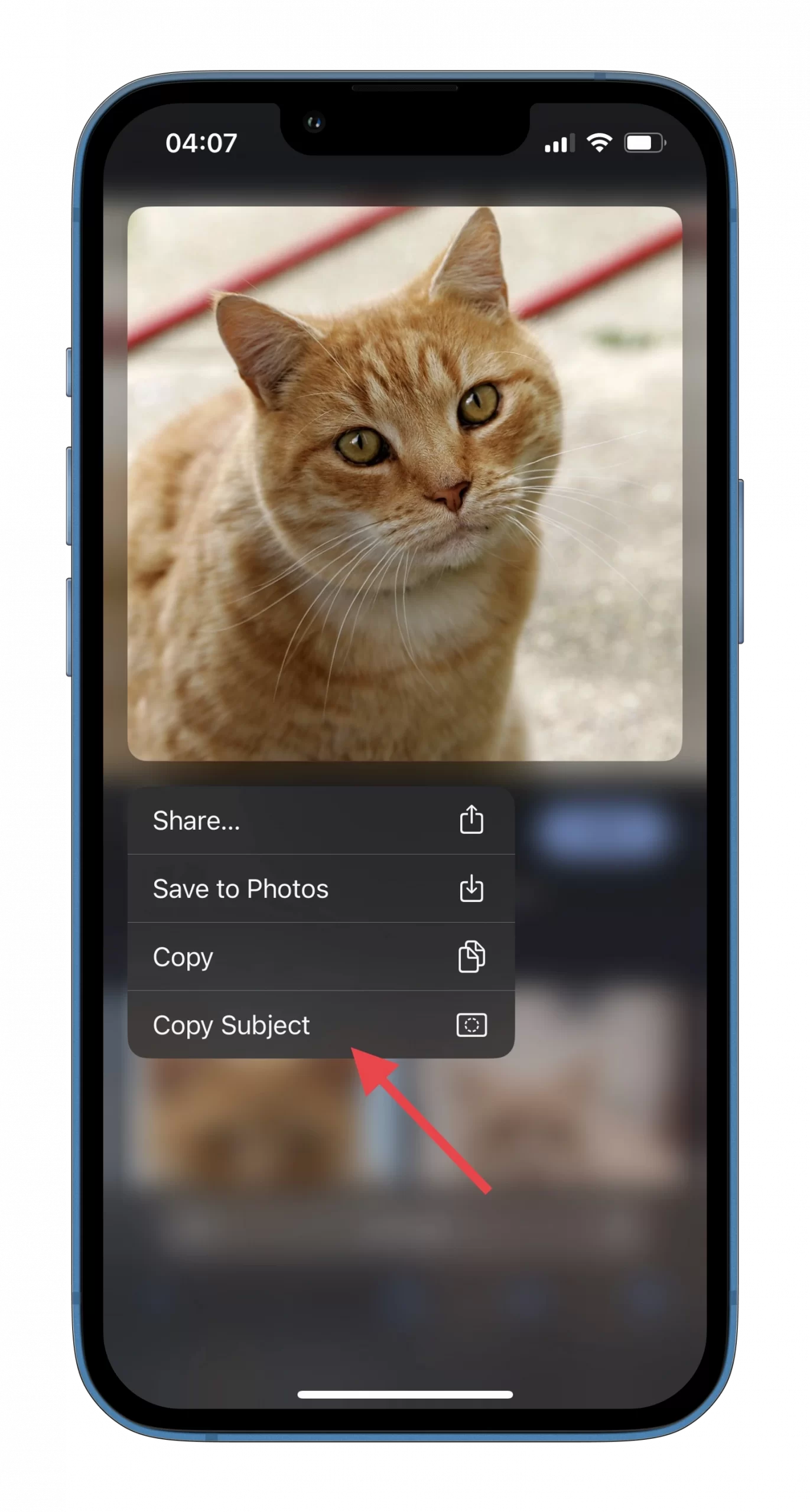 Finally, go to the messenger and paste this sticker.
The disadvantage of this method is that it adds a black background by default. So, in that case, the best solution would be to save the photo to the gallery and cut out an object as mentioned above.
Read Also:
Why cutout feature doesn't work on my iPhone?
If the object in the photo cannot be identified, then, unfortunately, technology has no power here yet. This usually happens because your iPhone's neurochip has found another object or person that it considers more important to identify and select.
The feature works on devices with the A12 Bionic processor and newer ones, including the iPhone XS and iPhone XR. Furthermore, it is also available on iPad 8, iPad Air 3, and iPad mini 5.