On TikTok, you can exchange gifts for money. If you'll hit 100,000 subscribers, you can start earning special pictures called gifts during your live streams. People who enjoyed your content can send you gifts if they'll pay for them with real money.
Each gift has its value, and you always can look at how much each of them costs inside the app. However, the price of the gift isn't equal to the sum you'll get after you exchange them, and you can do it only if you'll get a certain amount of them. After you transform them into cash, you'll most likely get only a quarter of the sum that people spent on them.
How to get money from gifts on TikTok
Not long ago, social networks could offer you only entertainment, and now you can earn money on some of them. On TikTok, you can do it in a few ways. The especially interesting one is about earning gifts.
Each gift costs a certain amount of coins. Users can buy a pack of coins while watching live streams and after that spend them on gifts. The range of cost for gifts is very different – from less than one to hundreds of dollars.
When you'll get gifts in total cost more than $100, you'll be allowed to exchange them for the diamonds. It's another type of value, that was introduced for this transaction system. After you get your diamonds, you can exchange each for 5 cents.
Read Also:
How much do TikTok coins and diamonds cost
Before you'll go any further, you need to know, exactly, how different the prices for gifts are. As already mentioned above, you can buy the cheapest of them for 1 coin, while one of the most expensive gifts – Lion, will cost you 29,999 coins.
| | | |
| --- | --- | --- |
| Coins | Bonus coins | Dollars |
| 65 | 45 | 1,19 |
| 330 | 95 | 5,99 |
| 660 | 195 | 11,99 |
| 1321 | 295 | 23,99 |
| 3303 | 495 | 59,99 |
| 6607 | 695 | 119,99 |
| 16500 | 995 | 299,99 |
If we don't take into account the bonus part of each bundle, each coin right now costs a bit more than 1,8 cents. This means that the purchase price of the Lion gift is $539.99.
You may think that you got a jackpot if you got this gift, and you're right. However, when you'll exchange your gift for diamonds, there are a few things you better know about:
No matter what gift you got, you'll get only half the number of diamonds from the number of coins. It means that if you get an Email Message gift for example, which costs 1000 coins, you'll be capable to exchange it only for 500 diamonds.
Even if formally each Diamond cost 5 cents, you won't get its full price after exchange. TikTok takes a 50 percent commission for each transaction of this type. So, for 500 diamonds instead of $25, you'll get only $12.5.
To withdraw money from TikTok, you need to have a verified PayPal account. And you won't be capable to withdraw more than $1000 gained on gifts per week.
Here are a few examples of how much you'll get from a certain gift:
| | | |
| --- | --- | --- |
| Name | Diamonds | Income $ |
| Tsar | 50 | 1.25 |
| Necklace | 200 | 5 |
| Galaxy | 500 | 12.5 |
| Champion | 750 | 18.75 |
| Meteor Shower | 1,500 | 37.5 |
| Unicorn Fantasy | 2,500 | 62.5 |
| Sports Car | 3,500 | 87.5 |
| Planet | 7,500 | 187.5 |
| Rocket | 10,000 | 250 |
| TikTok Universe | 17,499.5 | 437.49 |
How to turn on the Gift receiving function on TikTok
To start receiving gifts during live streams, you need to do two things: get 100,000 subscribers and make sure you turned on the Gift receiving function in your app. To do that, you should perform the next actions:
First, open the TikTok app on your smartphone.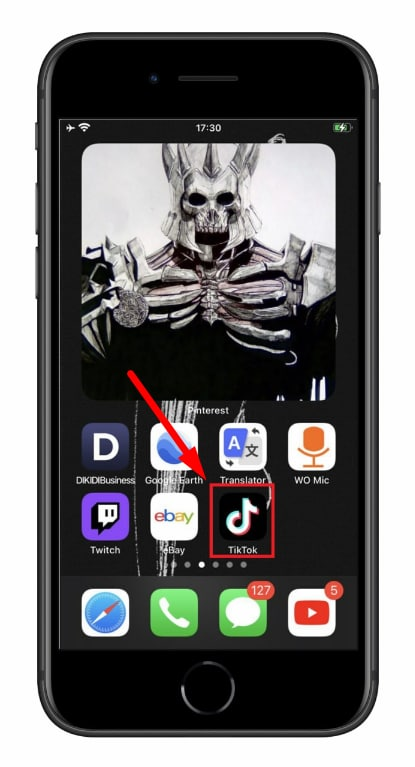 After that, go to your profile in the right bottom corner.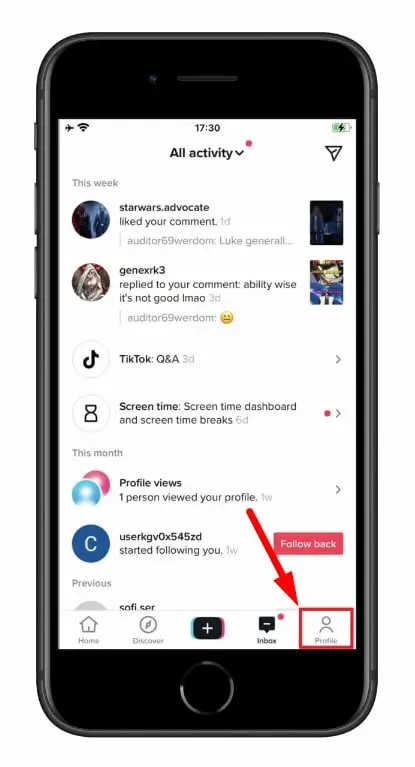 While there, find three horizontal lines in the top right corner. Choose them.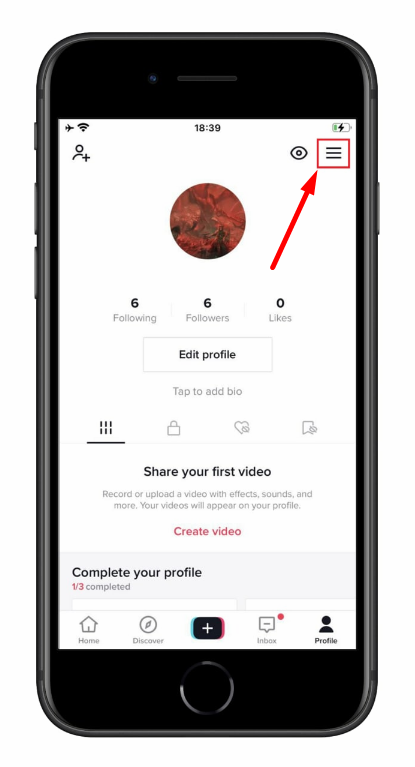 In the menu that will pop up, choose "Creator tools".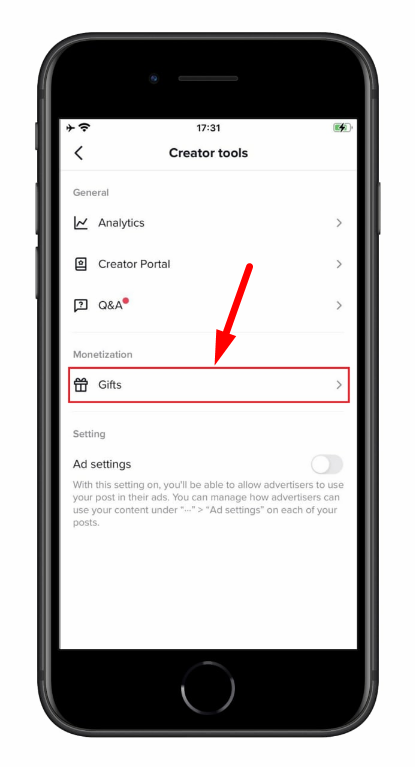 If you fulfilled the requirements, you'll be capable to turn this function on.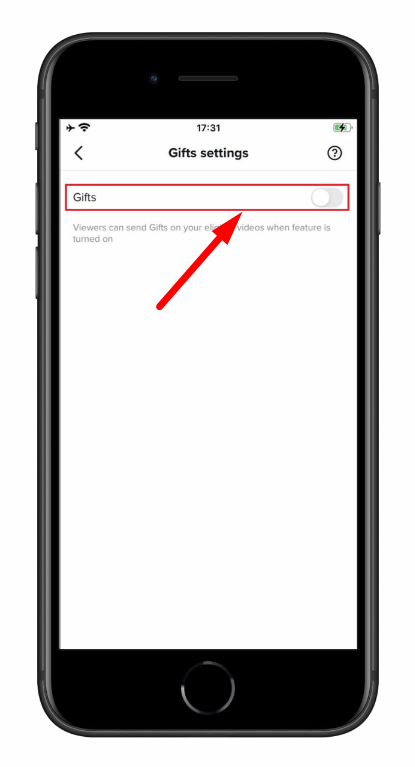 After you'll turn the function on, you'll start receiving gifts while streaming. If it doesn't help, maybe you should inform your auditory that they can support you now.
Read Also:
How to buy gifts on TikTok and send them
To send someone a gift, there is no need to buy them prematurely. You can do it during a live stream, by pressing the corresponding button to choose the gift you need. There is how to do it:
Open TikTok app on your smartphone.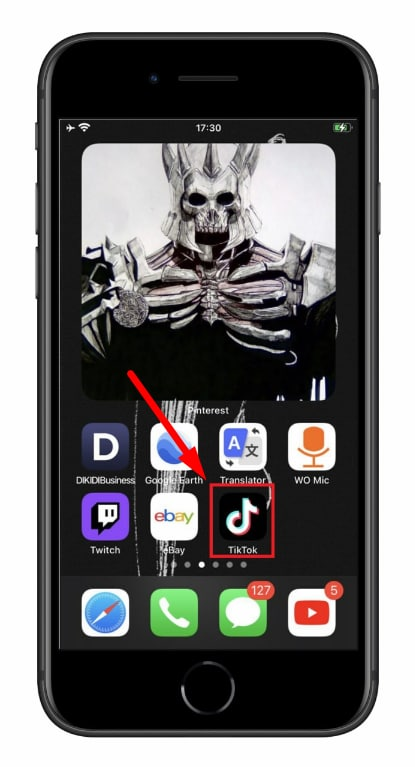 Proceed to the "Discover" section at the bottom of the screen.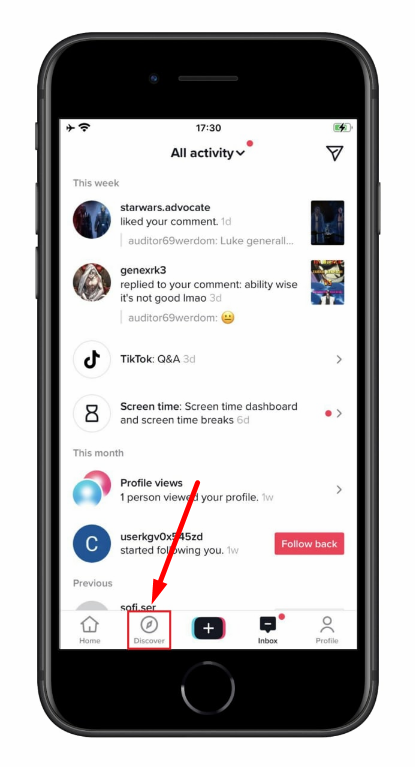 In the search bar on top, type any topic you think is interesting.
When you'll see the results of the search, pay attention to the panel under the search bar. There you'll see the tab "Live". Choose it.
Then, among available live streams, choose the one you like more. At the bottom of the screen, you'll see a gift icon. Choose it.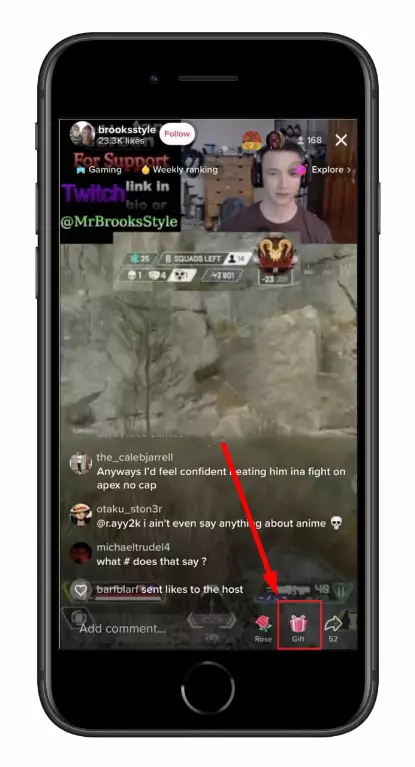 A new window will pop up, with an assortment of gifts to choose from. Choose a gift you want to send. If you don't have coins, the app will redirect you to the coin purchase screen.
There you'll have a choice, to buy the cheapest bundle or go to another window with a list of all bundles with coins.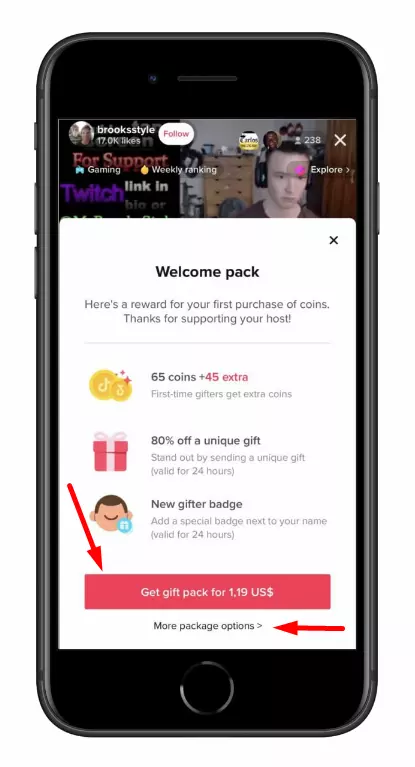 Choose the bundle you need. Then go back to the window with gifts and send the one you need.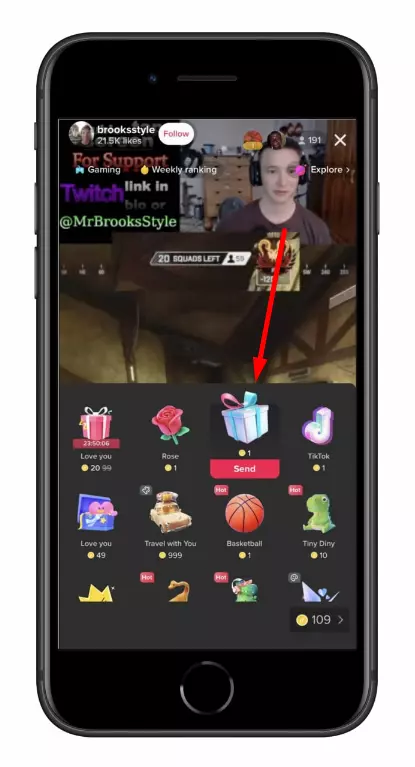 This way you can send any gift you want. The only thing you need is to have enough money for coins.
How to increase the number of your followers on TikTok
Of course, to start making money without sponsorship, you still need to gain an audience. To do this, you'll need to constantly monitor trends and look for popular topics. You'll also need to check famous places in the area and ask yourself how to use them for your own profit.
Don't forget that a large part of success in this type of work is the quality of your videos, so it'll be wise to improve your ability to shoot and edit videos because although there is no limit to how many people can do this, but believe me, it won't be easy to overcome the competition that already exists.
Another option can be to gain support from more experienced users. It may cost you money, but it's a good way to gain popularity, especially if a user that helps you have over one million subscribers. In that case, you'll achieve one thousand subscribers in no time.