On September 12, Apple released iOS 16. It was one of the shortest beta test cycles ever. But first, Cupertino simply couldn't postpone the release any further, given that new iPhones will go on sale as early as this week. And, secondly, the innovations available at the launch of the update won't be much. Some of them the developers have saved for future updates.
But it doesn't mean that iOS 16 isn't worth your attention. Here are 16 new iOS 16 features you have to try after installing the new update.
1. Renewed lock screen with widgets
Perhaps the most significant innovation of Apple's updated operating system is the redesigned lock screen with widgets.
First, it is possible to add up to four widgets.
Secondly, a beautiful dynamic wallpaper has been added that changes when you lock or unlock your smartphone.
Thirdly, it is now possible to change the lock screens on a schedule.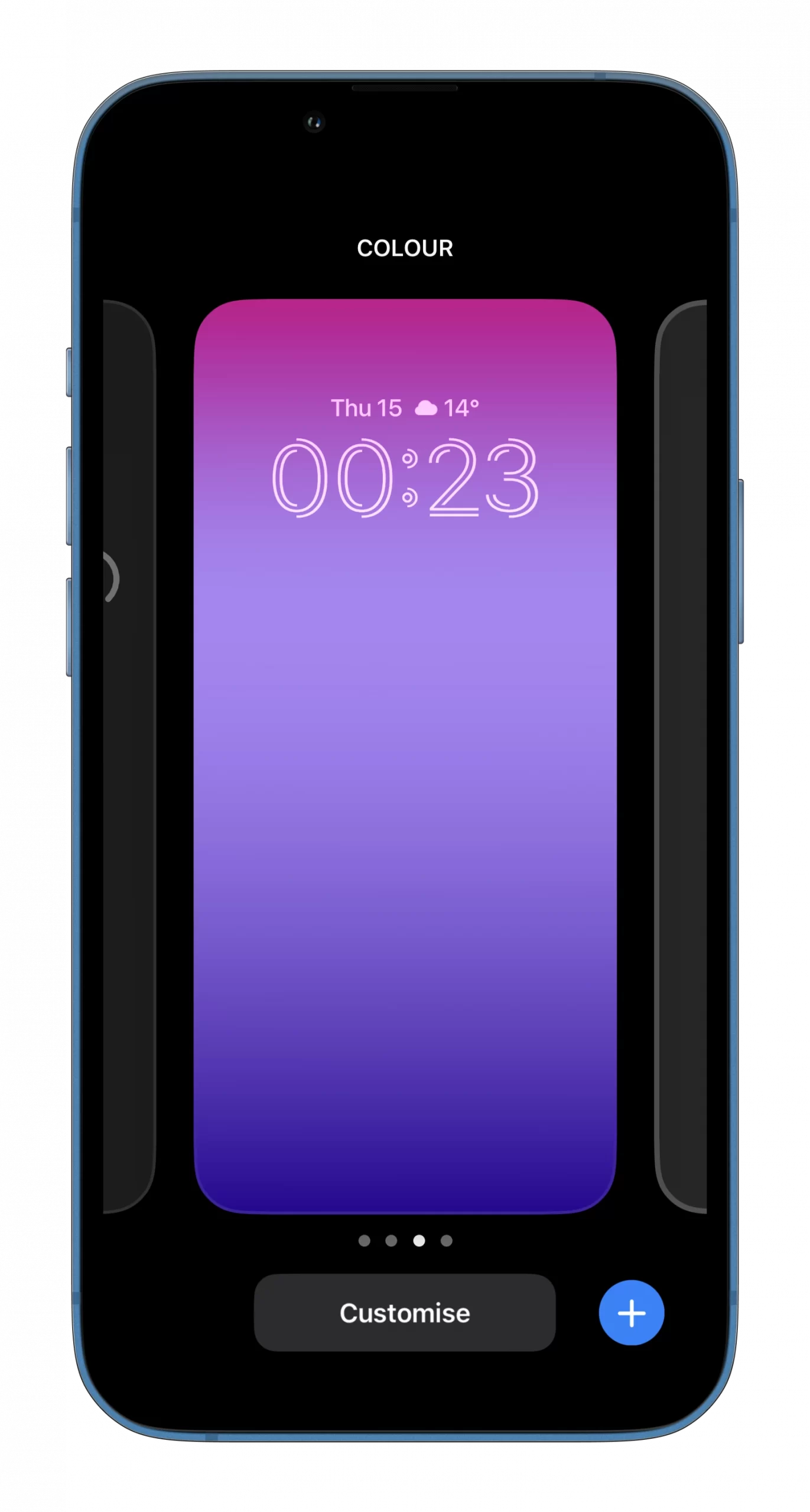 To start using these features, go to the lock screen and hold your finger on a blank spot. This turns on the editing mode with the ability to add widgets and different profiles.
2. Photo and video text recognition
The Live Text option appeared in iOS 15, allowing you to highlight text in photos in the smartphone gallery or through the camera viewfinder.
In addition, the system has learned to recognize words and symbols during a pause in any video (so far only works in Safari, other apps need to be finalized). The built-in currency converter, which works even through the camera viewfinder, also looks handy.
To enable this feature, use these steps:
Go to "Settings".
Open the "General" section and select "Language & Region".
Finally, scroll down and turn on the "Live Text" feature.
Then you will be able to highlight words and characters in a photo or video during a pause.
3. New Lockdown Mode
The Cupertinians have always paid a lot of attention to the security of user data. This year, the updated operating system allows you to enable a new lock mode to protect all information on your device.
This mode blocks attachments for iMessage chats, disables potentially dangerous scripts in Safari, and restricts the ability to connect wired accessories.
To enable it, open "Settings" and go to "Privacy & Security".
Then scroll down and turn on the "Lockdown Mode".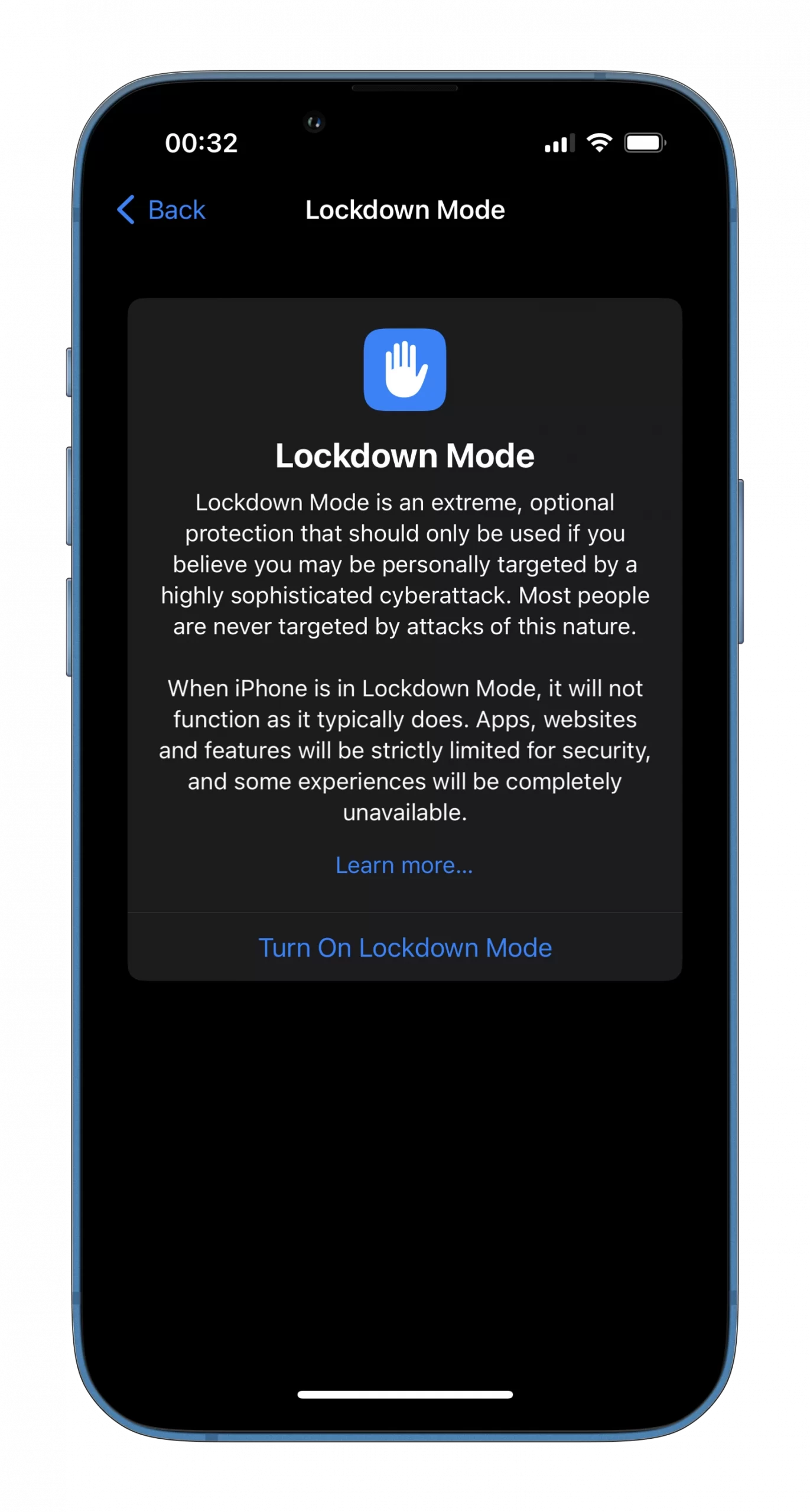 After confirmation, the iPhone will reboot and the specified restrictions will take effect.
4. User data safety check
As a continuation of the privacy theme, Cupertino has added a new safety check mode to iOS. It allows you to quickly generate a report with all user-enhanced data. You can see which apps have access to geolocation, contacts, photos, and other system sections.
In addition, the feature will tell you with which of your friends and relatives you share confidential information. You can disconnect someone from shared albums, shared geo-positioning, and other options in the blink of an eye.
To check it, open "Settings" and go to "Privacy & Security".
Click "Safety Check".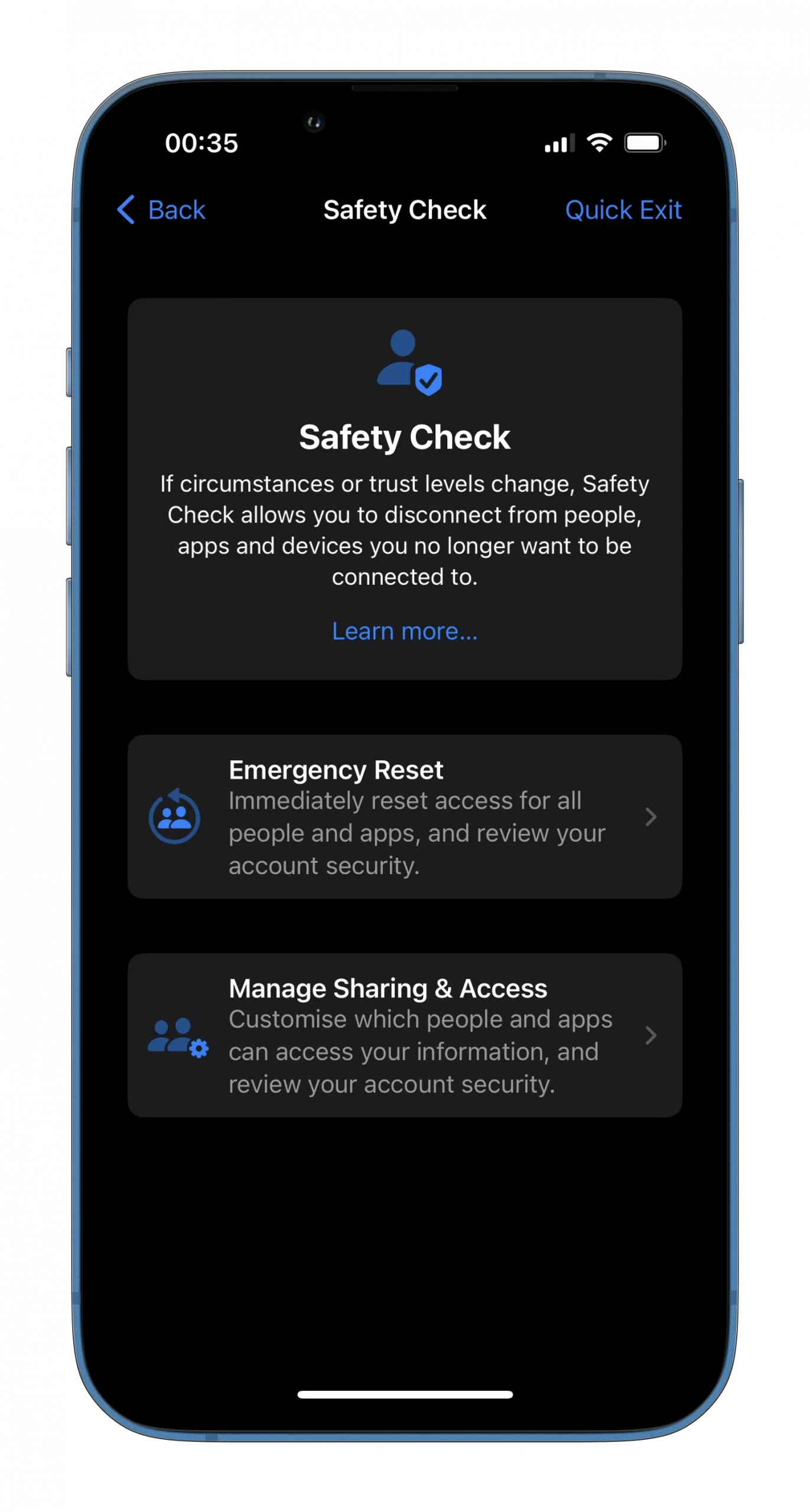 After that, you will see a detailed report with lots of useful information. Here you can also restrict access to the data for different applications and other users.
5. New features in iMessage and Mail correspondence
The standard iOS messenger and mail client have received several important features that were previously found only in third-party utilities. We are talking about delayed sending of emails, unsending or editing already sent messages, and restoring deleted correspondence.
After updating there will be several reasons to use the standard mailer and switch to iMessage when communicating with other Apple technology users.
6. Group photo editing in the gallery
When you upgrade to iOS 16, you will have the ability to transfer changes from one photo to another photos in the Photos app. This will come in handy for batch processing of photos from the same location and with similar shooting parameters.
To use the function, make edits to one photo and choose "Copy Edits" from the "Actions" menu.
After that, select another photo or a group of photos and choose the "Paste Edits" option from the "Actions" menu.
All you have to do is make adjustments to one photo, copy and apply them to another photo or group of photos. I find this option extremely useful, it saves a lot of time during basic photo enhancement on the smartphone.
7. Built-in duplicate search for contacts and photos
After the update, the operating system learned to find the same contacts in the address book and similar photos in the gallery.
The first action is available immediately after the update, and the neural networks will take some time to analyze the photos. After that, you can get rid of duplicate records in the Phone app and clear the gallery of similar photos with one tap.
To use the feature, find the new Found duplicates section in the contacts list (you will be able to merge or delete similar entries there). You can do the same manipulation with photos in the gallery. To do this, go to the Photos app, select "Albums" and open "Duplicates".
8. Haptic keyboard feedback
This option has long existed in third-party keyboards for iPhones and iPads. The Cupertinians only added it with the release of iOS 16. So you can replace the attention-grabbing clicks with a pleasant and quiet vibration of the Taptic Engine.
To enable this feature:
Go to "Settings".
Open "Sounds & Haptics".
Select "Keyboard Feedback" and enable "Haptic".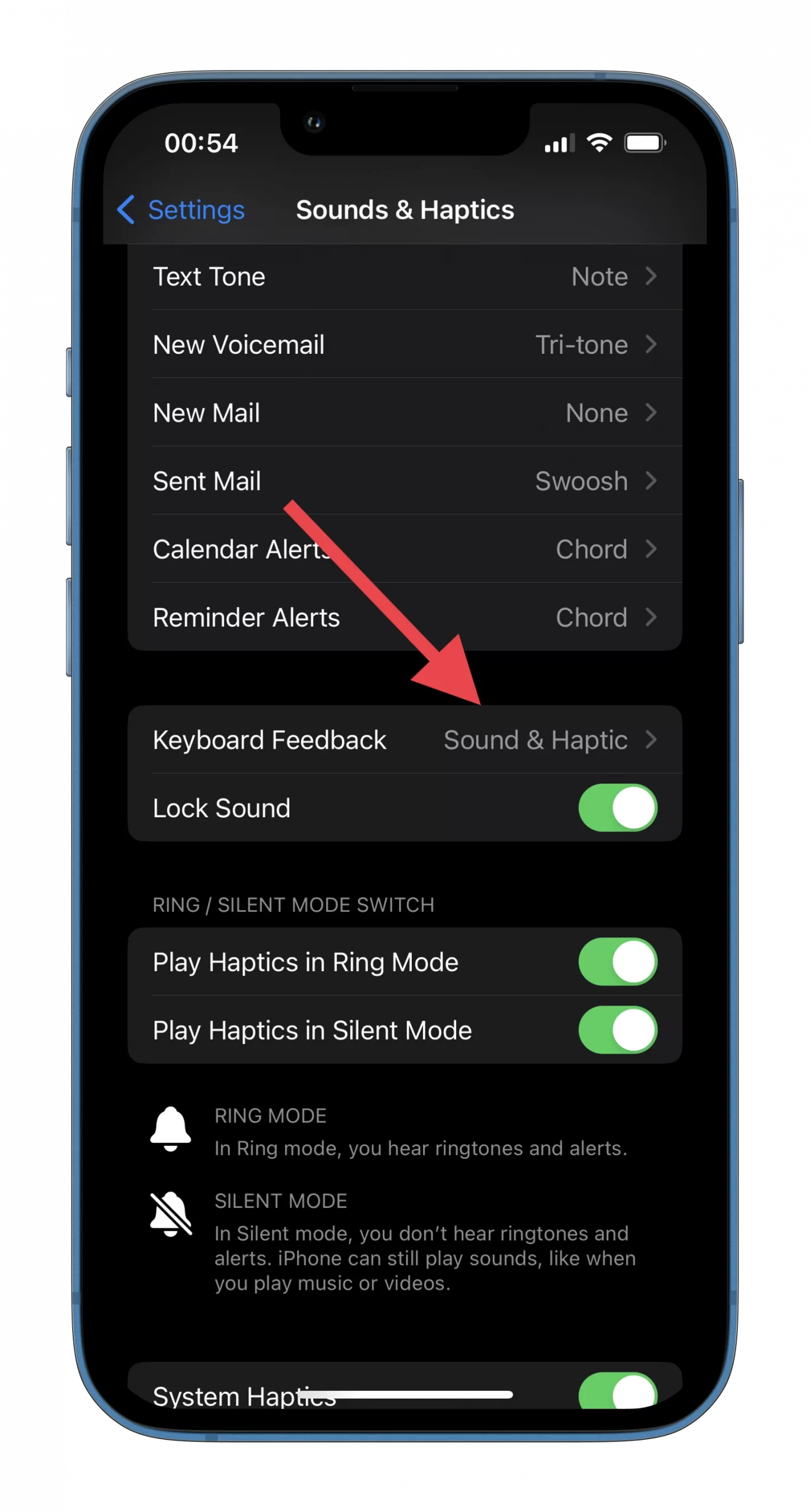 Now you will feel a pleasant vibration while typing messages and any other text.
9. Easy Wi-Fi networks management
Two handy options have been added to the Wi-Fi settings section of the iPhone and iPad. The first allows you to view your current network password so you can quickly tell or forward it to another user. The second displays a list of all networks that any of your gadgets has connected to.
You can activate the function by going to "Settings" -> "Wi-Fi" and tapping "Edit" at the top right corner.
10. Cutting out an object from the photo
Apple smartphones have received an interesting innovation thanks to the development of powerful neural networks. The system can detect the main object in a photo and separate it from the background in a fraction of a second. This is available for almost any photo in the gallery, not just portrait mode shots.
So you can not only separate something or someone from the background but also quickly create your own stickers for social networks or messengers. And for this feature, I just give the developers a standing ovation. I assure you, you won't be able to tear yourself away from it and will make and send one sticker after another.
Simply open a photo in the Photos app and hold your finger on the desired object. After the appropriate animation, the object will be separated from the background with the option to drag it to another smartphone app.
11. Remote control of other devices via iPhone
A useful innovation allows you to control any of your gadgets in the same Apple ID account remotely. Unfortunately, it's not an analog of Team Viewer, but you can still perform some useful actions with a gadget in another room.
You will be able to exit an app, open a menu, or change the volume of your device. For example, you can remotely mute your tablet when your children play too loudly.
The function is called "Control Nearby Devices" and is located under "Accessibility" in Settings.
12. Fast eSim adding
Built-in SIM cards are increasingly gaining popularity. Almost all domestic telecommunications operators offer such a service. The Cupertinians, in turn, offer a convenient mechanism for transferring SIM cards from one iPhone to another. In the "Mobile Data" just select "Add eSIM".
13. Digital battery charge indicator
Since the appearance of the iPhone X, users have been arguing about the digital battery level indicator. Some consider it necessary, while others make do with alternative ways of displaying the necessary information.
In any case, it is worth trying to turn on the innovation and temporarily test the digital indicator on an iPhone with Face ID. The function is still located in the "Battery" settings.
14. Medication calendar with reminders
Anyone who regularly takes pills, consumes sports nutrition, or is undergoing treatment will benefit from a new option in the Health app. You can use it to keep track of medications you've taken, set reminders, and notify family members about health problems.
In the U.S., the option allows you to recognize pills through a smartphone camera.
15. Updated smart home management app
At last, the Cupertinians have paid attention to the outdated and outdated Home app. The utility has been redesigned, adding many useful options. The interface of the app has completely changed, there are filters for selecting devices, a category viewer, and a convenient carousel with surveillance cameras.
16. Automatic bypassing of captchas on websites
A small but very useful option in iOS 16 allows you to automatically bypass a "robot check" when visiting websites and in some apps. The feature will become cross-platform and will later appear in macOS Ventura.
The system won't 100% eliminate the need to periodically enter the confirmation code, but in most cases, it won't require additional action. Open "Settings" and go to "Apple ID". Then go to the "Password & Security" section and activate the "Automatic Verification" option.